Cass, McMonagle top Players Series at Jericho
NEW HOPE, Pa. – Four players found future opportunity Monday at the first-ever GAP Players Series event.
In the first of three Players Series events, Ryan Cass of Hidden Creek Golf Club and Sean McMonagle of Tavistock Country Club topped a 73-player field of future GAP Major hopefuls. Cass and McMonagle each fired 1-under rounds of 71 to earn a share of the event's top-spot medal at Jericho National Golf Club (par 72, 6,840 yards).
Also earning exemptions via today's event were Liam Hart of Spring Mill Country Club and Ryan Gelrod of Philadelphia Cricket Club, who each carded even-par 72s.
The fortunate four earned exemptions into next year's GAP Middle-Amateur Championship (if 25 years or older), BMW Philadelphia Amateur Championship and Joseph H. Patterson Cup. Players are eligible to compete in only one Players Series event. In addition, those who compete in a 2020 GAP Major will not be eligible to play in a Players Series event. The final two Players Series events include a July 21 date at French Creek Golf Club, followed by July 29 at Green Valley Country Club.
Cass utilized an electric front nine — a 4-under start — that ignited his round. His first red number came on the club's opener (par 5, 559 yards) after a perfect drive was followed by a 250-yard approach that just found the right rough. A 20-foot chip nestled up and led to birdie. The next arrived on No. 3 (par 4, 363 yards) where Cass dropped a 20 footer for birdie.
A string of three birdies rounded out Cass' fabulous front nine. He two-putted for birdie on No. 7 (par 5, 523 yards), lipped out for eagle on No. 8 (par 4, 280 yards) after finding the green with 4-wood, and dropped a 20-foot curler on No. 9 (par 4, 435 yards) after a 5-iron approach. That birdie streak would feature the last red numbers of the day for Cass.
"After the front nine, I was thinking, just try and go low. Try to shoot something crazy," said Cass, a former Rutgers University-Camden player. "And then, unfortunately there on the back nine, I definitely found some issues with my game."
It was when that mindset clicked on that trouble brewed. Bogeys on Nos. 10, 14 and 17 showed up on the card, but when all was said and done, the damage wasn't enough to bump Cass out of the top spot or exempt status.
"I just got a little loose and made some bad mistakes. I lost a ball off the tee on No. 17, but was able to make birdie on my second ball which was big. At the end, I was just trying to get in the house under par, and I was able to do that," said Cass, 31, of Lawnside, N.J.
McMonagle, playing in one of the day's first twosomes, posted the early benchmark number at 71. His round included five birdies with a plethora of perfected wedge shots, leading to short, converted putts, featuring numerous two-foot tap ins. Those came on Nos. 4 (par 4, 400 yards), 6 (par 4, 390 yards), 9, 13 (par 4, 401 yards) and 17 (par 5, 510 yards).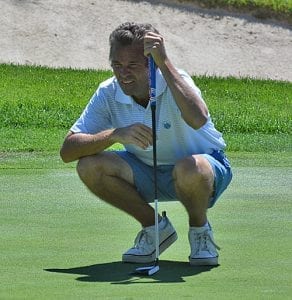 "I really mostly had kick-in birdies. The longest birdie putt I think I had was a 12 footer. My wedges were really working," said McMonagle, 37, of Merchantville, N.J. "I've never played here before today, so I kind of told myself I just needed to show up and play my own game. I've been playing well lately, and I just qualified for the New Jersey State Amateur Championship last week, so it was good to keep that going today."
McMonagle says he targeted today's Players Series event immedietaly upon hearing of it. Exemptions or not, the chance to compete was enticing enough.
"Right now, with [COVID-19] going on, I think it's really important to be fully understanding. Many things were cancelled, and with [GAP Majors] qualifying being gone, I'm just happy to be out here and get this chance. I'm glad I was able to make the most of it," he said. "I definitely didn't take it for granted with everything else going on."
Both medalists noted these future exemptions will offer a chance at a highly successful season in 2021 on the course, plus crucial schedule openings and flexibility.
"In a way, I feel like I was almost more nervous today than some of the GAP Majors I've played in because I wanted to be exempt moving forward. It makes work easier logistically, and really just makes everything a lot easier," said Cass. "When I saw the Players Series, I was incredibly excited. GAP did a phenomenal job today putting the event on. It was great to be out here."
"You know, [2021] will probably be the first year I don't have to worry about looking where I'm going to try to qualify, so it really opens up the schedule up. I won't have to worry as much about setting golf trips and vacations up. I'll be able to get more family time in, which will be really nice," said McMonagle, who finished tied for 14th in last year's GAP Middle-Amateur Championship at Rolling Green Golf Club. "The Players Series is just a fantastic idea overall."
While four Players Series players punched tickets into GAP Majors already, more opportunity awaits. Registration is still open for the final two GAP Players Series events. Register here for the French Creek event (July 21), and here for the Green Valley event (July 29).
GAP
Celebrating Amateur Golf since 1897, GAP, also known as the Golf Association of Philadelphia, is the oldest regional or state golf association in the United States. It serves as the principal ruling body of amateur golf in its region. The Association's 288 Member Clubs and 75,000 individual members are spread across the Eastern half of Pennsylvania and parts of New Jersey and Delaware. The GAP's mission is to promote, preserve and protect the game of golf.
| | |
| --- | --- |
| Qualifiers | |
| Name, club | Score |
| Ryan Cass, Hidden Creek Golf Club | 71 |
| Sean McMonagle, Tavistock Country Club | 71 |
| Ryan Gelrod, Philadelphia Cricket Club | 72 |
| Liam Hart, Spring Mill Country Club | 72 |
| Failed to qualify | |
| Dominic Foti, Yardley Country Club | 73 |
| Thomas Weir, Honeybrook Golf Club | 73 |
| Geoffrey Cooper, North Hills Country Club | 74 |
| Kevin Karabin, Glen Oak Country Club | 74 |
| Greg DeLuca, Trenton Country Club | 75 |
| Michael Winter, Seaview Country Club | 75 |
| John Buliga, Yardley Country Club | 76 |
| Mark Czerniakowski, LuLu Country Club | 76 |
| Jonathan Wilson, Irem Country Club | 76 |
| Phil Formica, Yardley Country Club | 77 |
| Brian Gardner, Philadelphia Publinks | 77 |
| Brad McFadden, Merion Golf Club | 77 |
| Ryan Orcutt, Green Pond Country Club | 77 |
| Christian Deussing, Jericho National Golf Club | 78 |
| Keith Matt, Talamore Country Club | 78 |
| Scott McLaughlin, LuLu Country Club | 78 |
| Brad Mills, Wedgwood Country Club | 78 |
| Alex Seelig, Reading Country Club | 78 |
| Daniel Tennekoon, Makefield Highlands Golf Club | 78 |
| Ryan Barnett, The ACE Club | 79 |
| Brandon Capone, Old York CC at Chesterfield | 79 |
| Jordan Cooper, Woodcrest Country Club | 79 |
| Kent Dolby, Jr., Waynesborough Country Club | 79 |
| Jeff Shockley, Makefield Highlands Golf Club | 79 |
| Sean Torpey, Commonwealth National Golf Club | 79 |
| Sal Cucinotti, Talamore Country Club | 80 |
| Chris Esbenshade, Bent Creek Country Club | 80 |
| Billy Reube, Huntingdon Valley Country Club | 80 |
| Lodie Von Tonder, Sakima Country Club | 80 |
| Jeff Wood, Wedgwood Country Club | 81 |
| Ryan Borrmann, Five Ponds Golf Club | 81 |
| Salvatore Galati, Woodcrest Country Club | 81 |
| Joseph Rueter, Sandy Run Country Club | 81 |
| Michael Lewers, Aronimink Golf Club | 82 |
| Brendan Mahoney, Philadelphia Cricket Club | 82 |
| Matthew Massott, Woodcrest Country Club | 82 |
| Adam Usher, Medford Lakes Country Club | 82 |
| Dan Hinckley, Northampton Country Club | 83 |
| David Levine, Makefield Highlands Golf Club | 83 |
| Mike May, Jeffersonville Golf Club | 83 |
| Regan Papariello, St. Davids Golf Club | 83 |
| Zach Paris, Penn Oaks Golf Club | 83 |
| Nate Pierce, Spring Ford Country Club | 83 |
| Christopher Pitts, Tavistock Country Club | 83 |
| Ian Zang, Makefield Highlands Golf Club | 83 |
| Jack Kearns, Trenton Country Club | 84 |
| Matthew Law, Jericho National Golf Club | 84 |
| Shane Nocito, Yardley Country Club | 84 |
| Gary Roberts, LuLu Country Club | 84 |
| Matt Crawford, Spring Mill Country Club | 85 |
| Tom DiCinti, Philadelphia Publinks | 85 |
| James Gavaghan, Commonwealth National Golf Club | 85 |
| Ryan Jones, Northampton Valley Country Club | 86 |
| Andrew Kuhn, Makefield Highlands Golf Club | 86 |
| Jacob Liberman, Radnor Valley Country Club | 86 |
| Tom Eisenhower, Westwood Golf Club | 87 |
| Scott Brody, Golden Pheasant Golf Course | 88 |
| Matt Crilley, Steel Club | 89 |
| Eric Shenyo, White Clay Creek Country Club | 90 |
| Paul Stewart, Union League Golf Club at Torresdale | 90 |
| Albert McFadden, Valley Country Club | 92 |
| Matt Barkann, The 1912 Club | 93 |
| Dick Beck, Blue Bell Country Club | 93 |
| Bradford Rogers, Philmont Country Club | 94 |
| Joe Rooney, Medford Lakes Country Club | 96 |
| Chuck Kuntz, Overbrook Golf Club | 101 |
| Chris Binder, Riverwinds Golf Club | WD |
| Phillip Damico, McCall Golf Club | WD |
| Kevin Hilton, Spring Mill Country Club | WD |
| WD – withdrawal | |