Q&A with this month's #PlattProfile, Andrew Christensen.
Christensen talks about his experience with the Trust and the positive impacts of caddying.
(This interview has been edited for clarity and length.)
---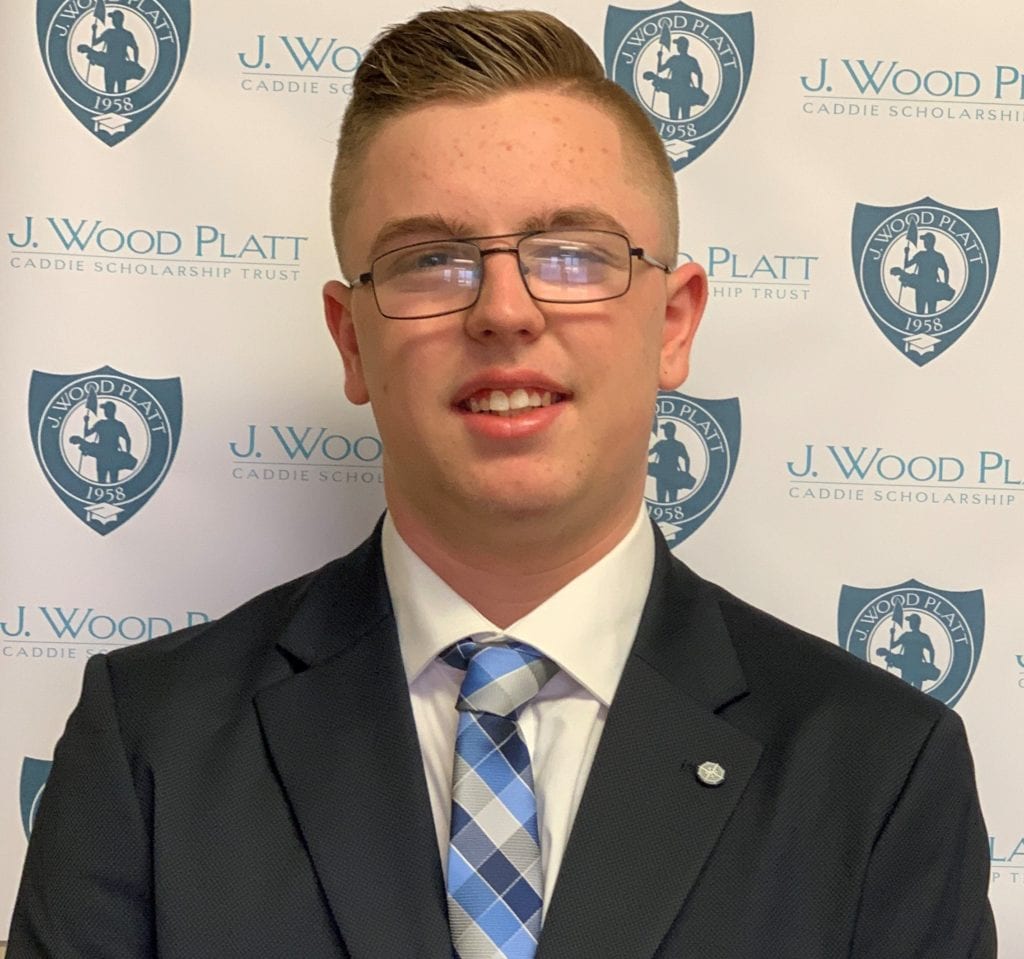 Q: How old are you?
A: 20 years old
Q: What school are you currently attending?
A: I attend Penn State Harrisburg. I am trying to get to Main Campus by fall 2022. I attended Shippensburg University for a year, I then transferred to Penn State Harrisburg with the hope to get to Main Campus.
Q: When do you graduate?
A: I am slated to graduate in the spring of 2024.
Q: What is your major?
A: Business Entrepreneurship
Q: How did you decide on that major?
A: I've always had an entrepreneurial spirit. I had my own business reselling shoes and high-end clothing for profit. Once I started my business my junior year of high school, I knew Business Entrepreneurship was what I wanted to do. I want to create my own business and have my own company.
Q: Do you participate in activities in school? Clubs?
A: Not at the moment because of COVID-19. Next year, I will definitely, without a doubt, join THON. I would love to dance in THON. The cool thing about Penn State Harrisburg is we are allotted a certain number of dancers to dance in THON and it is easier to be chosen to dance at a satellite school than it is attending Main Campus.
Q: Do you have any hobbies?
A: I love to play basketball and I am going to try out for my team this coming fall. I love to snowboard, to watch Philly sports teams and to watch Penn State football. I also like to hang out with my friends and go to the beach. Also, I am business-minded so I will do some research here and there because I definitely want to start investing.
Q: What golf club do you caddie for?
A: Rolling Green Golf Club
Q: How long have you been caddying?
A: I have been caddying since 2017, wow!
Q: How did you start caddying?
A: I actually received a job in the bag room first. I didn't even know they had a caddie program at the time. Then I saw caddies there and my boss said, "Hey, do you want to be a caddie?" and that July I started. I also had a little bit of a golf background from my dad being an assistant pro in the area for some clubs.
Q: What is your favorite thing about caddying?
A: A few of my favorite things about caddying are meeting different members, making connections with people, being outside, the exercise… caddying has gotten me in great shape. If you care about it enough, it really helps with working on your attention to detail. And obviously, the money is great!
Q: How did you hear about J. Wood Platt?
A: Within the first couple of months that I was there, my boss had asked me how my situation was at home. When I told him what it was like, he let me know that if I started caddying I would be eligible for a scholarship. This was when I was a sophomore in high school and then I started to learn about it more over the years. I caddied junior year and senior year at Rolling Green Golf Club. When my senior year of high school came around, I applied and got it, thank God!
Q: What are your long-term goals? Think 5 to 10 years
A: In 5 to 10 years, I want to have graduated college, started my own company, and have immense success in my entrepreneurial ventures.
Q: What is something that happened to you while caddying that you will never forget?
A: Something that happened while was caddying that I will never forget was when I caddied in the club championship and my golfer won, he was grateful for my help and that made me feel good about myself.
Q: What advice would you give your younger self as a caddie or a new caddie just starting?
A: Some advice I would give to my younger caddie self would be to pay close attention to what's going on, play more golf to learn more about the game, be yourself, and strive to be the best.
Q: How has J. Wood Platt changed your life?
A: J. Wood Platt has changed my life by giving me confidence in what I do. Being a Platt Scholar is something that I take a lot of pride in. The scholarship itself relieves a lot of stress as far as paying for school goes, it also keeps me motivated to do well. I wouldn't be where I am right now if it weren't for J. Wood Platt and for that I am eternally grateful.
GAP
Celebrating Amateur Golf since 1897, GAP, also known as the Golf Association of Philadelphia, is the oldest regional or state golf association in the United States. It serves as the principal ruling body of amateur golf in its region. The Association's 288 Member Clubs and 75,000 individual members are spread across the Eastern half of Pennsylvania and parts of New Jersey and Delaware. The GAP's mission is to promote, preserve and protect the game of golf.
J. Wood Platt Caddie Scholarship Trust
The J. Wood Platt Caddie Scholarship Trust was created in 1958 by the Golf Association of Philadelphia through the efforts of then President Walter A. Schmidt; Leo Fraser, President of the local section of Professional Golfers Association of America; and Albert Keeping, Golf Professional at Gulph Mills Golf Club. It was named in honor of Philadelphia's premier golfer of the era, J. Wood Platt. Not only was Mr. Platt an accomplished player, but he was also the Trust's co-founder and first contributor. To date, more than 3,800 young men and women have received $23 million in aid from the Trust.