November 2016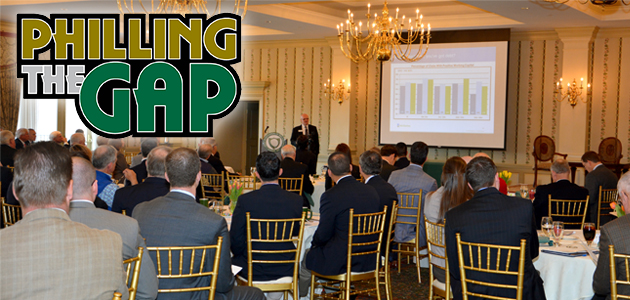 The Golf Association of Philadelphia's reach extends beyond the course. It offers seminars and meetings that cater to both Members and Member Clubs throughout the year. Officials can learn more about key issues and topics affecting the golf industry by attending the Presidents' Council in March or the Pro.-President, Golf & Green in May. Work in a grounds department or serve on a greens committee? The Association's Environmental Conference may be of interest as it brings sustainability to the forefront. High school students can ease their collegiate queries by checking out the biannual College Golf Seminar, which aims to educate on golf at the next level. And for those with golf tags of any kind, the Club Rules Seminar provides a continuing education of the Rules of Golf. Oh, and morning refreshments and lunch.
Breakfast Seminars are conducted periodically to offer Member Club officials the opportunity to network and exchange ideas on timely issues affecting the industry.
More than 100 GAP Member Club presidents, general managers and club officials attend the Presidents' Council annually.
The Pro.-President, Golf & Green marks the unofficial introduction of the Association's tournament season. It includes lunch, golf and dinner with a featured speaker.
The Association conducted its first President Council in 2005. Featured speakers that year included Gary Hamilton, Steve Graves and Tom Walker.
Former LPGA Tour player and current ESPN Golf Analyst Dottie Pepper spoke during the Presidents' Council in 2014.
Starting in 2014, the Association began presenting its Distinguished Service Award during the Pro.-President, Golf & Green.
Andy North served as the featured speaker during the Pro.-President, Golf & Green in 2006 at Spring Ford Country Club.
Club Rules Seminar attendees receive a complimentary copy of the latest Decisions Book issued by the USGA.