April 2016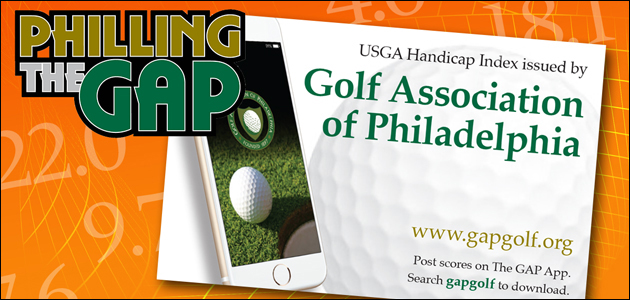 One of the essential services the GAP offers to its members is handicapping — a vital piece to keeping the game fair, just and fun for golfers of all skill levels. Since its inception in 1912, the USGA Handicap System has made it possible for golfers of differing abilities to do just that. More than 2.3 million golfers from approximately 14,000 clubs across the country have handicaps provided by the USGA's GHIN (Golf Handicap & Information Network) service, including 187 GAP Member Clubs. Another important feature of GAP's Handicap Service is golfer inquiries. A GAP/GHIN club may obtain handicap information about any of the nearly 2.3 million golfers on the GHIN system. Verifying handicaps for member-guest and invitation tournaments is right at your fingertips. GAP/GHIN users are able to post their scores on the GAP App or via the Internet at www.ghin.com or www.gapgolf.org. In addition to the handicapping services provided, the Golf Association of Philadelphia is proud to offer access to the TrackMan Swing and Ball Flight Analysis system to its membership. TrackMan is the standard for equipment makers, PGA Tour professionals and the sport's governing bodies, the USGA and the R&A.
April 1-Oct. 31: the posting season for the Philadelphia region.
In 2007, the Association, after analyzing 15 years of data, implemented the Knuth Tournament Point System. This system is used for all net competitions, individual and team, with more than 50 competitors.
Did you know? Forty-two percent of scores posted in 2015 were through the GAP App or online (GAP/GHIN).
Once a player posts five 18-hole scores, a Handicap Index is generated. Eventually a player's 10 lowest 10 of 20 scores are counted.
Revisions are on the 1st and 15th of each month.
A score is acceptable is a golfer has played at least seven holes for a 9-hole score, or 13 holes played for an 18-hole score. Any unplayed holes are posted as par plus any handicap strokes for that hole.
GAP members can sign up to receive revisions electronically through email.
Ways to post: Handicap computer at club, or on-line at gapgolf.org, GAP App, ghin.com.