August 2017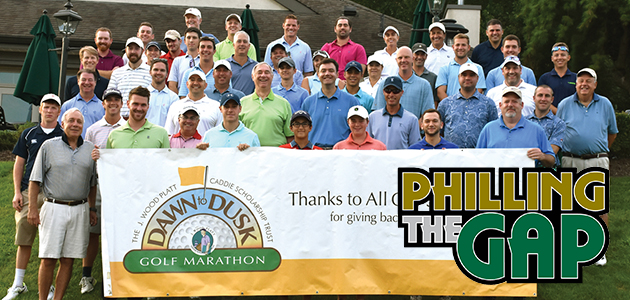 Dawn to Dusk is the largest one-day fundraiser for the J. Wood Platt Caddie Scholarship Trust. Launched in 2010, club representatives play golf sunup to sundown to raise money for Philadelphia's True Golf Charity. Since D2D's inception, more than $1.4 million has been raised and more than 23,000 holes played. In all, the Trust has awarded more than $19 million to 3,400 caddies since its inception in 1958. This year's Dawn to Dusk is set for Aug. 21 at North Hills Country Club.
The first Dawn to Dusk was held at Old York Road Country Club in 2010. That year, $102,000 was raised and 1,504 holes played.
The Dawn to Dusk individual year record for fundraising and holes played was set in 2015 with $310,000 and 4,183 holes. North Hills Country Club was the site.
Including 2017, a total of 43 GAP Member Clubs have participated in at least one Dawn to Dusk Golf Marathon.
In 2017, the Dawn to Dusk Golf Marathon raised more than $230,000 with more than 3,500 holes played.
In its eight years, the Dawn to Dusk Golf Marathon has raised more than $1.66 million in donations.