August 2016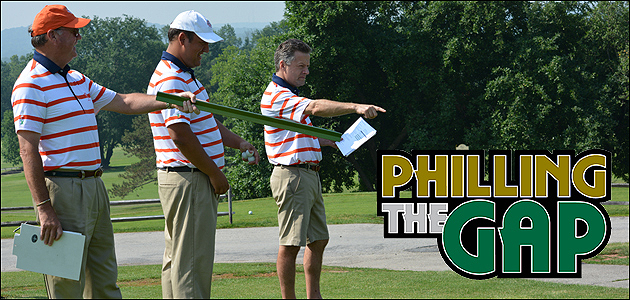 Ever argue with one of your buddies over whose golf course is harder to play? That type of discussion typically involves course rating, one of the many services provided by the Golf Association of Philadelphia. Five volunteer teams rate every Member course on a seven-year rotation, as well as any other area course requesting service. The Association's staff, in turn, then reviews each rating to make sure that criteria is consistently being applied. This helps to create an equitable playing field for all golfers. Once a golf course is rated, scores can then be posted for handicap purposes. The Association rates 25-35 courses annually. It may not seem like it at first glance, but course rating plays an integral role in your GAP membership.
In April 1983, the Association conducted its first course rating meeting at Gulph Mills Golf Club.
In 2015, GAP course rating volunteers rated 29 golf courses totaling 513 holes.
Huntingdon Valley Country Club (Flynn/Centennial) holds the highest men's course rating (76.4) of GAP Member Clubs.
Manufacturers' Golf & Country Club (Upper) holds the highest women's course rating (78.9) of GAP Member Clubs.
A course rating is based on what a scratch golfer should shoot on that course, while the slope rating is an indicator of the difficulty of the course for a bogey golfer.
Phoenixville Country Club was the first course to undergo an official GAP measuring. Executive Director James D. Sykes, along with Tournament Director J. Fred Christman and his two sons, performed such a task in 1983.
Course raters take GPS measurements of the golf course and chart various obstacle values on each hole. Those include topography, recoverability and rough, bunkers, water hazards and green surface, and more.
Raters evaluate the golf course for two types of golfer: scratch and bogey. The scratch golfer hits it 250 yards off the tee (230 of which are in the air). The bogey golfer hits it 200 yards off the tee (180 in the air). Each subsequent shot for the scratch golfer travels 200 yards (180 of which are in the air) and the bogey golfer hits it 170 yards (150 in the air).