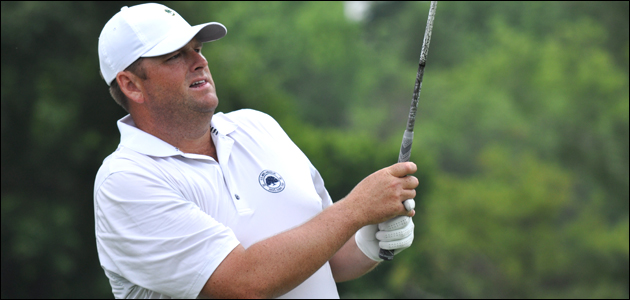 FLOURTOWN, Pa. – For the second year in a row, the reigning back-to-back Delaware State Amateur Champion punched his ticket to the BMW Philadelphia Amateur Championship Quarterfinals.
| Match play bracket | Day Two recap | Video recap |
The player donning that honor is Wild Quail Golf & Country Club's Jay Whitby, who accumulated the highest-combined victory of margin (10 holes) through the first two rounds of match play at Philadelphia Cricket Club (Wissahickon).
"I really just played well today," said Whitby, who defeated Christopher Thude of Union League Golf Club at Torresdale, 4&3, in the Round of 32 before downing Yardley Country Club's Christopher Ault, 6&5, in the Round of 16. "I've been driving it so well this week. It feels like I've hit almost every single fairway these past two days. That's the key to getting going at this course, and getting the ball on the greens to make birdies."
Only one concerning stretch, versus Thude in the morning, surfaced all day. A bogey train arrived to the station on Nos. 5 to 8, leveling the match before flipping sides. Three birdies were carded in response, putting Whitby back in the conductor's chair.
"There weren't many bogeys today besides that stretch. There actually weren't any besides that, plus I was able to limit the big numbers which is always big in match play," said Whitby, 30.
The last time Whitby competed on Wissahickon's challenging track was in a U.S. Mid-Amateur Championship Qualifier last August. It didn't go as planned. He carded a 7-over 77 to miss the cut that day by six shots.
The difference between the two appearances? Whitby only hit one out of the final 12 fairways last summer.
"It wasn't a good one. I just wasn't hitting my spots then. If you aren't finding these fairways, you can't make many birdies out here," said Whitby.
He'll hope to continue to live in Wissahickon's short stuff the rest of the week. After falling to Llanerch Country Club's Stephen Seiden in a 21-hole playoff thriller last year at Merion Golf Club, Whitby will get a chance to follow up last year's Elite Eight run with a second impressive showing. He'll get a crack at taking down reigning champion Michael McDermott, of Merion, tomorrow at 7:30 a.m.
"It's kind of nice to prove myself while playing on amazing, challenging courses last year and now this year. And of course, playing the defending champion, I'll have my hands full," said Whitby. "As a little guy from Delaware, I think I've came up here and held my own. I've always told people this is one of the best regional associations in the country, including the talent that is here, and it's great to be playing well in these events. I don't want to get ahead of myself, but hopefully I can get it done."
Whitby is a manager at Kent County Motors, a Buick/GMC dealership in Dover, Del. As a family business, he's afforded some time off, when needed, to compete.
"Luckily, I don't get much heat from the boss when I take off to play," said the Wyoming, Del. resident.
With that said, Cricket isn't around the corner for Whitby. An hour-and-45-minute commute to Cricket wasn't a friendly one, but he's found a solution.
"I'm staying in a local hotel just so I don't have to drive up here every day," he said. "I've been there since Monday night, not wanting to drive up here at 4 a.m. for yesterday's tee time. Plus, there's always accidents and road closures, so it wasn't worth the risk. But this place (Wissahickon) is great and it's been worth it. It could be worse than being here. It definitely could be worse."
Accuracy off the tee and plenty of rest may just be the winning #BMWPhillyAm combination.
Temple's Soeth takes down Osberg
Sam Soeth wasn't expecting much when he played two-time William Hyndman, III Player of the Year and 2016 #BMWPhillyAm runner-up Jeff Osberg of Huntingdon Valley Country Club in the Round of 32.
Soeth, the No. 21 seed, used his role as the underdog to his advantage in defeating No. 12 seed Osberg, 5&3. Soeth used a strong tee game as well as a clutch putter to advance to the Round of 16.
"Jeff [Osberg] is one of the best players in the Golf Association of Philadelphia," Soeth, 21, of Newtown Square, Pa., said. "I had no expectations against him and as the underdog, I was able to make free swings and play my game. Against Ben [Smith of Huntingdon Valley Country Club], I was three down early but I hung in there and just kept making putts that were really important."
Soeth would defeat his second consecutive Huntingdon Valley opponent in Smith, 2&1, in the afternoon.
"I enjoyed playing as the underdog," Soeth said. "Playing as the underdog takes away some of the added pressure. I am also proud to be the last Temple University golfer left after Marty [McGuckin] and John [Barone] lost today."
The rising Temple University junior's best finish in the Amateur previously was in 114th playing at his home club of White Manor Country Club. Soeth made the Round of 16 before losing to 2017 GAP Middle-Amateur Champion and Drexel men's golf coach Ben Feld, 3&2.
Soeth finished his sophomore year at Temple with a 76.2 scoring average, third best on the team. His best finish of the season was fourth at the Cornell Invitational.
Next up for Soeth is Philadelphia Cricket Club member Gregor Orlando, who defeated 2015 Middle-Amateur Champion Scott McNeil, 4&3, in the Round of 16. Soeth isn't fazed by his next opponent and it helps when the course suits how he likes to play the game.
"Wissahickon is unbelievable after the redo," Soeth said. "The tee shots fit my eye as a fader of the golf ball and I was hitting my 3-wood really well so I didn't have to hit driver a lot today. I just have a lot of confidence off of the tee with my 3-wood. I just want to keep having fun out here."
Texter takes back amateur status
Jarred Texter just wanted to golf like a kid again.
After spending about five years traveling on mini-tours all over the country, and going through a number of qualifying school tournaments, Texter wanted to gain back the enjoyment of playing the game that he lost during his years of grinding as a pro.
"I always told myself that I would give professional golf a shot until I was 30," Texter said. "You see a lot of things when traveling the mini-tours from small towns to a lot of 38, 39 and 40-year-old guys bitter as can be and I didn't want to be that guy. By the time I was 27, I got tired of it."
The 31-year-old spent four years on UNLV's golf team and was All-America in 2006 and 2007. He's always had a strong talent on the golf course.
Texter turned pro after graduating in 2008 and spent about seven years as a professional. He just received his amateur status back two years ago this summer after playing for a number of years professionally.
The Millersville, Pa. native works for the Benecon Group in Lancaster, Pa. and has spent two years there. At home, he and his wife Jackie have a 16-month-old son Graeme and are expecting their second child.
Texter qualified for match play as the No. 11 seed after a 36-hole total of 3-over par 145. He ultimately fell to No. 22 seed David Hicks of Wildwood Golf and Country Club's, 3&1, in the Round of 32.
Getting back to his roots in the game bodes well for Texter's future and his golf game.
"I look at golf completely different now and my mindset has completely changed," Texter said. "I am enjoying competing again, especially in tournaments like these. Whether I shoot 85 or 65 I am out here enjoying playing the game similar to how I did as a kid. I enjoy the competition and being able to play the game again. There a lot of good golfers in the Philadelphia area and I feel as if I have to prove myself out here again."
Golf Association of Philadelphia
Founded in 1897, the Golf Association of Philadelphia (GAP) is the oldest regional golf association in the United States and serves as the principal ruling body of amateur golf in its region. Its 151 Member Clubs and 57,000 individual members are spread across parts of Pennsylvania, New Jersey, Delaware and Maryland. As Philadelphia's Most Trusted Source of Golf Information, the Golf Association of Philadelphia's mission is to promote, preserve and protect the game of golf.