Commonwealth squad wins another Mixed Foursomes at Yardley
| Scorecards | History | Photo gallery |
YARDLEY, Pa. – The Commonwealth National Golf Club duo of John Alterman and Karen Siegel did it again.
After winning the 2nd Mixed Foursomes Championship at Overbrook Golf Club, the sizzling squad seized the crown again Thursday at Yardley Country Club (par 73, 6,096 yards). Alterman and Siegel signed for a card of 5-under 68, besting a full field of 38 teams. That 5-under number is the lowest score in relation to par in the event's history.
Taking the Net Division was the mother-son duo of Kim (West Shore Country Club) and David (Hershey Country Club) Herbst at 5-under 68 Net. The Herbsts won the Gross title in the inaugural Mixed Foursomes in 2019 at Concord Country Club.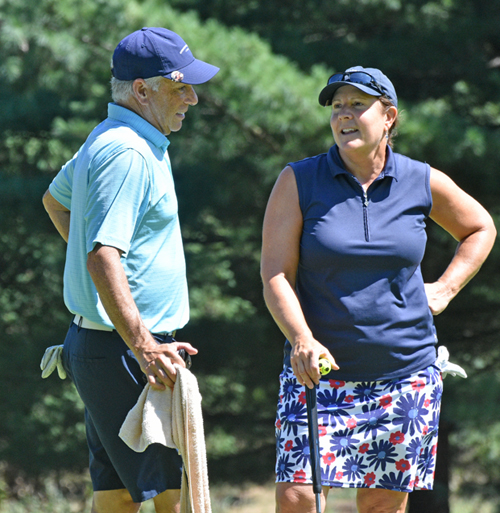 Starting on Yardley's par-6, 471-yard 13th hole, the good vibes were flowing early and often for the Commonwealthers. On the 13th, it was eagle for the team after Alterman's utility club from 220 yards out nestled to 10 feet and Siegel rolled in the putt.
Four straight birdies would follow. On No. 14 (par 5, 405 yards), it was a two-putt birdie from 30 feet. A deuce on No. 15 (par 3, 149 yards) came after Alterman's 9-iron off the tee came to rest 12 feet away and Siegel drained the testing putt. Another dropped on No. 16 (par 4, 262 yards) in result of Siegel's wedge approach to five feet, followed by an Alterman birdie putt. Now that's how you start a golf tournament.
"It was a great start. We knew we had a really hot start, but we weren't checking [the leaderboard]. We just knew we were playing well," said Alterman, 61, of New Hope, Pa.
"I didn't know until we gave our scores after 10, and the scorers said, '5 under at the turn? You guys are in the lead!'," said Siegel, 58, of Maple Glen Pa. "There were a bunch of good teams out here. A lot of good players warming up and on the range. So we just kept playing our game."
Eight-straight pars would cool down the hot stretch, but it wouldn't matter in the long run. Another birdie was jarred on No. 7 (par 5, 538 yards). Despite a bogey on par-4, 370-yard 11th, the champions turned in the winning card at 5 under.
Alterman and Siegel have been teeing it up together in team formats for the past 21 years. Today, they became the first duo to win the Mixed Foursomes twice, setting the low mark in the four-year history of the event.
"We just know each other's game so well. We don't even have to think about it really anymore [after playing together for 21 years]," said Alterman.
"And it helps that we're good putters, too," said Siegel.
In an effort to further promote women's golf, GAP created a Mixed Foursomes Championship in 2019. The event's format is selective drive/alternate shot. Open to one female and one male golfer teams who are 19 years of age and who have 36.0 handicap index or less. Only one player from each two-person team must be a member of a Member Club with a GAP handicap.
GAP
Celebrating Amateur Golf since 1897, GAP, also known as the Golf Association of Philadelphia, is the oldest regional or state golf association in the United States. It serves as the principal ruling body of amateur golf in its region. The Association's 300 Member Clubs and 100,000 individual members are spread across the Eastern half of Pennsylvania and parts of Delaware, Maryland and New Jersey. The GAP's mission is to promote, preserve and protect the game of golf.
| | |
| --- | --- |
| Gross results | |
| Names, clubs | Score |
| John Alterman, Karen Siegel/Commonwealth National Golf Club | 68 |
| David Herbst, Kim Herbst/Hershey Country Club,West Shore Country Club | 70 |
| Allison Wix, Tim Cooper/Country Club of Harrisburg | 70 |
| A.J. Donatoni, Emma Harding/Fox Hill Country Club, | 74 |
| Randy Chen, Laura Blanche/Union League Golf Club at Torresdale,North Hills Country Club | 76 |
| Paul Dansbury, Monika Poelzmann/Yardley Country Club | 77 |
| Buddy Aiken, Tina Gregor/St. Davids Golf Club,Huntingdon Valley Country Club | 77 |
| Jon Rusk, Kelly Hano/LuLu Country Club | 77 |
| Don Donatoni, Sarah Braendel/White Manor Country Club | 77 |
| Muffy McCabe, Greg Smith/French Creek Golf Club,Radley Run Country Club | 78 |
| Billy Reube, Jessica Weikel/Huntingdon Valley Country Club,Huntingdon Valley Country Club | 78 |
| Donald Leuthy, Lauren Barbir/Makefield Highlands Golf Club,USGA/GAP GC | 79 |
| Michael J. Perilli, Jane Warwick/Union League Golf Club at Torresdale,Yardley Country Club | 79 |
| Kelsey Luber, Vince Varvolis/Commonwealth National Golf Club | 79 |
| Debra Linde, Joseph Linde/Yardley Country Club | 79 |
| Missy Wietlisbach, Matt Mancini/Gulph Mills Golf Club,Bellewood Country Club | 80 |
| Christopher Bell, Danielle Bell/Radnor Valley Country Club,McCall Golf Club | 81 |
| Rob Lewis, Maureen Koerwer/Huntingdon Valley Country Club | 82 |
| Holly Harrington, Max Harrington/Lehigh Country Club | 82 |
| Leslie Lewis, Brendan Mannix/Huntingdon Valley Country Club | 83 |
| Alison Kellock, William Choy/Flourtown Country Club | 83 |
| Amy Allen, Jim Allen/Concord Country Club | 84 |
| Chris Deskiewicz, Janice Park/LuLu Country Club | 83 |
| Bob Winter, Ellie Lorenc/Pilgrim's Oak Golf Course,Fieldstone Golf Club | 83 |
| Dan Feeney, Amy Feeney/Philadelphia Cricket Club | 84 |
| Andrea Klaus, Matthew Klaus/Riverton Country Club | 85 |
| Jason Marie, Jill Marie/Five Ponds Golf Club | 85 |
| Richard Scott, Tia Scott/West Shore Country Club | 85 |
| Lisa Hutchins, Jim Hutchins/Wild Quail Golf & Country Club | 87 |
| Chuck Kuntz, Paige Devine/Overbrook Golf Club | 91 |
| Tracey MacGown, Lance Smith/Saucon Valley Country Club,Country Club of York | 94 |
| John O'Rourke, Pat Ellis/McCall Golf Club,Doylestown Country Club | 95 |
| Sandy Strohl, David Strohl/Moselem Springs Golf Club,Olde Homestead Golf Club | 102 |
| Sean Seese, Stephenie Harris/Huntingdon Valley Country Club | DQ |
| | |
| Net results | Net |
| David Herbst, Hershey Country Club Kim/Herbst,West Shore Country Club | 68 |
| Greg Smith, Radley Run Country Club Muffy/McCabe,French Creek Golf Club | 69 |
| Randy Chen, Union League Golf Club at Torresdale Laura/Blanche,North Hills Country Club | 69 |
| John Alterman, Commonwealth National Golf Club Karen/Siegel,Commonwealth National Golf Club | 69 |
| Jason Marie, Five Ponds Golf Club Jill/Marie,Five Ponds Golf Club | 70 |
| Joseph Linde, Yardley Country Club Debra/Linde,Yardley Country Club | 70 |
| Michael J. Perilli, Union League Golf Club at Torresdale Jane/Warwick,Yardley Country Club | 71 |
| Paul Dansbury, Yardley Country Club Monika/Poelzmann,Yardley Country Club | 72 |
| Tim Cooper, Country Club of Harrisburg Allison/Wix,Country Club of Harrisburg | 73 |
| Donald Leuthy, Makefield Highlands Golf Club Lauren/Barbir,USGA/GAP GC | 73 |
| Jon Rusk, LuLu Country Club Kelly/Hano,LuLu Country Club | 74 |
| Buddy Aiken, St. Davids Golf Club Tina/Gregor,Huntingdon Valley Country Club | 74 |
| Jim Allen, Concord Country Club Amy/Allen,Concord Country Club | 74 |
| Vince Varvolis, Commonwealth National Golf Club Kelsey/Luber,Commonwealth National Golf Club | 75 |
| A.J. Donatoni, Fox Hill Country Club Emma/Harding, | 75 |
| Bob Winter, Pilgrim's Oak Golf Course Ellie/Lorenc,Fieldstone Golf Club | 76 |
| Don Donatoni, White Manor Country Club Sarah/Braendel,White Manor Country Club | 76 |
| Christopher Bell, Radnor Valley Country Club Danielle/Bell,McCall Golf Club | 76 |
| Max Harrington, Lehigh Country Club Holly/Harrington,Lehigh Country Club | 76 |
| Richard Scott, West Shore Country Club Tia/Scott,West Shore Country Club | 77 |
| Matthew Klaus, Riverton Country Club Andrea/Klaus,Riverton Country Club | 77 |
| Billy Reube, Huntingdon Valley Country Club Jessica/Weikel,Huntingdon Valley Country Club | 78 |
| Jim Hutchins, Wild Quail Golf & Country Club Lisa/Hutchins,Wild Quail Golf & Country Club | 78 |
| William Choy, Flourtown Country Club Alison/Kellock,Flourtown Country Club | 78 |
| Dan Feeney, Philadelphia Cricket Club Amy/Feeney,Philadelphia Cricket Club | 78 |
| Brendan Mannix, Huntingdon Valley Country Club Leslie/Lewis,Huntingdon Valley Country Club | 79 |
| Rob Lewis, Huntingdon Valley Country Club Maureen/Koerwer,Huntingdon Valley Country Club | 79 |
| Matt Mancini, Bellewood Country Club Missy/Wietlisbach,Gulph Mills Golf Club | 79 |
| Lance Smith, Country Club of York Tracey/MacGown,Saucon Valley Country Club | 79 |
| Chris Deskiewicz, LuLu Country Club Janice/Park,LuLu Country Club | 81 |
| Chuck Kuntz, Overbrook Golf Club Paige/Devine,Overbrook Golf Club | 83 |
| John O'Rourke, McCall Golf Club Pat/Ellis,Doylestown Country Club | 86 |
| David Strohl, Olde Homestead Golf Club Sandy/Strohl,Moselem Springs Golf Club | 93 |
| Sean Seese, Huntingdon Valley Country Club Stephenie/Harris,Huntingdon Valley Country Club | DQ |
| DQ – disqualification | |