Cooper, Wix win 3rd Mixed Foursomes at Whitford
EXTON, Pa. – Last year in the Mixed Foursomes at Overbrook Golf Club, Allison Wix paired with her father, Robert Cooper, to finish in third place with a cherished memory. This year, she walked away with the top trophy in hand alongside playing partner and brother Timothy Cooper.
The sibling-sensation duo dazzled with a 4-under 68 to win the overall title in the 3rd Mixed Foursomes Wednesday at Whitford Country Club (par 72, 6,146 yards). The Country Club of Harrisburg members catapulted to the top of the leaderboard, bettering 36 teams en route to the low gross crown.
Taking the Net Division was the Brookside Country Club of Allentown duo of Carlos and Sonya Fullerton, who finished with a Net score of 5-under 67.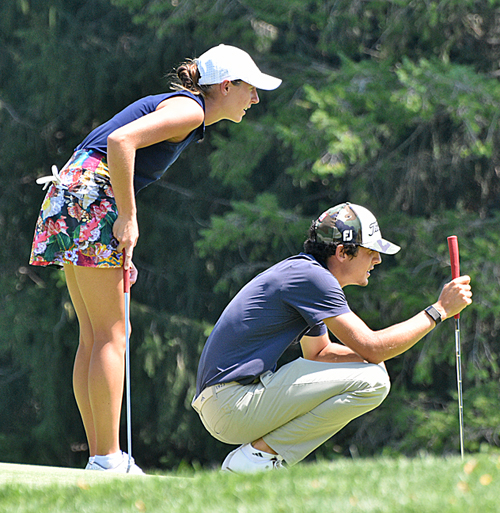 To put it plain and simple — the brother-sister squad dominated at Whitford. No other team finished under par on the day, as the winners bettered the field by five shots. Due to the shotgun format of the event, which teed off at 1 p.m., they started their round on No. 16.
Their first of six birdies came on Whitford's finisher, the par-4, 364-yard 18th, where Wix's big drive landed up near the green, Cooper chipped up to five feet and Wix made the birdie 3. After a three-foot birdie on the par-5, 540-yard 4th hole was holed, a stretch of four straight red figures found the card on Nos. 7 through 10. On No. 7 (par 4, 330 yards), Wix blasted one in front of the green, then her brother chipped up and she made another five footer for 3. Then, on No. 8 (par 4, 370 yards), Cooper's wedge approach from 90 yards came to rest 15 feet away, and Wix drained yet another one. This time it was Wix with the wedge on No. 9 (par 5, 484 yards), chipping up to a foot and the easy birdie 4. Finally, on No. 10 (par 4, 336 yards), the final birdie fell from eight feet, made by Wix and her winning putter.
Both Cooper and Wix found success in last year's Elite Series, open to players 18-24 years of age, that filled a competitive void created by the cancelation of college golf seasons due to the COVID-19 pandemic. Cooper tied for first in the Elite Series event at North Hills Country Club, while Wix won the Women's Division prize at North Hills and Saucon Valley Country Club.
"That was really fun last year. We played in both events," said Cooper, 22, of Harrisburg, Pa. "Earlier this summer, we won the [Pennsylvania Golf Association] Mixed Team Championship at Moselem Springs Golf Club. We obviously have some chemistry, being brother-sister and all."
In today's format, they brought their individual games together to form a dream sibling team. Their Mixed Foursomes experience — and triumph — is one they enjoyed, and hope others will enjoy it down the line, too.
"This one, it's been circled on our calendar for awhile now," said Cooper.
"I would tell anyone that is thinking about playing it, just do it. It's so much fun," said Wix, 24, of Harrisburg, Pa. "The format, it really takes the pressure out of it. It's just a good time for everyone."
In an effort to further promote women's golf, GAP created a Mixed Foursomes Championship in 2019. The event's format is selective drive/alternate shot. Open to one female and one male golfer teams who are 19 years of age and who have 36.0 handicap index or less. Only one player from each two-person team must be a member of a Member Club with a GAP handicap.
GAP
Celebrating Amateur Golf since 1897, GAP, also known as the Golf Association of Philadelphia, is the oldest regional or state golf association in the United States. It serves as the principal ruling body of amateur golf in its region. The Association's 300 Member Clubs and 80,000 individual members are spread across the Eastern half of Pennsylvania and parts of Delaware, Maryland and New Jersey. The GAP's mission is to promote, preserve and protect the game of golf.
| | |
| --- | --- |
| Gross | |
| Name, club | Score |
| Allison Wix/Timmy Cooper, Country Club of Harrisburg | 68 |
| Brendan Mannix/Leslie Lewis, Huntingdon Valley Country Club | 73 |
| Erica Herr/Wesley Kerr, Hidden Creek Golf Club | 73 |
| Don Donatoni/Sarah Braendel, White Manor Country Club | 76 |
| Katrin Wolfe/Dan Hinckley, Northampton Country Club | 77 |
| Randy Chen/Laura Blanche, Union League Golf Club at Torresdale | 77 |
| Muffy McCabe/Greg Smith, French Creek Golf Club/Radley Run Country Club | 79 |
| Carlos Fullerton/Sonya Fullerton, Brookside CC of Allentown | 80 |
| Eric Shenyo/Amy Shenyo, White Clay Creek Country Club | 80 |
| Carl Kruse/Cindy Saponaro, Sandy Run Country Club/Spring Mill Country Club | 80 |
| Billy Reube/Kimberley Simmons, Huntingdon Valley Country Club/Merion Golf Club | 81 |
| William Choy/Alison Kellock, Flourtown Country Club | 81 |
| Pat Ellis/John O'Rourke, Doylestown Country Club/McCall Golf Club | 81 |
| Thomas Glass/Donna Glass, Hartefeld National | 81 |
| Dan Feeney/Amy Feeney, Philadelphia Cricket Club | 82 |
| Rob Lewis/Maureen Koerwer, Huntingdon Valley Country Club | 83 |
| Steve Kollias/Shannon Kollias, Concord Country Club | 83 |
| Tina Gregor/Buddy Aiken, Huntingdon Valley Country Club/St. Davids Golf Club | 83 |
| Michael Diemer/Amy Diemer, Riverton Country Club | 84 |
| Shawn Gensbauer/Cassidy Hubmaster, Five Ponds Golf Club | 84 |
| Mike Angelos/Patricia Angelos, RiverCrest GC & Preserve | 85 |
| Stew Butler/Patrice Butler, Indian Valley Country Club | 86 |
| Nicoll Keeney/David DiDomenico, Wilmington Country Club | 85 |
| Neil Gordon/Rebecca Caimano, Five Ponds Golf Club/Walnut Lane Golf Club | 87 |
| Fernando Perez/Beth Perez, Brookside CC of Allentown | 87 |
| Christopher Bell/Danielle Steinbacher, McCall Golf Club | 87 |
| Matthew Klaus/Andrea Klaus, Riverton Country Club | 87 |
| Chuck Kuntz/Paige Devine, Overbrook Golf Club | 89 |
| Andrew Repetto/Jane Ludlow, Philadelphia Publinks Golf Association/Talamore Country Club | 90 |
| Jeff Garrett/Emily Garrett, The Bucks Club | 94 |
| Jason Marie/Jill Marie, Five Ponds Golf Club | 94 |
| Thomas Satterley/Elizabeth Satterley, The Bucks Club | 99 |
| Bryce Striffler/Kristen Striffler, Spring Ford Country Club | 99 |
| Rob Hilliard/Karen Hilliard, Spring Ford Country Club | 102 |
| William J. Thomas/Patricia Reilly, Makefield Highlands Golf Club | 104 |
| Bob Graham/Christine Mulligan, Downingtown Country Club/RiverCrest GC & Preserve | 104 |
| | |
| Net | |
| Name, club | Score |
| Carlos Fullerton/Sonya Fullerton, Brookside CC of Allentown | 67 |
| Brendan Mannix/Leslie Lewis, Huntingdon Valley Country Club | 67 |
| Randy Chen/Laura Blanche, Union League Golf Club at Torresdale | 67 |
| Muffy McCabe/Greg Smith, French Creek Golf Club/ Radley Run Country Club | 69 |
| Allison Wix/Timmy Cooper, Country Club of Harrisburg | 69 |
| Steve Kollias/Shannon Kollias, Concord Country Club | 70 |
| Eric Shenyo/Amy Shenyo, White Clay Creek Country Club | 70 |
| Pat Ellis/John O'Rourke, Doylestown Country Club/McCall Golf Club | 71 |
| Thomas Glass/Donna Glass, Hartefeld National | 71 |
| Stew Butler/Patrice Butler, Indian Valley Country Club | 72 |
| Don Donatoni/Sarah Braendel, White Manor Country Club | 72 |
| Erica Herr/Wesley Kerr, Hidden Creek Golf Club | 72 |
| Carl Kruse/Cindy Saponaro, Sandy Run Country Club/Spring Mill Country Club | 73 |
| Dan Feeney/Amy Feeney, Philadelphia Cricket Club | 73 |
| William Choy/Alison Kellock, Flourtown Country Club | 74 |
| Mike Angelos/Patricia Angelos, RiverCrest GC & Preserve | 74 |
| Michael Diemer/Amy Diemer, Riverton Country Club | 75 |
| Andrew Repetto/Jane Ludlow, Philadelphia Publinks Golf Association/Talamore Country Club | 75 |
| Matthew Klaus/Andrea Klaus, Riverton Country Club | 75 |
| Jason Marie/Jill Marie, Five Ponds Golf Club | 76 |
| Fernando Perez/Beth Perez, Brookside CC of Allentown | 77 |
| Katrin Wolfe/Dan Hinckley, Northampton Country Club | 77 |
| Billy Reube/Kimberley Simmons, Huntingdon Valley Country Club/Merion Golf Club | 78 |
| Jeff Garrett/Emily Garrett, The Bucks Club | 78 |
| Rob Lewis/Maureen Koerwer, Huntingdon Valley Country Club | 79 |
| Nicoll Keeney/David DiDomenico, Wilmington Country Club | 78 |
| Christopher Bell/Danielle Steinbacher, McCall Golf Club | 79 |
| Shawn Gensbauer/Cassidy Hubmaster, Five Ponds Golf Club | 79 |
| Tina Gregor/Buddy Aiken, Huntingdon Valley Country Club/ St. Davids Golf Club | 80 |
| Bryce Striffler/Kristen Striffler, Spring Ford Country Club | 80 |
| Chuck Kuntz/Paige Devine, Overbrook Golf Club | 80 |
| Neil Gordon/Rebecca Caimano, Five Ponds Golf Club/Walnut Lane Golf Club | 82 |
| Thomas Satterley/Elizabeth Satterley, The Bucks Club | 85 |
| Bob Graham/Christine Mulligan, Downingtown Country Club/RiverCrest GC & Preserve | 88 |
| Rob Hilliard/Karen Hilliard, Spring Ford Country Club | 89 |
| William J. Thomas/Patricia Reilly, Makefield Highlands Golf Club | 89 |