| Day One Results |
MALVERN, PA-Oscar Mestre, Jr. of Overbrook GC carded a final round score of 1-under-par 69 on Thursday to finish with a 1-over total of 141 (72-69) to capture the Golf Association of Philadelphia Middle-Amateur Championship at Chester Valley GC (par 70, 6,511 yards).
Mestre, 42, of Berwyn, was the only player in the second and final round to break par.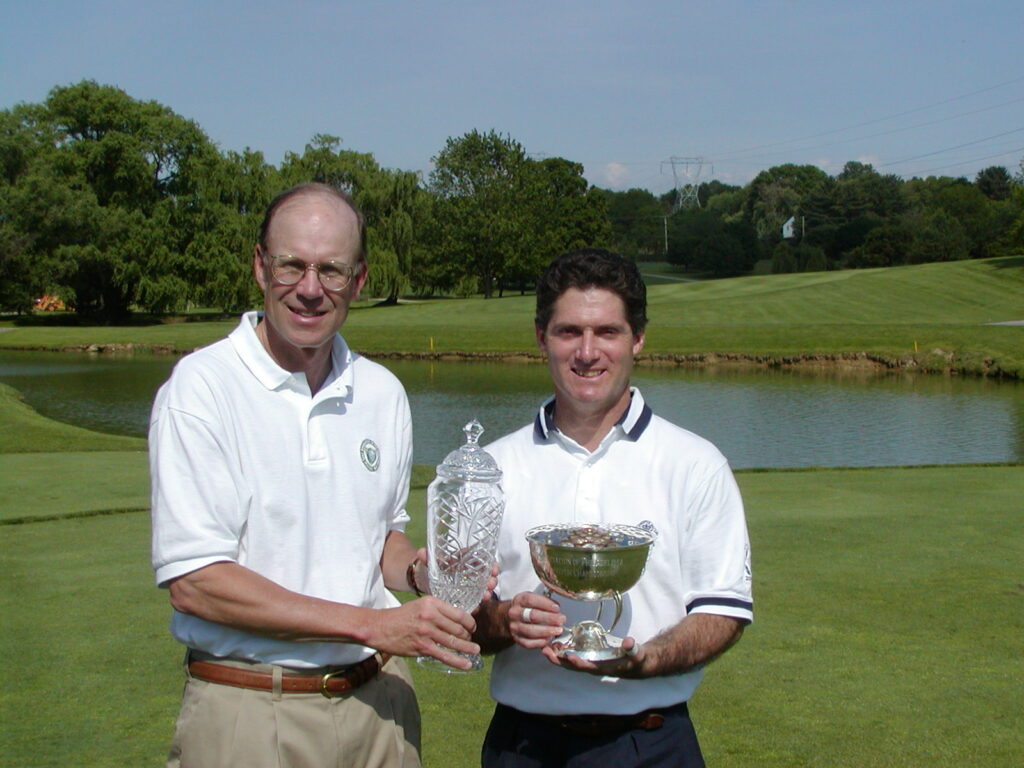 Glenn Smeraglio of Yardley CC finished second with a 3-over-par total of 143 (72-71) and Michael Domenick of Phoenixville CC (74-70) and Thomas Soares of Berkleigh CC (73-71) tied for third with 4-over par 144s.
"I was thinking on the drive over here that if you can win this tournament with this new format – two days and 36 holes – it would be something to be really proud of," said Mestre. "I said I had to shoot a 69 to give myself a chance." He did just that.
Heading to No. 15 (par 3, 170 yards), Mestre and Smeraglio, playing a group apart, had separated themselves from the pack. However, Smeraglio, 2-under at that point, three putted for double bogey, while Mestre, in the trailing group, saved par with a 10-foot putt.
"I hit a five iron and it just released to the back of the green," said Smeraglio, 42, of Newtown about No. 15. "I chipped it to four feet above, and then missed a 1 1/2 footer for bogey."
The key to Mestre's round came early. He made par savers on No. 2 (par 5, 560 yards) and No. 3 (par 4, 338 yards) from the right bunkers on each hole. He then birdied No. 4 (par 4, 378 yards) from 10 feet below the hole. A bogey on No. 5 (par 3, 170 yards) and a birdie on No. 7 (par 3, 192 yards) helped Mestre make the turn in a 1-under-par 34.
"To have a chance I really wanted to get under par early," said Mestre. "Those two par savers really kept the round going."
Mestre was a little up and down on the back nine, recording bogeys on No. 10 (par 3, 197) and No. 12 (par 4, 435 yards) and birdies on No. 11 (par 4, 457 yards) and No. 13 (par 4, 441 yards).
But five pars on his final five holes earned him his first Golf Association of Philadelphia title.
Domenick, 47, of Phoenixville recorded his best finish in a Middle-Amateur since falling in a playoff to Carl Everett of Merion GC for the title in 1993. The third-place finish was also Soares, 41, of Macungie, top Mid-Am placing.
"I thought 142 or 143 would be in the hunt," said Domenick. "I was 7 over for the tournament after No. 8, but birdied three of the next four to get back in it."
Domenick birdied No. 9 (par 4, 371 yards), No. 10 (par 3, 197 yards) and No. 12 (par 4, 435 yards) to finish in the tie for third.
Day One co-leader William McGuinness of Tavistock CC carded a final round 75 to finish in a fifth-place tie at 145. Ed Anton of Woodbury CC, who shared the lead with McGuinness, posted a 78 to finish tied for 18th at 148.
A total of 74 players survived the cut from day one. The cut line fell at 77.
The top 20 players and ties are exempt for next year's Middle-Amateur.
This was only the second year the Middle-Amateur format has encompassed two days and 36 holes. Prior to 2001, the Mid-Am was a one-day, 18-hole event.
This was also just the second year players 25 years of age and older were allowed to participate. Prior to last season, players had to be 30 years of age and older.
| | | | | |
| --- | --- | --- | --- | --- |
| Name | Club | Rd1 | Rd2 | Total |
| Oscar Mestre, Jr. | Overbrook GC | 72 | 69 | 141 |
| Glenn Smeraglio | Yardley CC | 72 | 71 | 143 |
| Michael Domenick | Phoenixville CC | 74 | 70 | 144 |
| Thomas Soares | Berkleigh CC | 73 | 71 | 144 |
| William McGuinness | Tavistock CC | 70 | 75 | 145 |
| P. Chet Walsh | Philadelphia CC | 73 | 72 | 145 |
| Thomas Gramigna | Tavistock CC | 74 | 72 | 146 |
| Peter Widdoes | Deerfield G & TC | 73 | 73 | 146 |
| Christopher Fackler | Northampton CC | 72 | 75 | 147 |
| Michael Gregor | Huntingdon Valley CC | 72 | 75 | 147 |
| Chris Hynoski | Yardley CC | 75 | 72 | 147 |
| Francis McFadden | Overbrook GC | 72 | 75 | 147 |
| John Robinson | Commonwealth National GC | 74 | 73 | 147 |
| Paul Rogowicz | Yardley CC | 72 | 75 | 147 |
| Jamie Slonis | Tavistock CC | 76 | 71 | 147 |
| Michael Tash | Tavistock CC | 72 | 75 | 147 |
| Douglas Zelner | Coatesville CC | 75 | 72 | 147 |
| Edward Anton | Woodbury CC | 70 | 78 | 148 |
| Christopher Lange | Overbrook GC | 75 | 73 | 148 |
| Craig Larsen | Aronimink GC | 71 | 77 | 148 |
| James Macallister | Manufacturers G & CC | 74 | 74 | 148 |
| Herbert Zimmerman, Jr. | Lancaster CC | 73 | 75 | 148 |
| Bill Boyle | Metedeconk National GC | 77 | 72 | 149 |
| Gary E Daniels | Applebrook GC | 72 | 77 | 149 |
| Gary D Daniels | Saucon Valley CC | 75 | 74 | 149 |
| Brian Gillespie | St. Davids GC | 73 | 76 | 149 |
| Jay Howson, Jr. | St. Davids GC | 75 | 74 | 149 |
| Thomas Hyland | Little Mill CC | 74 | 75 | 149 |
| Roc Irey | Cedarbrook CC | 74 | 75 | 149 |
| Robin McCool | Saucon Valley CC | 74 | 75 | 149 |
| Tom Piersanti | Radley Run CC | 76 | 73 | 149 |
| Gary Smith | Huntingdon Valley CC | 74 | 75 | 149 |
| John Carullo | Penn Oaks GC | 76 | 74 | 150 |
| Edmund Chylinski | Chester Valley GC | 77 | 73 | 150 |
| Keith Matt | Lu Lu CC | 76 | 74 | 150 |
| Robert Proto | Little Mill CC | 72 | 78 | 150 |
| Warren Smith | Fieldstone Golf Club | 77 | 73 | 150 |
| Brian Ceribelli | Coatesville CC | 75 | 76 | 151 |
| Robert Lodovici | Links GC | 74 | 77 | 151 |
| Terrence Sawyer | Yardley CC | 75 | 76 | 151 |
| David Smith | Doylestown CC | 74 | 77 | 151 |
| David Chenard | Philadelphia Publinks | 76 | 76 | 152 |
| Andrew Dietz | Laurel Creek CC | 76 | 76 | 152 |
| William Hogan | Burlington CC | 77 | 75 | 152 |
| Michael McDermott | Llanerch CC | 76 | 76 | 152 |
| Chris Smedley | Coatesville CC | 77 | 75 | 152 |
| Steven Walczak | Wilmington CC | 74 | 78 | 152 |
| David West | Whitford CC | 77 | 75 | 152 |
| Gerard Ascolese | North Hills CC | 76 | 77 | 153 |
| Frank Corrado, Jr. | Jericho National GC | 77 | 76 | 153 |
| Marlin Detweiler | Lancaster CC | 76 | 77 | 153 |
| Francis Downey | North Hills CC | 75 | 78 | 153 |
| William Mendez | Fieldstone Golf Club | 76 | 77 | 153 |
| Drew Panebianco | Talamore at Oak Terrace CC | 77 | 76 | 153 |
| Patrick Simmons | Delaware National Country Club | 77 | 76 | 153 |
| Rick Custer | Spring-Ford CC | 77 | 77 | 154 |
| Matthew Dolinsky | Reading CC | 74 | 80 | 154 |
| Bill Dwyer | Concord CC | 77 | 77 | 154 |
| Michael Moffat | Commonwealth National GC | 77 | 77 | 154 |
| George Connell, Jr. | Gulph Mills GC | 76 | 79 | 155 |
| Lee Cook | Laurel Creek CC | 75 | 80 | 155 |
| Arthur Kania, Jr. | Overbrook GC | 74 | 81 | 155 |
| David Brookreson | Huntingdon Valley CC | 75 | 81 | 156 |
| Kevin McClellan | Doylestown CC | 76 | 80 | 156 |
| Byron Whitman | Philadelphia Publinks | 77 | 79 | 156 |
| Brent Wily | Berkleigh CC | 74 | 82 | 156 |
| Jeffrey Sepesi | Radnor Valley CC | 75 | 82 | 157 |
| Ron Weaver | Meadia Heights GC | 77 | 80 | 157 |
| John Cobb | Tavistock CC | 76 | 82 | 158 |
| Charles Dowds, III | North Hills CC | 76 | 83 | 159 |
| Richard Reed | Downingtown CC | 73 | 86 | 159 |
| Matthew Bellis | Commonwealth National GC | 76 | 84 | 160 |
| Thomas DiCinti | Links GC | 74 | 86 | 160 |
| Michael Fox | Philadelphia CC | 73 | WD | WD |