George Yearwood
George Yearwood, at the age of 78, is an active member of Steel Club. He's also an active round-poster and often posts the most rounds of anyone in GAP.
Born and raised in the bustling streets of Yonkers, New York, George's journey took him to New Jersey in 1971, and eventually he settled across the border in Easton, PA in 2013. George's career was marked by his dedication and technical acumen for 40 years as a computer programmer, a path he embarked on in 1968. However, his service to the nation began even earlier in 1963 when he joined the Army and became a paratrooper. The first airplane he ever got on, he jumped out of.
In 1975 George's manager told him that he would be more likely to forward his career with a four year degree, rather than his two year Associates Degree. George responded by enrolling at nearby Fairleigh Dickinson University in Madison NJ. In order to complete his degree as quickly as possible, he took 9 credits a semester at night while maintaining his family, including a wife and two children and a job that often required working nights and weekends. He completed his degree in four years, graduating with a 3.8 index and being awarded Academic Student of the Year. George was the first part-time student to ever win that award.
For George, golf isn't just a sport; it's a way of life. He's a regular at Steel Club and strives to play twice a day, finding solace and fulfillment in the game. His rigorous preparation for the upcoming challenge involves walking 18 holes while carrying his bag, followed by walking another 18 holes with a helping hand bringing him his equipment on a cart.
George was approached with the idea to participate in this unique fundraising endeavor. It didn't take much convincing for him to throw his body into the cause, recognizing its worthiness. He first took up golf at the age of 23, an activity that seemed worlds apart from his urban upbringing in a concrete jungle.
George's dedication to golf is truly remarkable, with an impressive tally of 330 to 370 rounds played each year starting in 2010. His enthusiasm for the sport extends beyond personal satisfaction; he believes in its power to engage people from an early age, viewing golf as a lifelong pursuit.
—
Dream foursome: Members from Steel Club
Favorite golf club: 3-Hybrid
Favorite golfer: Ray Silnik, former Steel Club pro and Lehigh Valley HOF
Favorite musician: Frankie Valli
Favorite sports team: New York Jets
Andrew Austen
Andrew is an extraordinary individual who has defied the odds to become a passionate and accomplished golfer, despite being born without a right arm. Andrew's journey in the world of golf began at an early age when he ventured onto the golf course with his father, creating cherished memories and instilling a lifelong love for the sport. Their home was conveniently located near St. Davids, a place that would play a pivotal role in shaping Andrew's golfing career.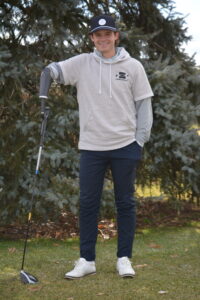 Growing up near St. Davids Golf Club was a stroke of luck for Andrew. The club, renowned for its nurturing and supportive environment, soon embraced Andrew as a junior member. The club's dedicated professionals were actively involved in mentoring young talents, and they played a significant role in igniting Andrew's passion for golf. Sundays at St. Davids became a cherished tradition for him, a day filled with excitement and a chance to perfect his game. Among his four siblings, Andrew's brother stood out as a formidable golfer, pushing him to practice rigorously and strive for excellence.
Andrew's golfing journey took an unexpected and inspiring turn when he was introduced to adaptive golf. At St. Davids, he had the privilege of meeting John Prestwood, a fellow golfer with an amputated leg. John recommended the Eastern Amputee Golf Association (EAGA) to Andrew, opening a new chapter in his golfing career. Initially, Andrew played golf purely for enjoyment, and his connection to EAGA faded into the background.
However, as the COVID-19 pandemic swept across the globe and social media platforms like TikTok gained prominence, Andrew's story caught the attention of the golfing community, particularly the U.S. Adaptive Golf Alliance (USAGA). This year, Andrew participated in three to four USAGA events, marking a significant milestone in his adaptive golfing journey. With each event, he aspires to gain more freedom to compete and represent the adaptive community on a larger scale.
Beyond his personal achievements on the golf course, Andrew Austen is on a mission to make a difference. Fundraising plays a crucial role in his journey, as he seeks to raise awareness and support for adaptive golf. Through his determination and tenacity, he aims to elevate the visibility of adaptive golf and inspire others facing similar challenges. With each swing of the club, Andrew is not only pursuing his passion but also striving to be a voice for inclusivity and equality in the world of golf.
On October 2nd, Andrew will undertake a remarkable challenge by hiking 100 holes of golf at DuPont Country Club. This ambitious endeavor is not just a testament to his golfing prowess but also a fundraising effort to further the cause of adaptive golf. Andrew's journey is an inspiring tale of resilience, determination, and the power of the human spirit to overcome obstacles and make a positive impact on the world.
—
Dream foursome: Tiger Woods, Steph Curry, Heath Ledger
Favorite golf club: Titleist DCI Pitching wedge
Favorite golfer: Robert Macintyre
Favorite musician: Mt. Joy
Favorite sports team: Phillies, Knicks, Rangers, Giants
Laura Heien
Laura is the Director of Championship Administration at GAP, and is a passionate individual with deep roots in the world of golf. Hailing originally from the picturesque state of Colorado, Laura's journey into the world of golf started at a remarkably young age. Her grandpa's association with a golf course provided the backdrop for countless childhood memories, igniting her love for the sport from the outset.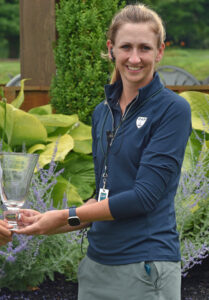 Laura's formal education led her to Truman State University in Kirksville, Missouri. Here, she not only pursued her academic endeavors but also joined the women's golf team, solidifying her connection to the game. It was during the summer of 2011 that Laura's path took a pivotal turn. She ventured to Delaware as a P.J. Boatwright Intern, immersing herself in golf administration. This internship marked the beginning of a lifelong commitment to the sport's organizational side.
Beyond the golf course, you can regularly find her at Cycology 202, indulging in her love for spin biking. Cooking is another one of her passions, where she whips up culinary delights in her spare time. Additionally, she enjoys the vibrancy of live music and theater, showing her appreciation for the arts.
Laura's dedication to golf extends to her involvement in the Youth on Course (YOC) program. As a member of the original team that introduced YOC to the First State, she is deeply committed to raising awareness for this exceptional initiative. That commitment continues Oct. 2 at DuPont. The 100-Hole Hike serves not only as a personal challenge, but also as a means to fundraise for the program she holds dear.
—
Dream Foursome: Fred Couples, Peyton Manning and my grandpa
Favorite Golf Club: 8 iron
Favorite Golfer: Fred Couples
Favorite Musical Artist: Anything from country, musical theatre to jazz… my Spotify is a mess.
Sports Fanhood: Denver/Colorado teams!
Austin Ebersole
Austin's name is synonymous with FlingGolf, a sport that combines elements of golf and lacrosse, and he holds the distinguished title of being the No. 1 ranked FlingGolf player in the world. Born and raised in Central Pennsylvania, Austin's journey into the world of golf and FlingGolf is one that's defined by passion, dedication, and a relentless pursuit of excellence.
Austin's golf journey began later in life at the age of 21. Growing up, golf was never really on his radar. However, fate had a different plan for him when he met his future wife, Brooke, whose family owned the American Classic Golf Club.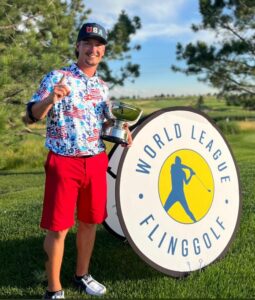 During his visits to Delaware, Austin found himself increasingly drawn to the world of golf. His innate athleticism didn't go unnoticed, as friends and family quickly realized he had a natural talent for the game. With a background in coaching, Austin decided to pursue golf seriously. He earned his certification in 2017 and began teaching the sport to both kids and adults. He even took on the role of running the golf course, a responsibility he shouldered since 2015, further cementing his connection to the game.
When Austin stumbled upon FlingGolf at a PGA Show, it instantly appealed to him. It retained the same tees, cups, and pars as traditional golf, making it an ideal fit for their small family business. Austin wasted no time, purchasing some FlingGolf sticks and introducing the sport at American Classic. Over the next two years, FlingGolf at American Classic witnessed an explosion in popularity, attracting players who had never set foot on a golf course before.
The turning point came in 2021 when FlingGolf appeared on Shark Tank, catching the attention of ESPN producers. This led to the creation of a professional FlingGolf tour that would be broadcast on ESPN. In the spring of 2022, the first-ever FlingGolf tournament at American Classic took place, marking a significant milestone for the sport.
Over the past two years, FlingGolf has grown exponentially, and Austin has been at the forefront of this movement. His dedication and skill have not only earned him a place as the No. 1 ranked FlingGolf player globally but also enabled him to make a living and support his dreams. His accomplishments in FlingGolf include being the first male to win two individual championships and achieving four consecutive team championships.
Austin is not only a FlingGolf champion but also a passionate advocate for the sport. He has been involved with First Tee for eight years and became a part of the Youth on Course (YOC) initiative. His message to aspiring FlingGolf enthusiasts is clear: "If you're ready to have fun and be a part of a community that is uplifting and supportive, this is exactly for you. It's a new sport, so there's no old blood, no new blood. The sport is fun and extremely adaptive. And even if you don't compete at the highest level, it's a short learning curve."
—
Dream foursome: Michael Jordan, Tiger Woods, Charles Barkley
Fling stick: The Encore
Favorite golfer: Cam Smith
Favorite musician: The Showtime Spotify playlist
Favorite sports teams: Philadelphia Flyers, Minnesota Vikings, St. Louis Cardinals, Toronto Raptors
Dan Hershberg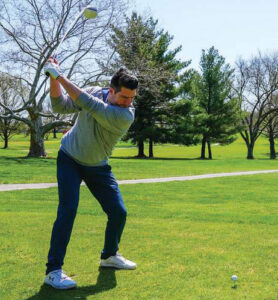 A Philadelphia-born and bred entrepreneur, Dan has been the creative visionary behind four companies in the last 15 years, including a fan-centric Philadelphia sports apparel brand (Philly Phaithful), a popular craft brewery (Workhorse Brewing Co.) and most recently, the Amateur Golf Society of America (AGS).
In his current role as CEO of AGS, Dan has helped to build a uniquely formatted event series, allowing golfers of all skill levels to compete in tournament-style golf completely on their schedule. As a result, he's been afforded with ample opportunities to tee it up and any failures on his part to card a commensurate number of birdies during his 100-hole hike will be met with scorn and derision from friends and family alike. Because golf is hard and he's likely to fail in his quest for his elusive first hole in one while on his hike, please consider supporting Dan so that he maintains a smile on his face regardless of his scorecard.
—
Dream Foursome: Charles Barkley, Justin Timberlake, Will Arnett
Favorite Golf Club: Callaway Paradym 5 Wood
Favorite Golfer: Rory McIlroy
Favorite Musical Artist: Jurassic 5
Sports Fanhood: Philadelphia 4 for 4