BLUE BELL, Pa.–Patrick Marshalek of Whitford CC stunned top-seeded Jamie Slonis of Tavistock CC, 1-up, to cap a sensational opening two rounds of the 105th Amateur Championship on Wednesday at Cedarbrook CC. Marshalek's victory highlighted a day of match play that produced a quarterfinal featuring a handful of youngsters and a duo from St. Davids. The quarterfinals and semifinals are scheduled for Thursday beginning at 8 a.m. at Cedarbrook CC with the 36-hole final set for Saturday, June 18.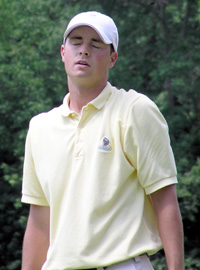 Marshalek, 19, of Chester Springs, Pa., carded his surprising victory by sticking to his plan – hitting fairways and greens. He finished it with a stellar 10-foot birdie run on the 18th green (par 4, 396 yards) after his opponent was already in for three.
"I couldn't be any happier," said Marshalek, a junior on the Penn State University golf team. "I tried to focus on playing my game. My goal was to win the first match [this morning] and take [Jamie Slonis] deep into the later holes. I knew I had the talent to do what I had to do but to play to a top level when you need it is something else."
Marshalek, the 17th seed, was 4-up with four holes to go, but a buried lie in a bunker on No. 15 (4, 431 yards) and two failed up-and-downs on the 16th and 17th holes sliced his advantage to one. However, the visibly frustrated Marshalek regrouped and stayed with his protocol. He striped his reliable 2-iron down the middle of the 18th fairway, a club he had hit well all day, and 30 yards behind the long-hitting Slonis. Then Marshalek, playing first, knocked his pitching wedge from 139 yards to 10 feet. Slonis, 36, of Sewell, N.J., responded by lofting a sand wedge from 106 yards to 20 feet before curling in a left to right breaking putt.
"I told myself I was going to hit a 2-iron on the 18th tee no matter what he did or where he hit it," said Marshalek. "It was about a left edge putt. I knew when I hit it, I had the right line."
And of his plan?
"I knew I shouldn't be trying any shots [Jamie] was trying," said Marshalek. "I just kept trying to hit fairways and greens and give myself 15 footers. I have the confidence to hit the center of the greens and make a putt rather then going for a shot that has a 20-percent reward."
Brian Gillespie of St. Davids GC, the 2001 Amateur Champion and 15th seed, edged John Sawin of Merion GC, the No. 2 seed, 2&1. Gillespie, 30, of
Chesterbrook, Pa., parred the final three holes of the match to go from a 1-down deficit to a victory.
Gillespie opened his match 3-up after four holes (the match started on the back nine), including holing out for an eagle on No. 10 (par 5. 531 yards) with a 9-iron from 151 yards, before Sawin rallied to take a 1-up advantage through 11 holes. Gillespie and Sawin exchanged victories on the next two holes before Gillespie made a great bunker save on No. 4 (par 4, 376 yards) to remain 1-down. Gillespie finally drew even on No. 6 (par 5, 565 yards), drained a nice eight-foot par putt on No. 7 (par 4, 366 yards) to go 1-up and capped the win with a winding 20-25 footer on No. 8 (par 4, 422 yards) for par after Sawin appeared poised to take the match to the final hole.
"It's about hitting the right shots at the right time," said Gillespie. "It's who makes the fewest mistakes. We're all amateurs. You can't give up."
Sawin, who finished with three straight bogeys, appeared a touch fatigued. He went 19 holes in the morning to defeat Michael McDermott, a three-time former Player of the Year.
"I kind of grinding myself out," said Sawin, 20, of Haverford, Pa. "Grinding out so many putts starts to wear on you. Physical and mental fatigue starts to show up."
Other highlights of the day included Doug Zelner, 43, of Coatesville CC, who trailed 4-down after five holes and again after 10 holes, rallying to defeat Chris Anderson of Wilmingon CC, 1-up.
Zelner of Coatesville, Pa., made a 12-foot birdie putt on No. 16 (par 3, 182 yards), rolled in a 30-foot under-par effort up the hill and from the fringe on No. 17 (par 4, 447 yards) and a stellar 15-foot par putt on No. 18 (par 4, 396 yards) to stun Anderson, the 25th seed.
"I kept telling myself to be patient," said Zelner, the 24th seed. "I said hit fairways and greens and things might happen."
Also, Clint Deibert of Doylestown CC, seeded sixth, birdied the 19th hole to defeat reigning Player of the Year Chris Lange, the 22nd seed, 1-up. Deibert, who made a tricky seven-footer on the twosome's 18th hole, No. 9 (par 3, 206 yards), launched a driver, 9-iron that rolled just into the left fringe on the par 5, 10th hole.
Both players carded 68s. Lange had zero bogeys and between them, the two carded 11 birdies and two bogeys.
"He's a tough competitor," said Deibert. "I know he doesn't make any mistakes and he didn't."
Doug Schroer, also of St. Davids GC, defeated James Kieserman of Talamore at Oak Terrace CC, 2-up.