Matt Homer takes Jock MacKenzie;
brother Jeff wins Hammond
| Scoring portal | History | Photo Gallery |  Harry Hammond Award standings | Harry Hammond Award history | Junior POY standings |
ORELAND, Pa.–The Homer family added two volumes to its 2021 Junior trilogy.
Twins Matt and Jeff Homer pulled off a rare feat, each registering a GAP victory on Monday at Sandy Run Country Club (par 72, 6,492 yards). Matt led start-to-finish to take the Jock MacKenzie Memorial, the annual 18-hole Junior stroke play tournament held at the Oreland, Pa course. Matt carded a bogey free 5-under 67 for a two-shot victory, his first GAP championship.
Jeff, winner of the Christman Cup in early July, added the year-long Harry Hammond Award with a 3-over total of 285. Jeff posted a final-round 75 good enough for a six-shot win. The Harry Hammond is a calculation of the aggregate scores from Junior Boys' Championship Qualifier, 36 holes of the Christman Cup and Jock MacKenzie Memorial. Jeff's four rounds were 71-72-67-75.
The 16 year olds live in Wilmington, Del., and are rising Juniors at The Tatnall School.
"We learn a lot from each other and feed off of each other. We play golf every day with each other and are so competitive that when we play we want to beat each other," said Matt. "At the same time, we want the best for each other. I was very happy when he won the Christman Cup. I went out and watched him finish. He made a lot of clutch putts. I said 'If he can do it why can't I.'"
"It's really cool to see [Matt] win. It's cool to see each of us as [GAP] champions this year," said Jeff. "It absolutely helps playing every day against [Matt], because I want to beat him."
Matt bested his brother, and everyone else, with a scintillating performance. His 5-under 67 was the second lowest winning score in Jock MacKenzie history. The tournament dates back to 1985. Last year, Morgan Lofland, of Phoenixville Country Club, won with a 66.
Homer said it's his first round, of any type, without a bogey.
"I wasn't really thinking about. I was just going along on my way until 18," said Homer, who was a semifinalist in the Junior Boys' Championship in mid-June. "I said if make this [short par putt] it's the first time I've ever played bogey free. It was one of the few rounds where everything came together."
Homer's unblemished scorecard included five birdies, including two on the opening pair of holes courtesy of some long-range putting. On No. 1 (par 4, 350 yards), he drained a 30 footer for three after finding the green with a sand wedge from 118 yards. He followed that up on No. 2 (par 3, 188 yards) with a 50-foot birdie once his 6-iron stopped on the green. Homer added a third front-side red figure on No. 8 (par 5, 535 yards). He lofted a lob wedge from 60 yards to five feet and made the putt.
His most crucial stroke of the day came on No. 12 (par 3, 171 yards). Both he and Jake Maddaloni of Aronimink Golf Club found the green. Maddaloni, trailing Homer by a stroke at this point, went first and converted a 12-foot birdie putt to briefly tie for the lead. Homer responded in style by sinking his 10-foot birdie on the next stroke to regain the advantage.
Maddaloni did finish second with a score of 70. He and Homer were the only two players under par.
"I was struggling for the bigger part of July. I had a lesson with my coach John Dunigan and he made a grip switch," said Homer of his game's status entering the Jock. "I played a little bit over the past few days and I started hitting it better. It all came together today."
As previously stated, Jeff adds the Harry Hammond Award to a stellar summer season in which he took the Christman Cup title.
Though he finished 3 over at Sandy Run, it was the totality of the four rounds and how he played them, that has Jeff looking forward.
"I didn't make many mistakes through those four rounds. I've been 100 times better than I've ever been with my course management and staying in it and never giving up," said Jeff. "I couldn't let myself get frustrated like I've done before. I was able to adjust on the fly and manage whatever game I brought to the course.
"To be around GAP as long as I have. I have always wanted to be a GAP champion. I was well aware of the award and to win it is great."
Junior Girls' Division
Molly Gregor, 17, of Huntingdon Valley Country Club and North Wales, Pa., improved both her score and her final position from the 2020 Jock MacKenzie Memorial to take the title. Gregor carded a 10-over 82 at Sandy Run Country Club (par 72, 5,619 yards), four strokes better than a year ago, to capture the Junior Girls' Division. Last year, she finished second by a shot.
"It feels good. It's nice to see the progression with my scores," said Gregor, a rising senior at Gwynedd-Mercy Academy High School.
Junior-Junior Division
Thomas Ploszay of Chester Valley Golf Club carded a 2-over 38 at Sandy Run Country Club (par 36, 2,784 yards) to take the nine-hole Junior-Junior Boys' Division.
Ploszay sank a 12-foot birdied on his final hole to secure the victory.
Nicky Nemo of Merion Golf Club finished second at 4 over.
It was Ploszay first GAP Junior experience of the summer. His lacrosse club team, Tigers XXVI, based in Newtown Square, Pa., recently advanced to the National Lacrosse Federation National Championships before falling in the semifinals to Sweetlax-NY. He is the Tigers starting goalie.
"I was a little rusty early on, especially with my woods," said Ploszay, 13, of Berwyn, Pa., and a rising eighth grader at Malvern Prep. "I try to make sure I have a really good warm-up at the range and stretch."
Harry Hammond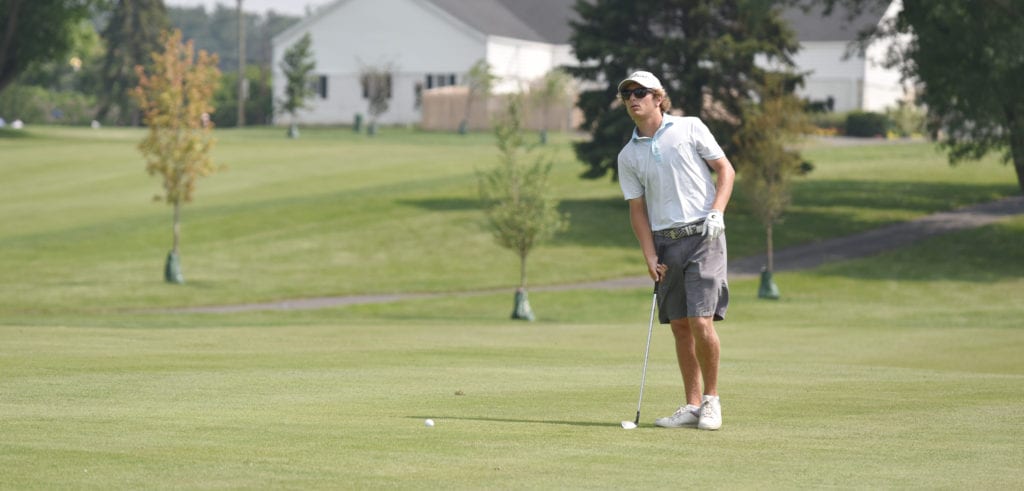 Harry Hammond, an ardent supporter of Junior golf both locally and nationally, served as the Philadelphia PGA Section's Junior Golf Chairman for 29 years. He is the Director of Golf at Penn Oaks Golf Club and head men's golf coach of West Chester University. A 55-year member of the PGA of America, Hammond received the organization's Bill Strausbaugh Award for leadership and service to the game of golf in 2012.
GAP
Celebrating Amateur Golf since 1897, GAP, also known as the Golf Association of Philadelphia, is the oldest regional or state golf association in the United States. It serves as the principal ruling body of amateur golf in its region. The Association's 300 Member Clubs and 80,000 individual members are spread across the Eastern half of Pennsylvania and parts of Delaware, Maryland and New Jersey. The GAP's mission is to promote, preserve and protect the game of golf.
| | |
| --- | --- |
| Junior Boys' | |
| Name, club | Score |
| Matthew Homer, Wilmington Country Club | 67 |
| Jake Maddaloni, Aronimink Golf Club | 70 |
| Elijah Ruppert, Golden Oaks Golf Club | 72 |
| Stephen Butler, Indian Valley Country Club | 73 |
| Anthony Ciconte, Wilmington Country Club | 73 |
| James Gradisek, Philadelphia Country Club | 73 |
| Ajeet Bagga, Manufacturers' Golf & Country Club | 74 |
| Nick Ciocca, Aronimink Golf Club | 74 |
| Adam Fluehr, North Hills Country Club | 75 |
| Jeffrey Homer, Wilmington Country Club | 75 |
| Jack Homer, Wilmington Country Club | 76 |
| Thomas Larkin, GAP Youth on Course | 76 |
| Jackson Debusschere, The Springhaven Club | 77 |
| Connor Toussaint, North Hills Country Club | 77 |
| Mario Ventresca, Cedarbrook Country Club | 77 |
| Luke Watson, RiverCrest GC & Preserve | 77 |
| Finn Coll, Sandy Run Country Club | 78 |
| Will Huntley, Blue Bell Country Club | 78 |
| Julian Ciurlino, Walnut Lane Golf Club | 79 |
| Kevin Lydon, Commonwealth National Golf Club | 79 |
| Darren Nolan, Cedarbrook Country Club | 79 |
| Kevin Lafond, Blue Bell Country Club | 80 |
| Travis Robertson, Sunnybrook Golf Club | 80 |
| John Romeo, Cedarbrook Country Club | 80 |
| Reese Dalzell, Huntingdon Valley Country Club | 81 |
| Jack Dare, Riverton Country Club | 81 |
| Derek Johnson, Blue Ridge Trail Golf Club | 81 |
| Joe Ciconte, Wilmington Country Club | 83 |
| Liam Coll, Sandy Run Country Club | 83 |
| Luke Corcoran, Cedarbrook Country Club | 83 |
| Eric Fryer, Commonwealth National Golf Club | 83 |
| Nathan Jones, The 1912 Club | 83 |
| Liam Buckley, Rolling Green Golf Club | 84 |
| Joe Kriz, Manufacturers' Golf & Country Club | 84 |
| Matt Rieger, Sunnybrook Golf Club | 84 |
| Fletcher Jones, Wilmington Country Club | 88 |
| Marshall Kain, Overbrook Golf Club | 88 |
| Nicklaus Meisinger, Penn Oaks Golf Club | 88 |
| Alex Nemo, Merion Golf Club | 88 |
| Reid Walker, Riverton Country Club | 89 |
| Matthew Buckley, Rolling Green Golf Club | 92 |
| Zach Moua, St. Davids Golf Club | 92 |
| Devin Carpenter, Walnut Lane Golf Club | 95 |
| Harrison Brown, GAP Youth on Course | 96 |
| Nick Villari, Riverton Country Club | 96 |
| Adam Milne, GAP Youth on Course | 97 |
| Tyler Leyden, North Hills Country Club | WD |
| Reilly Shaffer, Llanerch Country Club | WD |
| Patrick Meko, North Hills Country Club | NC |
| | |
| Junior Girls' | |
| Name, club | Score |
| Molly Gregor, Huntingdon Valley Country Club | 82 |
| Nora Blatney, Philadelphia Cricket Club | 87 |
| | |
| Junior-Junior Boys' | |
| Name, club | Score |
| Thomas Ploszay, Chester Valley Golf Club | 38 |
| Nicky Nemo, Merion Golf Club | 40 |
| Ian Larsen, Honeybrook Golf Club | 41 |
| Liam McFadden, Overbrook Golf Club | 43 |
| Sean Curran, Merion Golf Club | 44 |
| Nick Shanahan, Applebrook Golf Club | 44 |
| Paul Reilly, Hidden Creek Golf Club | 45 |
| Cole Berry, Overbrook Golf Club | 47 |
| Gregory Kriz, Manufacturers' Golf & Country Club | 56 |
| Benjamin Moorhouse, Talamore Country Club | 59 |
| Henry Sokol, Green Valley Country Club | WD |
| Jack Sokol, Green Valley Country Club | WD |
| | |
| NC-no card; WD-withdrawal | |