In Memoriam: Paul Rubincam
Paul Rubincam, a former GAP Executive Committee member (2000-05), died Feb. 7. He was 89.
The University of Pennsylvania was Rubincam's home. He was an employee of the university for close to 50 years, holding numerous positions ranging from director of alumni affairs for the Wharton School of Business to its athletic director from 1985-93. He served as the executive director of the Philadelphia Big 5 from 1996-2006.
"[Being the executive director of the Philadelphia Big 5] wasn't an easy job to have," Joe Juliano, former Philadelphia Inquirer sportswriter and current GAP Magazine contributor, said. "Most of the Big 5 schools were blazing their own paths. It seemed like there were philosophical or scheduling conflicts every year that threatened the organization's existence, but Paul somehow managed to keep everything together. That's the way Paul was. He was very unassuming. A gentleman who cared about people."
Rubincam made significant contributions to the university and its community. That led to his induction into the Penn Athletics Hall of Fame in 2019.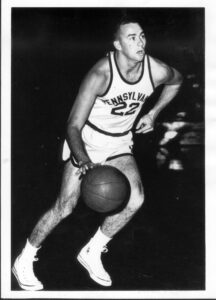 Rubincam was a member of Philadelphia Cricket Club, and most recently a resident of Blue Bell, Pa. He graduated from Coatesville High School in Coatesville, Pa. and spent two years as a postgraduate at the Lawrenceville School in Lawrence Township, N.J.
He was an all-state basketball player at Coatesville and played collegiately at UPenn, where he was named a captain his senior year.
Rubincam joined the GAP Executive Committee in 2000 and served on numerous committees including: Golf Administration, Junior, Member Services, Membership and Communications.
He chaired GAP's PLAY Golf committee during its final two years (2004-05). The PLAY Golf committee was a GAP initiative to expand golf access for urban and community-based youth.
"One thing I do remember is his love of golf," Neil McDermott, 75, of Newtown Square, Pa, and former GAP President (2002-05), said. "Paul was thoughtful, and I think he certainly didn't jump to any quick conclusions. He really studied an issue that may have been before the Executive Committee, and when Paul would speak to the Committee on a topic, he had a lot of profound things to say."
Rubincam retired from the Executive Committee in 2005.
He is survived by his wife Penny, sons Peter and Paul, III, daughter Lindsay, six grandchildren and other relatives.
In lieu of flowers, donations in his name can be made to the Penn Champions Club, Office of the Treasurer, P.O. Box 71332, Philadelphia, Pa. 19176, and the Lawrenceville School Alumni Fund, P.O. Box 6125, Lawrenceville, N.J. 08648.