Diakon returns to former employer for unexpected #GAPMidAm week
| Scoring portal | Round One Notebook |
After spending years working at Lookaway Golf Club (par 72, 6,883 yards), Brett Diakon's familiarity with the course allowed him to have an unexpected and impressive performance in the 38th GAP Middle-Amateur Championship.
Before competing in GAP tournaments, Diakon, now playing out of Commonwealth National Golf Club, worked as an assistant caddiemaster at Lookaway.
"I was in that position for a couple of years, and then after that, I went to college," Diakon, 41, of Perkasie, Pa., said. "I caddied up here for three or four years, and the membership was always great; they used to give me full playing privileges here, so it was a great experience working here, and the membership has been great."
Diakon, who hasn't played in many GAP events in recent years, emphasizes how good it feels to play competitive golf in a course he knows so well.
"I love playing in GAP, it's been a few years since I played in one of these events, and I'm glad to be competing back in Lookaway," Diakon said. "It's a beautiful golf course right in my backyard that I've played at so many times."
Diakon's most significant accomplishments during his GAP career are wins in the GAP Team Championship as captain in 2009 and 2014, plus BMW GAP Team Matches victories in 2007 and 2009.
"Winning those team events, the Team Championship and [BMW GAP Team Matches], were my favorite overall moments with GAP," Diakon added. "It's always great to be playing with your buddies and competing."
Diakon finished seventh this week with an even score after posting 1-under 71, in the final round today. His three birdies on Nos. 3 (par 5, 527 yards), 15 (par 3, 168 yards) and 17 (par 5, 520 yards) gave him the necessary momentum to have a strong finish. This strong performance has Diakon looking forward to competing in more GAP events sooner rather than later.
"It just felt good going out there and feeling comfortable with the fact we've been given good weather on a well-maintained golf course," Diakon added. "I putted well throughout the day and made all of the putts you're supposed to make."
From Wemberly Hills to GAP Major Mecca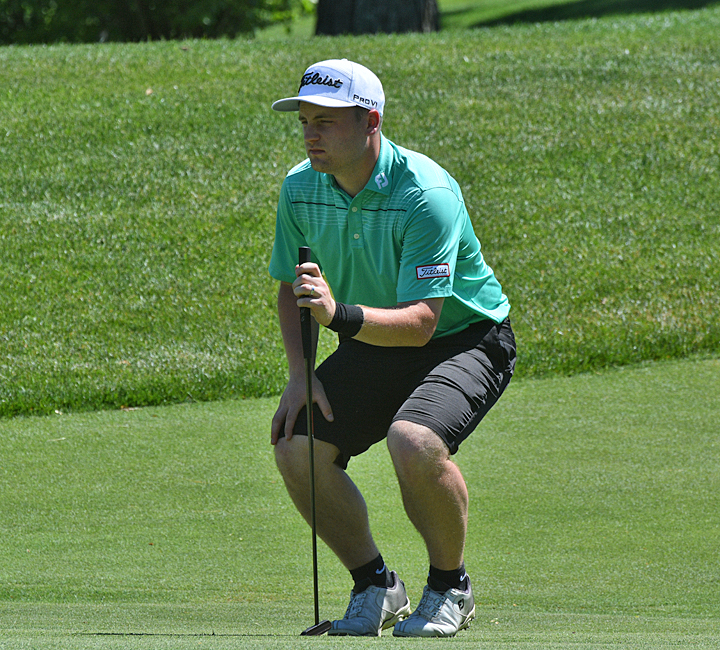 It's a moment he's been working towards for quite some time now, but David Mecca finally got his chance. He wanted to make the trip to test his game against GAP's greatest.
An established amateur, and professional engineer, playing out of Wemberly Hills Golf Club in the Anthracite Golf Association region, Mecca made his GAP Major debut this week. He finished at 5-over par for the championship thanks to a 4-over 76 Wednesday paired with a 1-over 73 today. Mecca's best shot of the event came from a birdie on No. 4 (par 3, 387 yards).
"I had never heard of Lookaway before this week. My first time playing here was on Sunday for our practice round," Mecca, of Scranton, Pa., said. "This course is nice, and the greens are beautiful."
Mecca has been seeking the winner's circle ever since 2018. That season, he took home the 2018 AGA/GAP Carlyle Robinson Fall Four-Ball at Lords Valley Country Club alongside teammate Michael Thomas of Scranton Municipal Golf Course. A solid 5-over overall showing in his GAP Major debut, good for T-14, was a step in the right direction.
Traveling to compete against "the best in the region" is what keeps Mecca motivated as he made his way down from Scranton, Pa., to play in this week's event. According to him, it was worth the drive, and he hopes more from the Anthracite region decide to hit the road more often.
"I've been getting more involved with GAP," Mecca, 28, said. "I didn't get to play in many tournaments this year, but I want to make the best out of every opportunity and get some major experience. I think it would be great if we got more AGA guys to qualify," Mecca added. "It's important to get used to playing in these big spots, and these tournaments are well put together."
After graduating from Hofstra University in 2015, where he played for four years and was team captain of the Pride, it allowed him to maintain a strong comfort level throughout the week. He loves competing, and that's what GAP Majors provide for competitors.
"I walked on the team my freshman year and was named captain by my sophomore season," Mecca said. "I believe that experience playing at Hofstra allowed me to be comfortable with my shots as I played in the final round. I played this week to compete against the best, and that's what I did."
GAP
Celebrating Amateur Golf since 1897, GAP, also known as the Golf Association of Philadelphia, is the oldest regional or state golf association in the United States. It serves as the principal ruling body of amateur golf in its region. The Association's 300 Member Clubs and 80,000 individual members are spread across the Eastern half of Pennsylvania and parts of Delaware, Maryland and New Jersey. The GAP's mission is to promote, preserve and protect the game of golf.