Combine your affinity for two sports into one (virtual) night.
Purchase a ticket to a select future Philadelphia Flyers game and gain access to a special Virtual Golf Night event and receive a unique golf gift along the way.
First, you'll be able to join the Flyers for a special Q&A with World Golf Hall of Fame member and nine-time Major winner, Gary Player. In addition, you will get to hear from golf course architect Jim Wagner of Hanse Golf Course Design, who has designed numerous well-known courses! Hosted by Flyers broadcaster Steve Coates, this is an event you won't want to miss. A link to the virtual event will be emailed to ticket-purchasers on Nov. 18.
All tickets also include a limited-edition Gritty Driver Headcover. The headcover will be mailed to the address on file after the ticket is purchased. Each ticket purchased will be eligible for a headcover (i.e. a purchase of four tickets will result in a shipment of four headcovers).
Once the 2020-21 schedule is released, ticket purchasers will be contacted with three options as to which game they'd like to attend. You can also donate your ticket to a pandemic frontline essential worker. In the event that capacity restrictions are in place for the season and fans cannot attend games, your ticket option will roll over to the 2021-22 season. Ticket purchases will choose either upper level or lower level. The cost for an upper level package is $60 per ticket, while the cost for a lower level package is $90 per ticket.
For questions, email questions to GAP Director of Member Services Mario Machi at mmachi@gapgolf.org or Zach Lehrbaum from the Flyers at zach_lehrbaum@comcastspectacor.com.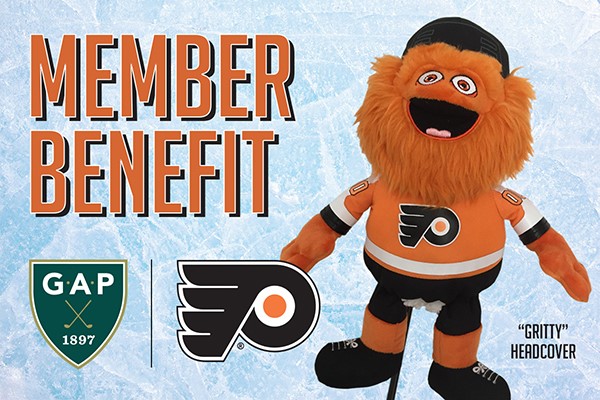 GAP
Celebrating Amateur Golf since 1897, GAP, also known as the Golf Association of Philadelphia, is the oldest regional or state golf association in the United States. It serves as the principal ruling body of amateur golf in its region. The Association's 288 Member Clubs and 75,000 individual members are spread across the Eastern half of Pennsylvania and parts of New Jersey and Delaware. The GAP's mission is to promote, preserve and protect the game of golf.