Weir wins Elite Series #2 at Saucon (Weyhill)
BETHLEHEM, Pa. – Thomas Weir is elite.
Weir, an Aronimink Golf Club caddie, fired a 1-under 71, taking the overall top spot in the Elite Series #2 event at Saucon Valley Country Club's Weyhill course (par 72, 6,757 yards).
The 23-year-old bettered a talented field of 47 title chasers on Tuesday. His win came in result of a scorecard tiebreaker. Weir's 2-under back nine bested East Tennessee State University's Campbell Wolf's 1-over second side for the victory.
After starting 2-over through seven holes, Weir knew he needed to gain momentum while playing against elite competition. He'd finally ignite his game on the par-5, 536-yard 9th hole. After a pured 3-wood found the dance floor with his second shot, a 15-footer for eagle just slipped by, but led to a tap-in birdie. At 1-over at the turn, Weir knew he still needed to go deeper into red figures to have an opportunity for hardware.
"I told myself, 'I need to get things done' if I wanted to have a chance," said Weir. "So on that back, I turned it on a little bit."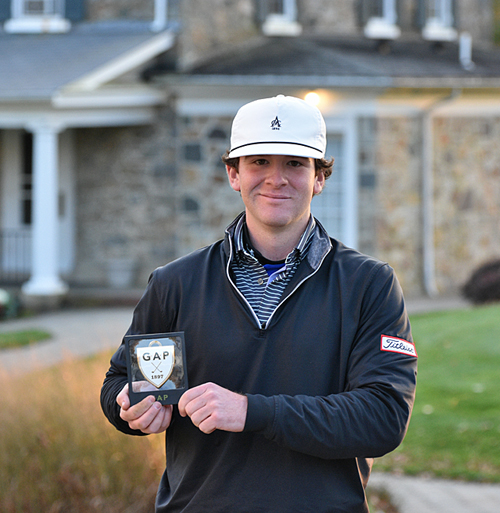 Two more birdies would be jarred on Saucon's second side. Weir got one to fall on No. 11 (par 4, 413 yards) after a bombed drive left him with just 138 yards in. His pitching wedge approach hit the green, spun to 10 feet and the putt was made. Even though it wasn't a birdie, perhaps the clutchest putt Weir made came on No. 16 (par 3, 145 yards). After a bunker shot (see above photo) came up short, he drilled a 25-foot par putt to remain even. A ferocious fist pump followed. Then, on No. 17 (par 4, 343 yards), Weir's 94-yard wedge approach flirted with the cup. Although the eagle didn't drop from the fairway, his five-foot birdie — ultimately the clincher — did.
"On the way here, I was thinking that if I could make 18 pars, I'd be more than happy. I know there were a lot of good players in the field, so that was that was my goal, you know, just trying to do what I can and take one shot at a time," said Weir.
Today's victory doesn't mark Weir's first win in GAP competition. As a caddie at Aronimink for the past nine seasons, he's competed in the GAP Caddie Tournament a handful of times. In 2018, he took home top honors at Bala Golf Club — a trophy he cherishes to this day. Add in the fact that Weir is a former J. Wood Platt Caddie Scholar recipient, and his ties to the Association are strong.
"I transferred into West Chester [University] a year ago, and now I only have a few more classes left. My first year there, the Platt took care of me and I'm really appreciative of that. That was huge for me," said Weir, 23, of Newtown Square, Pa.
Although he doesn't compete collegiately for West Chester, the senior Weir consistently challenges his game in other ways. However, with this year's pandemic situation, those opportunities were hard to come by in 2020. For that reason, Weir was simply ecstatic when he saw a @GAofPhilly Instagram post regarding the Elite Series announcement.
"Once I saw the GAP post about these events, I knew I was going to play. I'm so happy I got the chance to play in this today," said Weir. "This is the Elite Series. I came here to play golf, and compete against really good players."
He didn't just compete. Weir proved himself to be among the region's elite with a medal to prove it.
Allison Cooper-Wix won the event's Women's Division (par 72, 6,007 yards) title. Her 4-over 76 sealed the deal.
GAP created the Elite Series, open to players 18-24 years of age, in an effort to fill a competitive void created by the cancelation of college golf seasons due to the COVID-19 pandemic. The format is 18-hole individual stroke play. Elite Series #1 took place Oct. 26 at North Hills Country Club.
GAP
Celebrating Amateur Golf since 1897, GAP, also known as the Golf Association of Philadelphia, is the oldest regional or state golf association in the United States. It serves as the principal ruling body of amateur golf in its region. The Association's 288 Member Clubs and 75,000 individual members are spread across the Eastern half of Pennsylvania and parts of New Jersey and Delaware. The GAP's mission is to promote, preserve and protect the game of golf.
Results
Name, city, state
Men's Division
Score
*Thomas Weir, Newtown Square, Pa.
71
*Campbell Wolf, Mechanicsburg, Pa.
71
Kyung Hwan Chung, Reading, Pa.
72
John Devereux, Brielle, N.J.
72
Brandon Raihl, Wernersville, Pa.
72
Liam Hart, Holland, Pa.
73
Stephen Cerbara, Langhorne, Pa.
74
Caleb Ryan, Norristown, Pa.
74
Brock Fassnacht, Lititz, Pa.
75
Anthony Barr, Harleysville, Pa.
76
Chris Binet, Oreland, Pa.
76
Greg Welsh, Ambler, Pa.
77
Griffin Smith, Holland, Pa.
78
Andrew Curran, Media, Pa.
79
Gerald Haftmann, Springfield, Pa.
79
Matt Kreider, Lititz, Pa.
79
Jonathan Wilson, Dallas, Pa.
79
R.J. Wren, Morgantown, Pa.
79
Shawn Blandine, Ringwood, N.J.
80
Andrew Forjan, York, Pa.
80
Nick Hano, Warrington, Pa.
80
Austin Schreffler, Dillsburg, Pa.
80
Connor Bekefi, Toms River, N.J.
81
Pa.ul Fedele, Easton, Pa.
81
Christian Haldeman, Center Valley, Pa.
82
Robert Lugiano, Shavertown, Pa.
82
Joey Morganti, Havertown, Pa.
82
William Towle, Southampton, Pa.
82
Brian Zinman, Center Valley, Pa.
82
Timothy Cooper, Harrisburg, Pa.
83
Tyler McGarry, Pittston, Pa.
83
Andrew Woolley, Bethlehem, Pa.
84
Matthew Bastian, Media, Pa.
85
Samuel Reynolds, Ardmore, Pa.
85
Trevor Dydo, Ephrata, Pa.
86
Luke Fagley, Mohnton, Pa.
86
Andrew Wallace, Narberth, Pa.
86
Alex Butler, Canada
87
Christopher Warner, Yardley, Pa.
88
Liam O'Rourke, Bryn Mawr, Pa.
89
Aaron Tobin, Philadelphia, Pa.
89
Leonard Welch, Quakertown, Pa.
89
Michael Gallagher, Mountainside, N.J.
91
Cory Haldeman, Center Valley, Pa.
91
Karsyn Wright, Carbondale, Pa.
92
Joe Polidoro, Glassboro, N.J.
WD
Women's Division
Allison Cooper-Wix, Harrisburg, Pa.
76
* – decided in back-nine scorecard tiebreaker