Homer, Lydic, Sussex Academy take DIAA trophies at Odessa National
Odessa National Golf Club saw two rounds of a field full of the best high school golfers Delaware has to offer this week. Underneath a scorching sun, a few of those standouts — and one team — fired rounds that will be remembered for years to come, thanks to their resulting trophies.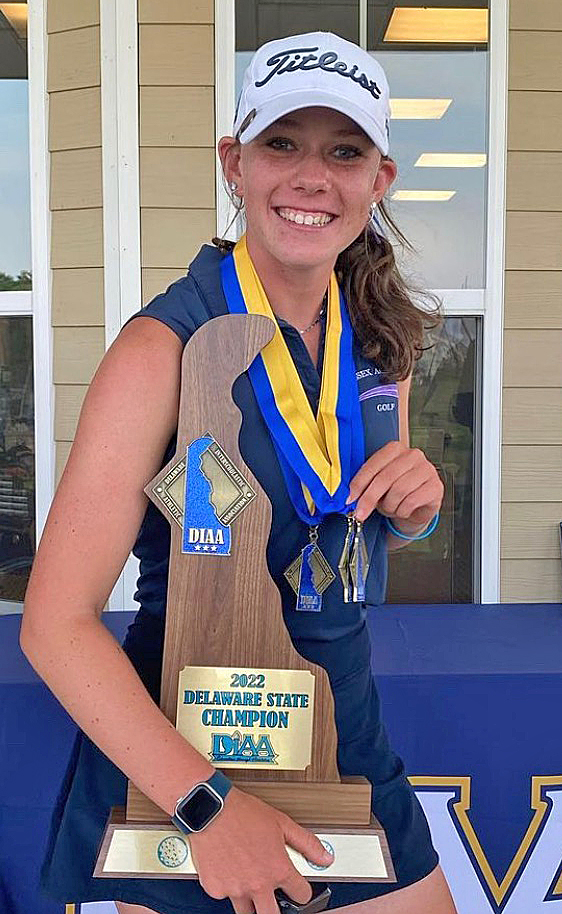 The DIAA (Delaware Interscholastic Athletic Association) State Championships field featured 11 schools with four-to-six golfers entered, making each of those eligible for the team championship. Taking the Team title at the end of two days was Sussex Academy. The Georgetown, Del. school fired a 2-over 506 total over the two rounds for the win, taking the trophy by six shots over Tatnall School (8-over 512). On the team side, this is the first Team Championship title for any sport at Sussex Academy 
The Girls Division saw four players tied with just four holes to play. Moments after securing the team title, Sussex freshman Sawyer Brockstedt and senior Hannah Lydic, who both finished at 3-under par for the championship, headed back out on the course for a sudden-death playoff to determine the Girls Individual Champion. Both players found the fairway off the tee on the par-4 18th hole and would match with pars. Following another pair of strong drives on their second playoff hole (18 again), Lydic knocked in another par while Brockstedt's second shot sailed just over the green. Brockstedt was not able to convert on the up-and-down, tapping in for bogey, leaving Lydic with the individual crown.
A second-day surge from Tatnall's Matt Homer saw him take the DIAA Boys' Individual title. After an opening round of even-par 72, Homer honed it in Wednesday, carding an incredible 6-under 66 to win the individual trophy, also finishing at 6-under for the championship. Homer tossed in seven birdies on the day. The junior topped first-round leader Evan Barbin (1-under) of Red Lion Christian Academy by five strokes for the W.
This year's championship featured separate leader boards and medals for girls and boys. No overall champion named; rather the top-five males and top-five female golfers received recognition and medallions.
The championship was administered by GAP/DSGA. The Association would like to extend its gratitude to Odessa National for hosting this week, as well as a thank you to the club's Head Professional Dale Loeslein and Superintendent Matt Richter.
GAP
Celebrating Amateur Golf since 1897, GAP, also known as the Golf Association of Philadelphia, is the oldest regional or state golf association in the United States. It serves as the principal ruling body of amateur golf in its region. The Association's 330 Member Clubs and 90,000 individual members are spread across Pennsylvania, Delaware, New Jersey and Maryland. The GAP's mission is to promote, preserve and protect the game of golf.