PHILADELPHIA, Pa.–Paul Rogowicz of Yardley CC, a longtime fixture in Golf Association of Philadelphia Championships, and Kyle Davis of Fieldstone GC, a sophomore at the University of Central Florida, advanced to the final of the 106th Amateur Championship on Thursday at Torresdale-Frankford CC.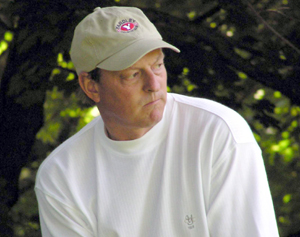 Rogowicz, 42, of Yardley, Pa., defeated Mike Danner of Lu Lu CC, 1-up, in his semifinal match after stopping Conrad Von Borsig of Concord CC, 3&2, in the morning's quarterfinal contest. Davis, 20, of Kennett Square, Pa., toppled Dan Walters of Meadia Heights GC, 2&1, in his semifinal after ousting former Amateur Champion Brian Rothaus of Philmont CC, 3&2, in the quarterfinal round.
This is the first Amateur Championship final appearance for both. The 36-hole final match is set for 8 a.m. on Saturday at Torresdale-Frankford CC with the winner receiving the J. Wood Platt Trophy.
"I kind of represent the older guys here now," said Rogowicz. "When I was younger, I never quite got to this point. I always looked up to those guys like Chris Lange and knew I could play with them [but I never made it here]. In fact, this is the first time I actually qualified [for match play]. This is the stamp of my career so far."
Rogowicz built a 4-up advantage after knocking down an uphill 10-foot bender for birdie on No. 13 (par 5, 555 yards), but watched Danner take the next four holes to bring the match back to even heading to No. 18 (par 4, 376 yards).
On the final hole, Danner, with honors on the tee, blocked his drive into the right tree line. Rogowicz countered with a 2-iron that split the fairway. Rogowicz, left with a 129 yards to the hole, then dropped a pitching wedge to six feet. Danner, with 134 to the hole, tried punching a 7-iron but pulled it left into the bunker. Danner's bunker shot came out hot and trickled off the back of the green. Danner eventually made six and conceded Rogowicz's three.
"When you get to this stage, it's a battle of attrition," said Danner, 32, of Chalfont, Pa., who like the rest of the quarterfinalists was on his sixth round of golf in three days. "He was a little bit better in the beginning and middle of the round. I hit a couple shots to get back into it. Paul [then] hit a great shot on 18."
Rogowicz said this was his first time even making the match play portion of the Amateur. He said he's tried on-and-off over the years to qualify but was never too successful. On Tuesday, he posted a very respectable 4-over-par 144 total in the Amateur Qualifier to earn the 12th seed.
Davis, the 2003 Junior Boys' Champion, played solid all day. He, too, like Rogowicz, built a 4-up advantage through 13. Davis won holes 7-8-9 and 13 with three pars and a birdie, respectively, as Walters driving went haywire and carded a trio of bogeys and a par.
Davis continued to make solid shot after shot and then sealed the win on No. 17 (par 3, 192 yards) with a three.
"It means a lot to have a chance to win and represent the GAP," said Davis. "I just try to go out and make a lot of pars [and put the pressure on the other guy]."
This was Davis' third Amateur Championship appearance. He advanced to match play the two other times but fell in the first round.
This marked a second straight strong Amateur showing for Walters, who recently graduated from Rollins College. Last year he fell in the quarterfinals to eventual runner-up Tug Maude.
Walters is 21 and resides in Lancaster, Pa.
Semifinals
12. Paul Rogowicz, Yardley CC, d. 25. Mike Danner, Lu Lu CC, 1-up
14. Kyle Davis, Fieldstone GC, d. 2. Dan Walters, Meadia Heights GC, 2&1
Quarterfinals
25. Danner d. 17. Brian Gillespie, St. Davids GC, 2&1
12. Rogowicz d. 4. Conrad Von Borsig, Concord CC, 3&2
2. Walters d. 7. Chris Ault, Yardley CC, 1-up
14. Davis d. 27. Brian Rothaus, Philmont CC, 3&2