| Scorecards | History |
WILMINGTON, Del. – They say it's not the golf club that makes the golfer. A magical Callaway Mack Daddy made an exception Monday at Fieldstone Golf Club (par 71, 6,329 yards).
Byron Whitman, the recent Frank H. Chapman Memorial Cup (Gross) Senior champion, translated the power of a new 56-degree sand wedge into an outstanding 2-under 69 in the Brewer Cup presented by Callaway Golf. The day's low number resulted in medal honors and the No. 1 overall match-play seed for the Berkshire Country Club member.
The qualifying round's cut line stopped at 5-over 76 on the rainy-turned-sunny day. A 6-for-2 playoff decided the final match-play berths. Fox Hill Country Club's Robert Gill and Laurel Creek Country Club's Joe Russo both drained birdies on the first playoff hole, hosted on the par-3, 128-yard 16th, to secure the final two spots.
Whitman's sparkling-new Mack Daddy, a popular Callaway product which he picked up last week, quickly gained favoritism. Starting on the back side, Whitman's 56-degree approach on No. 10 (par 5, 552 yards) landed within a foot. He'd choose the wedge once again, rocking the flagstick on No. 11 (par 4, 301 yards). A birdie-birdie start brought instantaneous good vibes to the fresh friendship.
"It was the Mack Daddy magic right from the beginning," said Whitman, 60, of Reading, Pa. "I'm already thinking about adding a 52-degree Mack Daddy to the bag. It just feels different."
The blossoming affair didn't end there.
On Fieldstone's finisher, the par-5, 498-yard 18th, Whitman ripped a driver, 3-wood combination that made for even more Mack Daddy momentum. He lifted the wedge 80 yards to eight feet, draining the putt, and made the turn at 2-under par.
"Famous for big numbers", Whitman slowly took his foot off the pedal while heading to his second nine, meaning hitting drivers at 80 percent and playing a tad more conservatively. That meant bogeys arrived on Nos. 1 (par 4, 412 yards) and 5 (par 5, 502 yards). It didn't mean he'd give away his lead.
On No. 3 (par 3, 175 yards), a 7-iron led to a 10-foot birdie conversion. Another one came on yet another par-3, the 174-yard 6th, that hosted Whitman's 7-iron once again, this time paired with a 25-foot make. Whitman almost got his final putt of the day to fall, but his golf ball decided to travel around the rim of the cup instead. Still, a 2-under round stood tall at the top of the leaderboard at day's end.
"It's incredible how different each day is in golf. You can be off by a fraction, or on by a fraction. This past weekend, I shot 80 in Berkshire's Senior Club Championship. Today I go out and shoot 69," said the medalist.
Confidence is at an all-time high for Whitman, who says "with the new wedge and irons in my bag that I feel very good with", anything can happen moving into the next round of match play. His Chapman title at Moselem Springs Golf Club — Whitman's former home of 10 years — came in early June, and has served as a motivator ever since.
"With my game, and my tendency to have big blow-up holes with big numbers, match play suits me. I can throw those out and move on," he said. "After that, anything can happen."
Whitman will square off with Gill, the 16th seed, Tuesday at 8 a.m.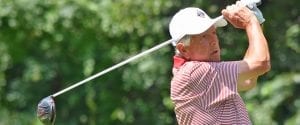 It was masterful balance that helped Don Donatoni earn medalist honors in the Super-Senior Division of the Brewer Cup on Monday at Fieldstone Golf Club (par 71, 5912 yards).
Should he go on to win the Major for the sixth time in the last seven years, Donatoni believes patience will be pivotal.
Donatoni, the six-time reigning Super-Senior Player of the Year, used an acrobatic birdie on No. 11 (par 4, 281 yards) to fuel his 1-under-par round of 70, the best score in a field of 30 players. The cut line for the eight available match play spots finished at 75.
Donatoni's 3-wood off the tee on the short par four came to rest on the edge of the treacherous bunkers left of the fairway, putting the 71-year-old in an awkward position for his approach.
"As I was taking my stance, it [the hill] was so steep that I fell into the bunker," Donatoni, of Malvern, Pa., said. "I had to position myself on my toes. The ball was at my belly button. I was just trying to maintain my balance."
As it turned out, the White Manor Country Club member did more than stay on his feet, his 52-degree wedge from 60 yards would finish just three feet from the hole, resulting in a remarkable birdie.
Although No. 11 undoubtedly proved to be a wild ride, Donatoni's play was, unsurprisingly, incredibly consistent overall. Using a recently de-lofted driver, he continually found fairways and put himself in good position off the tee. It is a trend Donatoni hopes will continue when match play begins Tuesday.
"I do realize that I could get knocked out in the first round and that could be it," Donatoni said. "Anything can happen in 18 holes of match play. I'll try to hit in in the middle of the fairways and try to hit it in the middle of greens and see what happens."
In a rematch of the 2017 Super-Senior Final, Donatoni will take on Thomas Humphrey of Wilmington Country Club in the Quarterfinals at 9 a.m.
Last year's medalist, Robin McCool of Saucon Valley Country Club finished second in this year's Super-Senior qualifying round. McCool, who won the Super-Senior title in 2016, fired a 2-over round of 73. He also claimed Senior titles in 2010 and 2013.
The Brewer Cup is named in honor of O. Gordon Brewer, Jr., the former president of Pine Valley Golf Club. He is a two-time U.S. Senior Amateur Champion and veteran of 42 USGA Championships. He's captured two Golf Association of Philadelphia Amateur Championship titles (1967, 1976), a GAP Senior Amateur Championship crown (1997) and a Senior Player of the Year (1997) as well as countless invitational titles. Seven years ago he was recognized for his contributions to the game with the USGA's Bob Jones Award.
GAP
Celebrating Amateur Golf since 1897, GAP, also known as the Golf Association of Philadelphia, is the oldest regional or state golf association in the United States. It serves as the principal ruling body of amateur golf in its region. The Association's 274 Full Member Clubs and 75,000 individual members are spread across the Eastern half of Pennsylvania and parts of New Jersey and Delaware. The GAP's mission is to promote, preserve and protect the game of golf.
Senior Division
Qualifiers
Name, club
Score
Byron Whitman, Berkshire Country Club
69
Gregory Buliga, Yardley Country Club
70
Paul Rogowicz, Yardley Country Club
72
Steve Walczak, Wilmington Country Club
72
William McGuinness, Tavistock Country Club
73
Oscar Mestre, Overbrook Golf Club
73
Rand Mendez, Fieldstone Golf Club
74
Carlos Ochoa, Little Mill Country Club
74
Glenn Smeraglio, Lu Lu Country Club
74
Thomas Soares, Lehigh Country Club
74
Michael Vassil, Country Club of Scranton
74
Bob Beck, Lehigh Country Club
75
Christopher Clauson, Lu Lu Country Club
75
Rufino Rosal, Wild Quail Golf & Country Club
75
*Joseph Russo, Laurel Creek Country Club
76
*Robert Gill, Fox Hill Country Club
76
Failed to qualify
*Kenneth Phillips, Lancaster Country Club
76
*Joseph Roeder, Little Mill Country Club
76
*Adam Armagost, Philadelphia Publinks GA
76
*David Blichar, Olde Homestead Golf Club
76
*George Steinmetz, Spring Ford Country Club
76
*Andrew Sterge, Applebrook Golf Club
76
Doug Fedoryshyn, Concord Country Club
77
Thomas Hyland, Little Mill Country Club
77
Craig Kliewer, Lebanon Country Club
77
Drew Panebianco, Five Ponds Golf Club
77
Robert Wagner, Merion Golf Club
77
Jay Desjardins, Waynesborough Country Club
78
David West, Wyncote Golf Club
78
Thomas Finn, Loch Nairn Golf Club
79
Rob Cook, DuPont Country Club
80
Denis Darragh, Olde Homestead Golf Club
80
Gregory Day, Old York Road Country Club
80
John Gosselin, Kennett Square Golf & Country Club
80
Robert Harrington, Merion Golf Club
80
John Psillas, Moselem Springs Golf Club
80
Marlin Detweiler, Lancaster Country Club
81
Patrick O'Brien, North Hills Country Club
81
Alan Wagenschnur, Loch Nairn Golf Club
81
Jim Yenser, Raven's Claw Golf Club
81
Richard Atcavage, Whitemarsh Valley Country Club
82
Mark Cubberley, Mercer Oaks Golf Course
82
Andy Lykon, Makefield Highlands Golf Club
82
Bryan McClaskey, Merchantville Country Club
82
Michael Quinn, Philadelphia Publinks GA
82
Jeff Rogatz, Wilmington Country Club
82
Rich Thon, The Springhaven Club
82
Brian Corbett, Country Club of Scranton
83
John Donnelly, Concord Country Club
83
Peter Ierardi, Jr., Old York Road Country Club
83
James Muller, Manufacturers' Golf & Country Club
83
Kevin Sartell, Wild Quail Golf & Country Club
83
Steven Welte, Fieldstone Golf Club
84
John Alterman, Commonwealth National Golf Club
86
Greg Mitchell, Fieldstone Golf Club
86
Steven Lucas, Wilmington Country Club
87
Vincent Guarino, Sea Oaks Country Club
88
Paul Berg, The Springhaven Club
89
Scott Mayne, LedgeRock Golf Club
WD
Buddy Reed, Loch Nairn Golf Club
WD
Harold Schweitzer, Jr., Broad Run Golfer's Club
WD
Elliot Sheftel, Lehigh Country Club
WD
Super-Senior Division
Qualifiers
Don Donatoni, White Manor Country Club
70
Robin McCool, Saucon Valley Country Club
73
Daniel Burton, Lancaster Country Club
74
Joe Cordaro, Saucon Valley Country Club
74
Gary Daniels, Applebrook Golf Club
74
Robert Billings, Rolling Green Golf Club
75
Thomas Humphrey, Wilmington Country Club
75
Raymond Pawulich, Little Mill Country Club
75
Failed to qualify
Tom Borsello, Hartefeld National
76
O. Gordon Brewer, Jr., Pine Valley Golf Club
76
Buck Jones, Philadelphia Publinks GA
77
Charles McDowell, Wilmington Country Club
77
Vincent Scarpetta, Jr., Nittany Country Club
77
Tom DiCinti, Mercer Oaks Golf Course
78
Bennett Meyer, Rolling Green Golf Club
78
Thomas Bartolacci, Jr., Lu Lu Country Club
80
Steve Meyer, Rolling Green Golf Club
80
Michael Anton, Lookaway Golf Club
81
Terrence Sawyer, Lu Lu Country Club
81
John Owens, Tavistock Country Club
82
Steve Tagert, Spring Ford Country Club
82
Robert Dietrich, Loch Nairn Golf Club
84
Howard Press, Little Mill Country Club
84
Bob Majczan, Lookaway Golf Club
86
Charles McClaskey, Philadelphia Publinks GA
90
James Prendergast, Bellewood Country Club
91
Thomas Mallouk, Lookaway Golf Club
WD
Michael Moser, Kennett Square Golf & Country Club
WD
Frank Polizzi, Whitemarsh Valley Country Club
WD
Richard Smith, Philadelphia Country Club
WD
WD – withdrawal
* – decided in playoff