| Scorecards | History | Day One recap | Day Two recap |
WILMINGTON, Del. – A year ago, Joe Russo was driving to the Brewer Cup at Old York Road Country Club. He passed out, and his car came to a startling stop on the Walt Whitman bridge. A no-show "NS" popped up next to his name on the leaderboard.
After a turbulent year full of doctor appointments, prescriptions and perseverance, a shinier inscription surfaced next to Russo's #BrewerCup name: champion.
Russo, a Laurel Creek Country Club member, battled to the Senior title in the 12th Brewer Cup presented by Callaway Golf Wednesday at Fieldstone Golf Club (par 71, 6,404 yards). The Jersey-built basher bettered the home club's Rand Mendez, 3&1, in the Finals for the prestigious Brewer trophy.
"There was a time where I didn't think I would ever play golf outside of New Jersey again."
"Last year at this time I was waiting for someone to come pick me up, waiting to drive my car home while I was suffering a panic attack. That's what makes this one so special and it's even tough to put into words what it was like," said Russo. "It's a bit of sweet revenge on the Brewer Cup considering I couldn't even make it to the tee last year."
Russo's revenge tour this week almost came to a complete stop, too. In Monday's stroke-play qualifier, he began with a triple-bogey 7. After a 5-over round of 76, Russo squeaked into match play with a playoff birdie that earned the No. 15 seed. On Wednesday morning, a commanding 6&5 victory in the Semifinals versus Country Club of Scranton's Michael Vassil respawned the flag-attacking mindset Russo lives by. He finished that match out with three straight birdies to end it.
"I played well throughout the match in the morning, honestly just really solid. Michael struggled with his putter, and that was the difference. It got me going," said Russo, 61, of Sewell, N.J.
After Mendez took care of business on home turf against one of the region's top Seniors in Overbrook Golf Club's Oscar Mestre, 3&1, in the Semifinals, a Mendez-Russo Final was set.
Mendez began with birdie on No. 2 (par 5, 527 yards), giving the homeclub hopeful an early 1-up edge, but Russo jarred a red number of his own on the proceeding par-3, 182-yard 3rd hole. Pars were traded for the next four holes. The match's first true highlight surfaced when Russo's 5-iron dart on No. 8 (par 3, 180 yards) landed just next to the hole and rolled past to 10 feet. He jarred the birdie look in with force to take a 1-up advantage — one he'd take through the turn.
"I've been hitting many putts tentative lately, so I wanted to give that one some speed," said Russo, cladded all week in his recognizable neon outfits. "I decided to go for it and hit it right in the center of the hole. It hit hard and dropped in."
A bogey-double bogey start on Fieldstone's back erased that earned edge immediately. Sloppy sand play on both Nos. 10 (par 5, 550 yards) and 11 (par 4, 278) left Russo "furious."
The anger didn't ruin him. Instead, it fueled him. A blasted driver on No. 12 (par 4, 369 yards) left Russo with just 78 yards in. Russo's sand wedge wiggled up to six feet and was drained while Mendez missed his 10 footer. The match was all tied up.
Mendez bogey mistakes arrived on the following two holes, Nos. 13 and 14. The lead blossomed to 2-up while Russo remained calm with four-straight pars coming in, featuring two-putt prowess. The eventual champ stepped up to the 17th tee (par 4, 401 yards) with the comfortable lead, but nerves crept in. Russo's tee shot caught the wind, and was pushed right under towering timber. Then came the shot of the match.
"I had 154 yards in, but I couldn't go up and at it because of the tree limbs. I took the 4-iron out, hacked it, and cleared the rough enough for it to run up the hill and to the top tier," said Russo. "Six more inches and it would have rolled off left. But it somehow stayed up."
His competition was amazed, too.
"That was one amazing shot back there, Joe," said Mendez after escaping a greenside bunker. "I can't tell you just how great that shot really was."
Mendez failed to jar his par putt and conceded the hole. A 3&1 victory began the celebration, but not without reflection. Russo, who was diagnosed with a severe panic disorder, opened up post-round about the day that changed his life forever.
"Last year's incident was in my mind this week. I still remember it, paying the toll on the Walt Whitman, pouring bottles of water all over myself to stay awake, and then just passing out 100 yards off the bridge. Finally I woke up, pulled over on the side of the road and an Upper Merion police officer rolled up to me," said Russo, a retired police officer himself. "A friend of mine Frank Kohute, who also plays in GAP stuff, called me out of the blue and says, 'What happened? I saw you no-showed [at the Brewer Cup].' I told him I couldn't drive, and he and his wife came and got me. It was a scary time."
Now taking medication prescribed by those who Russo "thanks for today's victory", the 2018 Senior Silver Cross winner is traveling and winning once again.
"There was a time where I didn't think I would ever play golf outside of New Jersey again. I couldn't even think about driving over another bridge," said Russo, the 2018 Senior Silver Cross winner." And now, a year later to see it come around full circle, it just makes this one that much sweeter."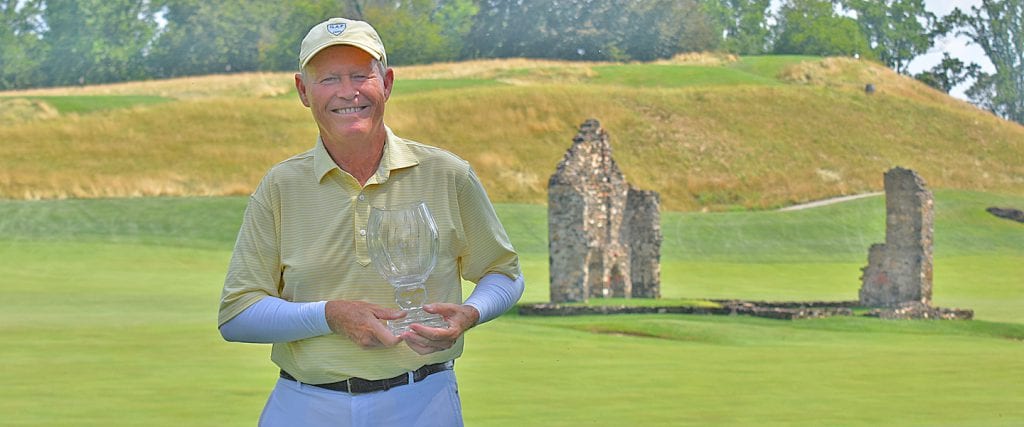 McCool, McCalm, McCollected a fourth Brewer Cup title.
Such was the narrative on Wednesday at Fieldstone Golf Club (par 71, 5966 yards) as Robin McCool of Saucon Valley Country Club earned first prize in the Super-Senior Division at the 12th Brewer Cup.
McCool defeated former GAP President Daniel Burton, 7&6, in the tournament's Final, playing the match's 12 holes in 4-under-par. The dominant afternoon performance came after a 19-hole struggle in the morning's Semifinals in which McCool eventually prevailed over Applebrook Golf Club's Gary Daniels.
The flawless Final round was played without a single blemish on the scorecard. McCool's spectacular showing came as the culmination of a couple mid-week adjustments made by the Center Valley, Pa. resident. Adaptations to both his full swing setup and putting posture allowed McCool to put together a near perfect performance.

"If I win I'm ecstatic, and most of the time I'm amazed because there are so many great players."
"I made an adjustment in my setup mid-qualifying round, and that did very well for me the rest of the week," McCool, 68, said. "Then I made the adjustment with the putting this morning and in the afternoon I made just about every putt I had to make. All of a sudden I was releasing the putter head better."
The revamped technique on the greens showed its worth on both a 40-footer for birdie on No. 7 (par 4, 320 yards), as well as the clinching 10-foot putt on No. 12 (par 4, 323 yards), which gave McCool his fourth and final birdie of the match.
McCool's birdie total in the Final now equals his number of Brewer Cup victories. He captured wins in the Senior Division in 2010 and 2013, and adds this year's Super-Senior triumph to one in 2016. McCool also owns wins in the Pennsylvania Senior Amateur Championship in both 2013 and 2014 as well as the 2016 Francis B. Warner Cup (Gross) as a Super Senior.
Despite the habitual success, this week's win was far from expected for McCool.
"I know I played well but I'm still kind of amazed that I could come out on top," McCool said. "It's hard to win. If I win I'm ecstatic, and most of the time I'm amazed because there are so many great players."
Burton, a Lancaster Country Club member, enjoyed a successful week despite falling short in the Final. The 70-year-old, who served as President of GAP from 2006-08, reached the Championship match by defeating the tournament's preemptive favorite, Don Donatoni of White Manor Country Club, 3 & 1, in the Semifinal round. In the morning, Burton played Nos. 11-13 in 4-under-par to spark the upset victory over the six-time reigning Super-Senior Player of the Year.
"It's great to play in an event named after Mr. Brewer and great to get to the finals," Burton, of Lititz, Pa., said. "[I] played well in the qualifying round [and] in my first two matches. Got totally out played by Robin [in the Final], he played great."
The McCool-Burton matchup featured two former members of the GAP Executive Committee. The friends' tenure on the committee overlapped from 2004-09. Nowadays, the duo's time together is often spent in competition.
"He [Burton] is a good friend and a great competitor," McCool said. "We've played a lot of golf together."
After playing three days of golf on Fieldstone's sloped terrain in the summer heat, McCool, admittedly, feels the effects.
"I'm just absolutely exhausted and I can hardly move," McCool said. "I'm glad it's done."
Done and finished, McCool heads home with hardware in hand – and he's McLovin' it.
The Brewer Cup is named in honor of O. Gordon Brewer, Jr., the former president of Pine Valley Golf Club. He is a two-time U.S. Senior Amateur Champion and veteran of 42 USGA Championships. He's captured two Golf Association of Philadelphia Amateur Championship titles (1967, 1976), a GAP Senior Amateur Championship crown (1997) and a Senior Player of the Year (1997) as well as countless invitational titles. Seven years ago he was recognized for his contributions to the game with the USGA's Bob Jones Award.
GAP
Celebrating Amateur Golf since 1897, GAP, also known as the Golf Association of Philadelphia, is the oldest regional or state golf association in the United States. It serves as the principal ruling body of amateur golf in its region. The Association's 274 Full Member Clubs and 75,000 individual members are spread across the Eastern half of Pennsylvania and parts of New Jersey and Delaware. The GAP's mission is to promote, preserve and protect the game of golf.
Senior Division
Final
2. Joseph Russo, Laurel Creek Country Club d. 8. Rand Mendez, Fieldstone Golf Club, 3&1.
Semifinals
8. Rand Mendez, Fieldstone Golf Club d. 5. Oscar Mestre, Overbrook Golf Club, 3&1.
2. Joseph Russo, Laurel Creek Country Club d. 11. Michael Vassil, Country Club of Scranton, 6&5.
Super-Senior Division
Final
2. Robin McCool, Saucon Valley Country Club d. 4. Daniel Burton, Lancaster Country Club, 7&6.
Semifinals
4. Daniel Burton, Lancaster Country Club d. 1. Don Donatoni, White Manor Country Club, 3&1.
2. Robin McCool, Saucon Valley Country Club d. 3. Gary Daniels, Applebrook Golf Club, 19 holes.