| Scorecards| History | Day One recap |
Competing against the region's best on your home turf, equipped with the luxury of local knowledge, is an advantage anyone would welcome. The added pressure of performing at your best is an expected part of that package, too.
The above paints this week's picture for Fieldstone Golf Club's Rand Mendez, who welcomed the home-court spotlight Tuesday in the Brewer Cup presented by Callaway Golf.
Sunny skies set the stage for an ideal Day Two at Fieldstone Golf Club (par 71, 6,404 yards) consisting of the Senior Division's Round-of-16 and Quarterfinal action. #BrewerCup "Moving Day" molded into endless entertainment from tee-to-finish. Veterans battled and faltered, while newcomers both thrived and dived.
The 8th-seeded Mendez made a splash early with a Round-of-16 victory over perennial GAP Senior stalwart Glenn Smeraglio of Lu Lu Country Club, 2&1, before taking out Fox Hill Country Club's Bob Gill, 3&2, in the Quarterfinals.
"Just reaching match play was a huge accomplishment me for this week. I came in with no expectations. There was added pressure for me to perform well in the stroke-play qualifier just because this is my home," said Mendez, 59, of Wilmington, Del. "Taking down a talent like Glenn Smeraglio in itself was a challenge. Then just an exciting, back-and-forth match with Bob Gill. To reach the final day at this point… now the rest is just gravy."
In their Quarterfinal match, Mendez and Gill headed to the par-3, 186-yard 13th level. With the pressure building once again, Mendez welcomed it. He went on to win Nos. 13, 14 (par 4, 457 yards) and 15 (par 4, 434 yards) on the way in to the scoring table.
It hasn't all been easy for Mendez as of late. In November, the Semifinalist suffered a brain vessel rupture that kept him hospitalized in Texas for 12 days.
"It was scary, but after 12 days, I was good to go. I was definitely weak from laying down that long. The only time I think about it now is when someone else brings it up," said Mendez, a nine-time Fieldstone Men's Club Champion. "This season started off rough because of that, but I always look forward to playing in the summer. I seem to just play better when the weather gets hot."
Mendez will look to stay hot when he squares off with Overbrook Golf Club's Oscar Mestre, the No. 5 seed with a long list of GAP victories including this year's Francis B. Warner Cup title, in Wednesday's Semifinal round beginning at 8 a.m.
Elsewhere, the 15th-seeded Russo battled to a hard-fought 2&1 victory in the Round-of-16 versus No. 2 seeded Greg Buliga of Yardley Country Club. His grind-it-out morning performance made way for a birdie barrage in the afternoon.
Russo utilized an eye-opening 3-under 32 on Fieldstone's front nine to take a commanding lead against Thomas Soares of Lehigh Country Club in the Quarters. He'd go on to get it to 4-under thru 11 holes, and eventually closed out his competition on the 16th hole, 3&2.
"Sometimes your putter just catches fire. When I'm seeing the lines well, it's almost like someone went out there and traced the line with a pencil for me. That's kind of how I felt on my front nine [against Soares]," said Russo, 61, of Sewell, N.J. "At the end there, I started playing it safe and started giving a few shots back. That's not my game — I like to go at flagsticks just to keep my interest. And eventually, I got it together and finally closed it out."
Russo got in the match-play bracket via a playoff on Monday where he drained a birdie putt to grab the No. 15 seed. That's in the past. Heading into the championship's final day, he says you can throw the seeding out the window.
"I'm not saying any of us are tour pros out here or anything, but a lot of us have the same ability. We're all going to make mistakes, so sometimes par will get the job done," said Russo, playing in his first #BrewerCup match-play portion this week. "You just have to worry about yourself and how you're playing. That's the plan."
Russo will get No. 11 seed Michael Vassil, a Country Club of Scranton member, in tomorrow's Semifinal at 8:07 a.m.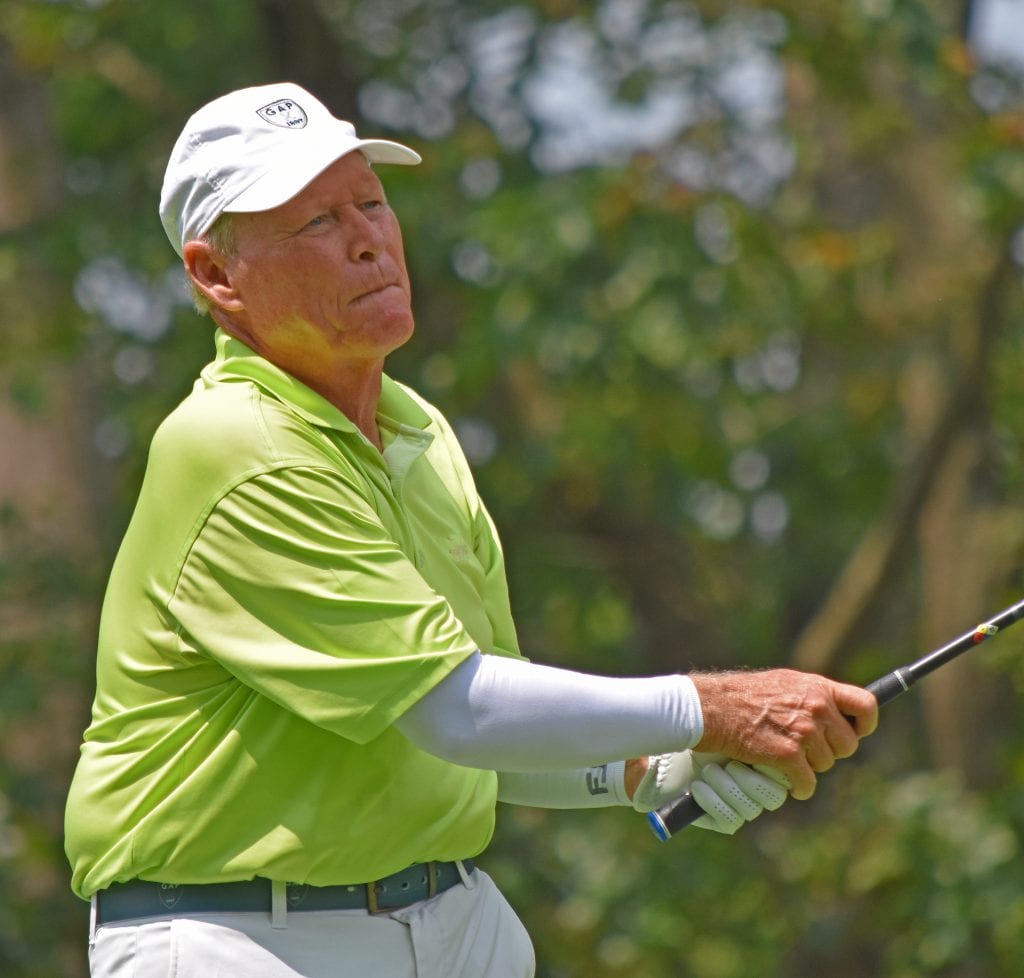 An illustrious group of Semifinalists remain in the Super-Senior Division after the top-four seeds from stroke play qualifying were each victorious in their Quarterfinal matches on Tuesday at Fieldstone Golf Club (par 71, 5966 yards).
A trio of GAP Major Champions, Don Donatoni of White Manor Country Club, Robin McCool of Saucon Valley Country Club and Gary Daniels of Applebrook Golf Club, join breakthrough hopeful, Daniel Burton of Lancaster Country Club, to form the final four at the 12th Brewer Cup.
The first to clinch their spot was the famed Donatoni, the Super-Senior Champion in five of the last six Brewer Cups. Donatoni, of Malvern, Pa. snuck past a familiar opponent, Thomas Humphrey, 2 & 1, in the Quarterfinals. The two squared off in the Final of the 2017 Brewer Cup at St. Davids Golf Club.
"It was a great battle," Donatoni, 71, said of Tuesday's match. "I made a nice up and down on No. 17 (par 4, 365 yards) to make par and that was the difference. It was great golf."
Donatoni will face Burton, GAP President from 2006-08 and former member of the USGA Executive Committee, on Wednesday. Burton, 70, of Lititz, Pa., knocked off Saucon Valley Country Club's Joe Cordaro, 3 & 2.
On the other side of the bracket, Daniels outlasted Robert Billings of Rolling Green Golf Club in an extensive encounter that went 22 holes. A short par-putt miss by Billings on the fourth playoff hole (No. 4, par 4, 320 yards) sealed the win for Daniels.
Daniels is well prepared for the Semifinal stage. The Newton Square, Pa. resident is a two-time champion in the Senior Division of the Frank H. Chapman Memorial (Gross), winning in both 2009 and 2012. He also won the GAP Middle-Amateur Championship back in 1985 and the Tournament of Champions as a Senior in 2014.
After a grueling day in stifling humidity, Daniels' recovery plan is a simple one.
"I think I'm going to go home, take a nice nap and swim in my pool," Daniels said.
Daniels will certainly need all that rest he can get. He is scheduled to face another distinguished competitor, McCool, Wednesday morning.
McCool, a 68-year-old of Center Valley, Pa., notched his place in the semifinals by defeating Ray Pawulich of Little Mill Country Club, 2 & 1.
Struggling with his putter for much of the match, McCool finally took the lid off the jar on No. 14 (par 4, 438 yards) where he made his first birdie of the day to go 1-up.
"That was the turning point," McCool said. "I hit a good drive, hit 3-wood up there to 10 feet and made birdie."
Despite Pawulich draining a 60-foot par putt to tie No. 15 (par 4, 405 yards), McCool, true to his name, remained unfazed. He closed out the match with a two-putt par on No. 17 (par 4, 365 yards).
With Tuesday's victory, McCool, who is the only player not named Donatoni to win the Brewer Cup's Super-Senior Division since 2013, moves closer to a showdown with his greatest adversary. The two met less than a year ago at Riverton Country Club in the Final of the GAP Senior Amateur, where Donatoni prevailed in an epic match that lasted 22 holes.
"All you can ask for is an opportunity," McCool said of the possibility of facing Donatoni in the Final. "It's important for me to stay competitive and honestly every year it gets a little harder. I love the guys I compete with and because it's such a strong group of players it feels good to win if you ever can."
Winning is something McCool has certainly managed to achieve in the past. Besides his victory in the 2016 Brewer Cup, McCool won the Silver Cross Award in both 1990 and 1991 while winning the award as a Super Senior in 2018.
The semifinals will commence with Donatoni and Burton at 8:15 a.m. They will be followed at 8:22 a.m. by McCool and Daniels.
The Brewer Cup is named in honor of O. Gordon Brewer, Jr., the former president of Pine Valley Golf Club. He is a two-time U.S. Senior Amateur Champion and veteran of 42 USGA Championships. He's captured two Golf Association of Philadelphia Amateur Championship titles (1967, 1976), a GAP Senior Amateur Championship crown (1997) and a Senior Player of the Year (1997) as well as countless invitational titles. Seven years ago he was recognized for his contributions to the game with the USGA's Bob Jones Award.
GAP
Celebrating Amateur Golf since 1897, GAP, also known as the Golf Association of Philadelphia, is the oldest regional or state golf association in the United States. It serves as the principal ruling body of amateur golf in its region. The Association's 274 Full Member Clubs and 75,000 individual members are spread across the Eastern half of Pennsylvania and parts of New Jersey and Delaware. The GAP's mission is to promote, preserve and protect the game of golf.
Senior Division
Quarterfinals
8. Rand Mendez, Fieldstone Golf Club d. 16. Bob Gill, Fox Hill Country Club, 2&1.
5. Oscar Mestre, Overbrook Golf Club d. 4. Steve Walczak, Wilmington Country Club, 4&2.
2. Joseph Russo, Laurel Creek Country Club d. 7. Thomas Soares, Lehigh Country Club, 3&2.
11. Michael Vassil, Country Club of Scranton d. 3. Paul Rogowicz, Yardley Country Club, 2-up.
Round of 16
16. Bob Gill, Fox Hill Country Club d. 1. Byron Whitman, Berkshire Country Club, 4&3.
2. Joseph Russo, Laurel Creek Country Club d. 2. Greg Buliga, Yardley Country Club, 2&1.
3. Paul Rogowicz, Yardley Country Club d. 14. Rufino Rosal, Wild Quail Golf & Country Club, 5&3.
4. Steve Walczak, Wilmington Country Club d. 13 Christopher Clauson, Lu Lu Country Club, 3&1.
5. Oscar Mestre, Overbrook Golf Club d. 12 Bob Beck, Lehigh Country Club, 5&4.
11. Michael Vassil, Country Club of Scranton d. 6. William McGuinness, Tavistock Country Club, 2-up.
7. Thomas Soares, Lehigh Country Club d. 10. Carlos Ochoa, Little Mill Country Club, 2&1.
8. Rand Mendez, Fieldstone Golf Club d. 9. Glenn Smeraglio, Lu Lu Country Club, 2&1.
Super-Senior Division
Quarterfinals
1. Don Donatoni, White Manor Country Club d. 8. Thomas Humphrey, Wilmington Country Club, 2&1.
2. Robin McCool, Saucon Valley Country Club d. 7. Raymond Pawulich, Little Mill Country Club, 2&1.
3. Gary Daniels, Applebrook Golf Club d. 6. Robert Billings, Rolling Green Golf Club, 22 holes.
4. Daniel Burton, Lancaster Country Club d. 5. Joe Cordaro, Saucon Valley Country Club, 3&2.