Four share #BMWPhillyAm Qualifying medal
BERNVILLE, Pa. — Four individuals carded respective 2-over-par 72s to share medalist honors in BMW Philadelphia Amateur Championship Qualifying at a serene Heidelberg Country Club (par 70, 6,430 yards).
| Scoring portal | Photo gallery |
Applecross Country Club's Matt Bird, Brookside Country Club's Bo Maguire, LedgeRock Golf Club's Ross Pilliod (pictured above) and Carlisle Country Club's Benjamin Smith headlined a troop of 65 combatants vying to seize 15 qualifying positions and ties available. The cut line stopped at 76 by day's end.
The 121st BMW Philadelphia Amateur Championship will take place June 14-16 & 19 at Cedarbrook County Club.
Below is a snapshot of each medalist: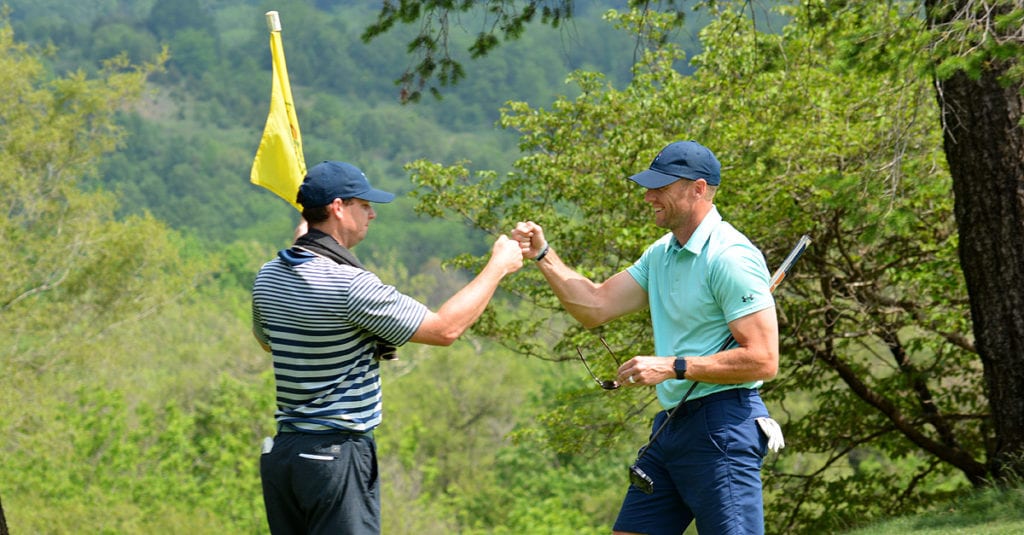 Bird, 33, of Downingtown, Pa., made his GAP debut Tuesday.
"Last year I played more golf than I have because there was really nothing else to do," he said. "I wanted to try and push myself this year, to compete with some of these guys and see how the game holds up. I figured I'd give it a run this year, and hopefully turn our kids (Alexander, 5, and Levi, 2) onto playing as part of it."
Heidelberg offered quite the baptism.
"The course was awesome. The fairways were really springing. The greens were hot and fast," Bird, who sells exit signs and emergency lights for Isolite, said. "I was fortunate to play a practice round about a week and a half ago, and I'm glad that I did because some of these pins and knowing where they are was crucial. It's just fun to get the competitive juices flowing."
Bird flowed into the medalist circle thanks to a birdie on No. 16 (par 4, 383 yards), where he hit a gap wedge 112 yards to 10 feet. His GAP initiation will continue at Cedarbrook.
"I've never played there," Bird said. "I really want to commit to my shots. I was fortunate to have my buddy, Greg Keil, here with me and help me commit to some lines today."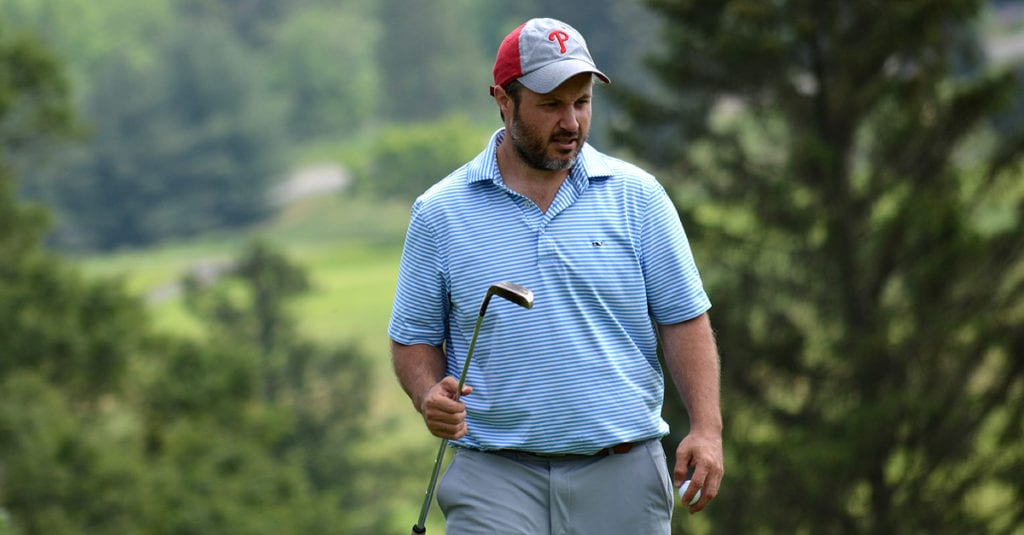 Maguire, 35, of Pottstown, Pa., opened with back-to-back birdies Tuesday. On No. 1 (par 4, 326 yards), he knocked a sand wedge 100 yards to 10 feet. Maguire sunk a 40-footer on No. 2 (par 3, 154 yards) following a sound 8-iron. He then flailed a 3-wood out of bounds on No. 3 (par 4, 369 yards) and walked away with a double bogey.
Fortunately for Maguire, Heidelberg experience, and a deft touch around the greens these days, allowed the scruffy swinger to steady the ship.
"It's as hard as I've ever seen this course play. Very firm and fast, and the hole locations were tough. Everything was tough out there," Maguire said. "I've played in the Member-Guest here [with my friend George Van Horn] three or four times. There are some holes out here where you can't get above it. That helps."
A birdie on Heidelberg's closer (par 5, 550 yards) helped Maguire earn co-medalist status. He flipped a wedge to two feet.
"I putted and chipped unbelievably well. [My playing partner] Brad (Sokol) said I had to make 150 feet's worth of putts," Maguire said. "It's good to get a good round in like this."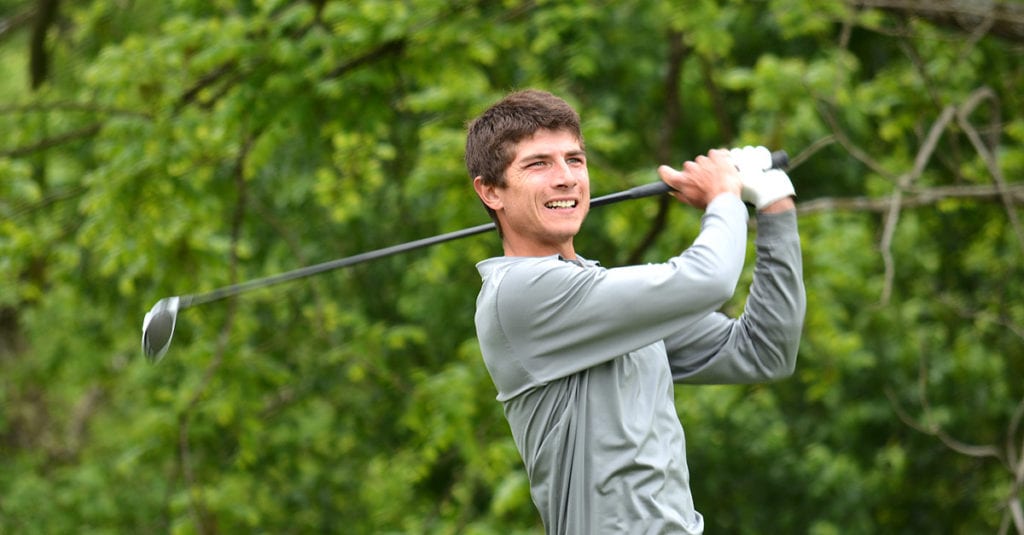 Pilliod, 24, of Sinking Spring, Pa., knows the premium Heidelberg puts on tee placement.
"I've played a lot of golf here. I hit driver three times. I was hitting a lot of 4-irons, 3-woods … anything [to get the ball] in the fairway. And I know par on a lot of holes here is pretty good," he said. "If you pull driver a lot here, you're going to end up in trouble. Par never hurts here."
Pilliod posted a pair of back nine birdies to squeeze through a crowded leaderboard. On No. 15 (par 4, 440 yards), Pilliod hit a pitching wedge 130 yards to 15 feet. That same pitching wedge — this time from 135 yards on No. 17 (par 4, 370 yards) — stopped at six feet. A closing bogey prevented outright honors.
"I snipe hooked [a 4-iron from 250 yards] dead left. I thought it was out of bounds in the parking lot. It ended up in bounds by a yard," Pilliod said. "I was trying not to make a big number. It could've been disastrous. I got a big break."
Pilliod intends to turn professional at the end of the year. The summer ahead will serve as a measuring stick.
"I need more confidence in my driver. Mentally, I need to work on committing to the shot," Pilliod said. "My game is close."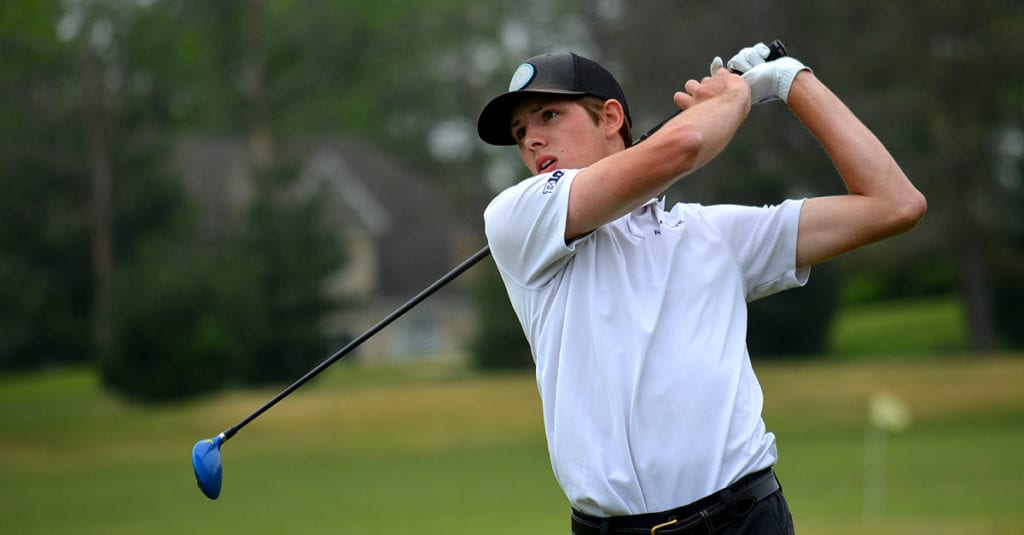 Smith, 20, of Blain, Pa., registered 14 greens in regulation and relied on wise green positioning Tuesday.
"It wasn't easy out there," he said. "You had to hit it straight. You had to keep the ball in play and below the hole. The greens were very fast, especially down the hill. There's a good bit of slope, so being above the hole was tough."
Back-to-back birdies brought Smith, a rising junior at Penn State University, into the medalist conversation. He made a 15-footer on No. 11 (par 3, 157 yards) following a soft 8-iron. After hugging a tree line left with a drive on No. 12 (par 4, 398 yards), Smith sent a pitching wedge 112 yards to six feet.
Smith competed in one collegiate event, the Rutherford Intercollegiate, for the Nittany Lions this spring. He posted a Top-15 finish there.
The BMW Philadelphia Amateur will mark his GAP Major debut.
"I was looking for more amateur tournament opportunities. With Carlisle being a part of the GAP, I figured [the BMW Philadelphia Amateur] would be a good tournament I should try and play in," Smith said.
The BMW Philadelphia Amateur Championship is GAP's premier individual championship. Participants must first advance through a one day, 36-hole stroke-play qualifier to gain one of 32 available match play positions. Those who qualify for match play must advance through four matches in two days to reach the BMW Philadelphia Amateur Final, which is typically held on the Saturday of Father's Day weekend. The winner receives the J. Wood Platt Trophy; its namesake holds a record-seven BMW Philadelphia Amateur Championship titles.
GAP
Celebrating Amateur Golf since 1897, GAP, also known as the Golf Association of Philadelphia, is the oldest regional or state golf association in the United States. It serves as the principal ruling body of amateur golf in its region. The Association's 274 Full Member Clubs and 75,000 individual members are spread across the Eastern half of Pennsylvania and parts of New Jersey and Delaware. The GAP's mission is to promote, preserve and protect the game of golf.
| | |
| --- | --- |
| Qualifiers | |
| Name, club | Score |
| Matt Bird, Applecross Country Club | 72 |
| Bo Maguire, Brookside Country Club | 72 |
| Ross Pilliod, LedgeRock Golf Club | 72 |
| Benjamin Smith, Carlisle Country Club | 72 |
| John Updike, Aronimink Golf Club | 73 |
| Michael Fioravante, LedgeRock Golf Club | 74 |
| Matthew Zerfass, Brookside CC of Allentown | 74 |
| Hayden Moffat, Philadelphia Publinks Golf Association | 75 |
| Jacob Zeng, Applecross Country Club | 75 |
| John Bradbeer, Merion Golf Club | 76 |
| Geoffrey Cooper, North Hills Country Club | 76 |
| Matt Dolinsky, Honeybrook Golf Club | 76 |
| Joe Dulka, Bellewood Country Club | 76 |
| Stephen Lorenzo, Manufacturers' Golf & Country Club | 76 |
| Joey Morganti, Llanerch Country Club | 76 |
| Brandon Raihl, Heidelberg Country Club | 76 |
| Logan Snyder, Briarwood Golf Club | 76 |
| Ric Sucro, Cedarbrook Country Club | 76 |
| Failed to qualify | |
| Shane Dolan, The 1912 Club | 77 |
| Matt Graeff, Manufacturers' Golf & Country Club | 77 |
| Pete Moran, French Creek Golf Club | 77 |
| Tyler Zimmer, Philadelphia Country Club | 77 |
| Billy Howard, Applebrook Golf Club | 78 |
| Matthew Shevlin, Philadelphia Publinks Golf Association | 78 |
| Epi Delapaz, Gilbertsville Golf Club | 79 |
| Christian Deussing, Jericho National Golf Club | 79 |
| Brock Fassnacht, Meadia Heights Golf Club | 79 |
| Austin Lauver, Meadia Heights Golf Club | 79 |
| Thomas Lewis, Commonwealth National Golf Club | 79 |
| Blake Reifsnyder, Honeybrook Golf Club | 79 |
| Brian Gardner, Bellewood Country Club | 80 |
| James Gradisek, Philadelphia Country Club | 80 |
| Brad Sokol, Green Valley Country Club | 80 |
| Lars Beck, Bala Golf Club | 81 |
| Voltaire Escalona, Philadelphia Cricket Club | 81 |
| Ian Masenheimer, Lehigh Country Club | 81 |
| Scott Micklewright, Hershey Country Club | 81 |
| Doug Miller, Heidelberg Country Club | 81 |
| Michael Schwert, Llanerch Country Club | 81 |
| Chris Waldmann, French Creek Golf Club | 81 |
| Mason Wills, Bent Creek Country Club | 81 |
| Scott Lightbody, Spring Ford Country Club | 82 |
| Billy Reube, Huntingdon Valley Country Club | 82 |
| James Ulsh, Carlisle Country Club | 82 |
| Kyle Campbell, Heidelberg Country Club | 83 |
| Jake Cutler, Union League Liberty Hill | 83 |
| Evan Drummond, Applecross Country Club | 84 |
| Byron Whitman, Berkshire Country Club | 84 |
| Thomas Dzwonczyk, Country Club of Scranton | 85 |
| Frederick Hammer, Merion Golf Club | 86 |
| Michael Kandravi, Llanerch Country Club | 86 |
| Michael Berish, Bellewood Country Club | 87 |
| Geoff Scott, LedgeRock Golf Club | 87 |
| Eric Ulmer, Woodstone Country Club & Lodge | 87 |
| Matt Lafond, Blue Bell Country Club | 88 |
| Richard Marabella, Jeffersonville Golf Club | 88 |
| Robert Fyock, Heidelberg Country Club | 89 |
| Stanley Weglarz, Bellewood Country Club | 89 |
| John Burnes, Philadelphia Cricket Club | 95 |
| Patrick McCusker, Sandy Run Country Club | DQ |
| John Hansel, Sandy Run Country Club | WD |
| Ricky Johnson, The 1912 Club | WD |
| Stephen O'Sullivan, Philadelphia Cricket Club | WD |
| Keith Olinick, Skippack Golf Club | WD |
| Michael Quinn, Philadelphia Publinks Golf Association | WD |
| John Riviezzo, Cobbs Creek Golf Club | WD |
| Tucker Sandercock, Steel Club | WD |
| DQ – disqualification; WD – withdrawal | |