Three 71s lead the way in #BMWPhillyAm Qual. at Elkview
| Scoring portal |
GREENFIELD TOWNSHIP, Pa. – Two Northampton Country Club names recently in the spotlight surfaced again at Elkview Country Club (par 72, 6,514 yards).
Zach Juhasz and Matthew Vital fired matching 1-under 71s to share #BMWPhillyAm Qualifying honors Wednesday. They were joined by Southmoore Golf Club's Kevin Scherr, also at 1 under, in the medal circle.
The cut line stopped at 2-over par on the day, meaning six players advanced.
The three medalists were the lone championship hopefuls under par thanks to cracking Elkview's putting puzzles. Juhasz's day, ironically, started his day "with the worst bogey of his life" after finding the lip of a bunker on the par-5, 487-yard 1st. He'd quickly erase that error with birdies on Nos. 3 (par 4, 408 yards) and 4 (par 4, 331 yards). Making the turn at even par, Juhasz decided he needed to turn it on a bit on the back — a strategy Scherr and Vital joined in on.
"I just told myself to stay patient. I knew I'd get some good looks," said Juhasz, 24, of Bethlehem, Pa.
Does a near-ace count as turning it on? Because Juhasz did just that with a gap wedge on No. 12 (par 3, 125 yards). That tap-in birdie was the highlight of the round for Juhasz, who had not seen Elkview's testing greens before teeing off.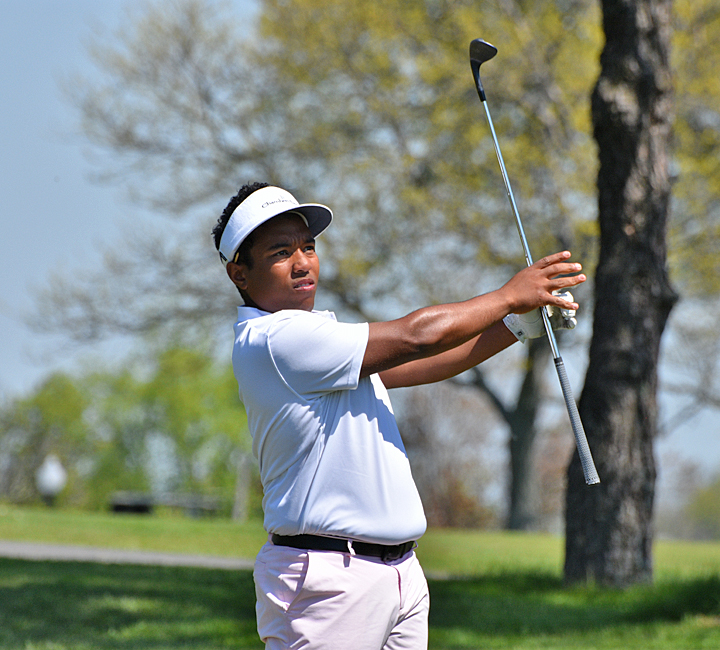 "The greens, they were tough. They were fast. But my game has been feeling good since last week," said Juhasz, who earned an invitation to U.S. Open Sectional Qualifying last week at Steel Club with a 1-over 72. "I knew today was the only Qualifying event I could play in for the Philly Amateur, so I drove the hour-and-a-half up here to try it out. I'm glad I did now."
Taking the ride up with Juhasz was clubmate and family friend Vital, a 15-year-old Junior golfer who recently made headlines by snapping Sam Snead's course record at Reading Country Club with an 8-under round of 62. Today marked the first GAP Major event Vital competed in.
"I decided to try this out today because my game's been feeling good," said Vital, also of Bethlehem, Pa.
"Well, I actually talked him into it," said Juhasz.
Lucky he did. After bogeying two of his first four holes, Vital went 3 under over Elkview's final 12 holes to snag a share of the top spot.
"I was a little shaky at the beginning. But once I figured out the putting greens here, I feel like I had some much better looks," said Vital, a sophomore at Bethlehem Liberty High School.
At just 15 years old, he'll now try his game against the GAP region's finest in the Association's premier individual championship. It's a task he believes he's more than prepared for.
"I think it's something I'm ready for," said Vital, winner of the 12-13-year-old division of the 2019 Drive, Chip and Putt national finals at Augusta National Golf Club. "I have some experience in match play. We'll see what happens. I just need to keep playing my game."
Scherr, a senior at Youngstown State University, started the day with a birdie on Elkview's opener. He'd also end his day with a red figure on the closer (par 4, 400 yards). The 21-year-old Scherr is now set to appear in his third #BMWPhillyAm after playing in the 2017 and 2019 editions.
Today's #BMWPhillyAm Qualifying event marks the second of four this season. The final two Qualifying opportunities arrive at Running Deer Golf Club (May 22), and Heidelberg Country Club (Heidelberg Country Club).
The BMW Philadelphia Amateur Championship is GAP's premier individual championship. Participants must first advance through one day, 36-hole stroke-play qualifying to gain one of 32 available match play positions. Those who qualify for match play must advance through four matches in two days to reach the BMW Philadelphia Amateur Final, which is typically held on the Saturday of Father's Day weekend. The winner receives the J. Wood Platt Trophy; its namesake holds a record-seven BMW Philadelphia Amateur Championship titles.
NOTE: Christopher Marky of Fieldstone Golf Club jarred an ace on No. 12 (par 3, 125 yards).
GAP
Celebrating Amateur Golf since 1897, GAP, also known as the Golf Association of Philadelphia, is the oldest regional or state golf association in the United States. It serves as the principal ruling body of amateur golf in its region. The Association's 300 Member Clubs and 80,000 individual members are spread across the Eastern half of Pennsylvania and parts of Delaware, Maryland and New Jersey. The GAP's mission is to promote, preserve and protect the game of golf.
| | |
| --- | --- |
| Qualifiers | |
| Name, club | Score |
| Zach Juhasz, Northampton Country Club | 71 |
| Kevin Scherr, Southmoore Golf Club | 71 |
| Matthew Vital, Northampton Country Club | 71 |
| William Pabst, Elmhurst Country Club | 72 |
| Eric Williams, Honesdale Golf Club | 72 |
| Frank Kacvinsky, Elmhurst Country Club | 74 |
| Failed to qualify | |
| Alex Anderson, Huntsville Golf Club | 75 |
| Riley Hogan, Green Pond Country Club | 75 |
| Kevin O'Brien, Cedarbrook Country Club | 75 |
| Vincent Scarpetta, Glenmaura National Golf Club | 75 |
| A.J. Donatoni, Fox Hill Country Club | 76 |
| David Mecca, Wemberly Hills Golf Club | 76 |
| Alex Pillar, Woodloch Springs | 76 |
| Luke Fayocavitz, Glen Oak Country Club | 79 |
| Chris Killiany, Elkview Country Club | 79 |
| Scott Lawson, Cedarbrook Country Club | 79 |
| Christopher Marky, Fieldstone Golf Club | 79 |
| Cory Calvert, Country Club of Scranton | 80 |
| Stephon Draper, Country Club of Scranton | 80 |
| Thomas Lynch, Country Club of Scranton | 82 |
| Michael Lynch, Country Club of Scranton | 83 |
| Matt Tressler, Huntsville Golf Club | 83 |
| J. Michael Wilson, Saucon Valley Country Club | 84 |
| Andrew Maddock, Glen Oak Country Club | 85 |
| Andy Ryan, Merion Golf Club | 85 |
| Benjamin Galko, Elmhurst Country Club | 89 |
| James Gardas, Glenmaura National Golf Club | WD |
| Kyle Williams, Glen Oak Country Club | WD |
| WD – withdrawal | |