Team Spina's chemistry on display during #BMWPhillyAm week
| Scoring portal | History | Medalist History | Day 1 Notebook | Day 2 Notebook |
BLUE BELL, Pa. – A father-son relationship like none other.
J.T. Spina had his father John, a veteran of the Philadelphia PGA Section and Philadelphia Cricket Club's Director of Instruction, on the bag once again in the 121st BMW Amateur Championship Wednesday at Cedarbrook Country Club (par 72, 6,981 yards). This time for his quarterfinal match.
"It was awesome having my dad on the bag for every shot," Spina, a rising senior at Saint Joseph's University, said. "He helped me stay positive while I was out there and kept me extremely focused."
Before competing in the #BMWPhillyAm, Spina put in countless hours of practice at Philly Cricket, where he's not only been a member for the past two seasons, but also loops as a caddie.
He was telling me he couldn't be any more proud of me, which means the world.

– J.T. Spina
"I think my preparation has helped me out a lot this week and having my dad on the bag made me feel fundamentally sound," Spina added. "I'm thrilled where my game is trending right now. One of the best things about being a caddie is that it teaches you how to deal with a bunch of personalities, especially in match play events when things can get very intense."
The turning point for Spina was on No. 11 (par 4, 309 yards), as his opponent Morgan Lofland of Phoenixville Country Club chipped in for birdie. It didn't defeat Spina. Instead, it motivated him.
"To have my dad constantly tell me after that hole that I'm still in it gave me the push I needed for the rest of the round," said Spina, 21, of Schwenksville, Pa.
In yesterday's Round of 16, Spina, the No. 16 seed, defeated the No. 1 overall seed Peter Bradbeer of Merion Golf Club, 1-up. Today, his luck unfortunately ran out. Even though his appearance in the Quarterfinals this week is the farthest Spina has advanced in three Amateur tries, Lofland defeated him in 19 holes.
"My dad and I were talking last night that this is the hardest tournament to win in Philadelphia. GAP is second to none in how they run things. When my dad and I first showed up, we took a picture of the whole setup, and it was remarkable," said Spina. "He was telling me he couldn't have been any more proud of me, which means the world."
Despite the difficult defeat, Spina has a bright future ahead of him in the game of golf.
"To lose in a match like that and go into extra holes is very heartbreaking," Spina added. "But now I'm confident that I can compete with anyone and know that my hard work will pay off."
Vannucci's Quarters appearance marks personal Amateur best
A golfer can never go wrong when teaming up with the right caddie.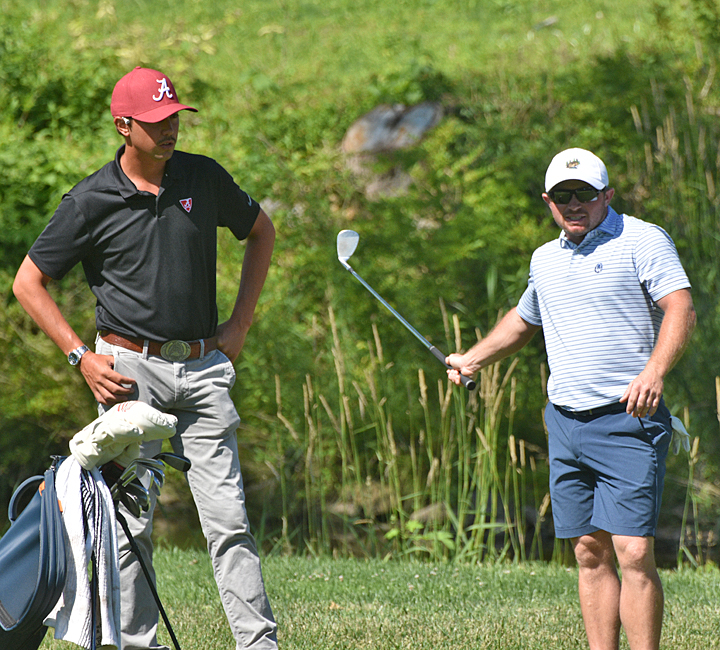 That best explains Troy Vannucci's decision to have Jack Sterbenz carry his bag in the Quarterfinals of the 121st BMW Amateur Championship Wednesday at Cedarbrook Country Club (par 72, 6,981 yards). 
Vannucci and Sterbenz are both members at Little Mill Country Club, where they met and started to bond with one another.
"We have a lot in common, live close together, drive here together, know each other's families and he's a good friend of mine," Vannucci, 29, of Marlton, N.J., said.
Last week, Vannucci had Sterbenz on the bag when he finished runner-up in the New Jersey State Golf Association Mid-Amateur Championship at Metedeconk National Golf Club.
"Having Jack on the bag for me in this tournament and last week's event was huge," Vannucci said. "He always makes great calls on what shots to take, and I'm very fortunate to have him by my side in an event like this."
"We play a lot of golf together, we know what to say and when to say it, that's why I think it's a good partnership," Sterbenz, 22, of Medford, N.J., said. "If it weren't a good partnership, I wouldn't be on the bag for him."
While the duo's chemistry is impeccable, Vannucci was still defeated, 2&1, in the quarterfinal round by fellow Little Mill member Jack Irons, who eventually punched his ticket to the #BMWPhillyAm Final.
"I know he practices from sunrise to sunset and was going to be tough to defeat," Vannucci added. "I don't think he made one mistake all day and hats off to him because he played incredibly well."
"I thought Troy played well; it's just hard to beat a great player like Jack Irons," Sterbenz said. "There's honestly not much you can be mad about."
Previously, Vannucci's deepest Amateur run came in 2019 at Stonewall. He won a match there, but eventually fell in the Round of 16 to Peter Bradbeer of Merion Golf Club – this week's stroke-play medalist. His career accomplishment on the national stage came that same year, when Vannucci, alongside partner Vince Kwon, reached the U.S. Amateur Four-Ball Championship Semifinals at Bandon Dunes Golf Resort.
"It felt weird being considered as one of the older guys in this tournament and going up against guys that are a lot younger than me," Vannucci said. "These guys are extremely talented and have a bright future ahead."
While this defeat was tough for Vannucci, this experience will give him the necessary momentum to succeed in future GAP Majors.
"Any time you have a chance to win, it brings the best out of you," Vannucci said. "Even though I haven't won anything significant in GAP yet, I look forward to continuing to compete."
GAP
Celebrating Amateur Golf since 1897, GAP, also known as the Golf Association of Philadelphia, is the oldest regional or state golf association in the United States. It serves as the principal ruling body of amateur golf in its region. The Association's 300 Member Clubs and 80,000 individual members are spread across the Eastern half of Pennsylvania and parts of Delaware, Maryland and New Jersey. The GAP's mission is to promote, preserve and protect the game of golf.