DALLAS, Pa. – New duo, new result.
John Mikiewicz of Fox Hill Country Club and Frank Kacvinsky of Elmhurst Country Club won the AGA/GAP Modified Stableford Tournament May 12 at Huntsville Golf Club (par 72, 6,391 yards). The duo posted 41 Stableford points – one clear of Wemberly Hills Golf Club's Mike Manci and Merion Golf Club's David Ferreira – for the win.
Thomas Biscotti and Eric Plisko, recent tri-winners of the Ben Marshall Spring Four-Ball on April 29, failed in their bid for a Modified Stableford three-peat finishing a point behind the champions.
"I was looking very closely to the leaderboard, so I knew what was needed because Biscotti and Plisko put up a nice score early," Mikiewicz, 42, of Honesdale, Pa., said. "At the very end, I knew we needed to make a couple of birdies on the last couple of holes to put us in a good position to win."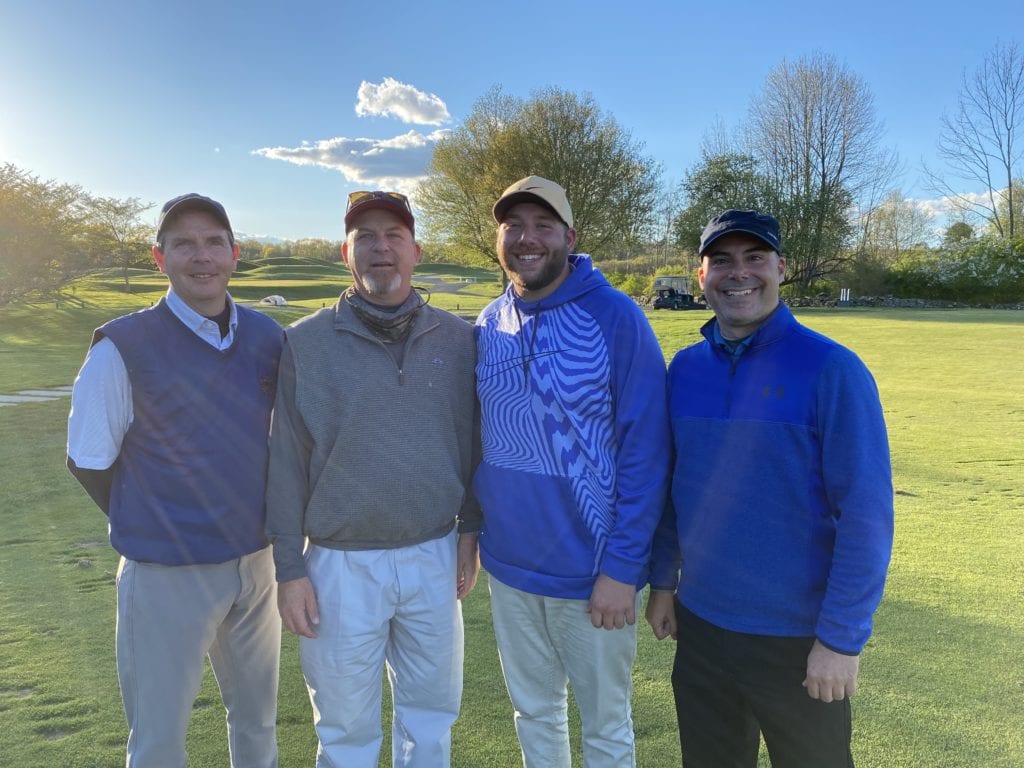 "All day, we were just trying to stay patient," Kacvinsky, 28, of Dickson City, Pa., said. "It was pretty windy out; we were just trying to hit good shots and try and get some good looks."
A three-foot birdie save on No. 17 (par 3, 159 yards) courtesy of Mikiewicz's 9-iron allowed the team to build a comfortable lead going into No. 18 with 40 points. On No. 9 (par 5, 522 yards), Kacvinsky made his first birdie of the day, giving him the confidence to hit two more birdies on No. 10 (par 4, 394 yards) and No. 12 (par 5, 503 yards).
On Huntsville's closer No. 18 (par 4, 404 yards), Mikiewicz and Kacvinsky only needed a bogey to end up victorious on the event.
"Once we both hit in the hazard, I looked at the scoreboard for the first time of the day and realized we just needed to make a bogey to win," Kacvinsky said. "I learned a lesson to look at the scoreboard before hitting my tee shot on that final hole."
The duo looks to build off momentum from this victory in future tournaments.
With AGA/GAP creating a Super-Senior Flight for players 65 years of age or older, Joe and John Nespoli claimed this title, posting a score of 36 points.
"This was our best finish in a GAP tournament," Joe Nespoli, 73, of Berwick, Pa., said. "We felt very comfortable and were able to hit the ball very well throughout the day."
On No. 9 (par 5, 454 yards), Joe Nespoli birdied from 200 yards out with a hybrid club, giving the duo a steady lead for the rest of the day.
For the Senior title, the Wyoming Valley duo of Art Burn and John Olszewski posted 41 points.
"Art and I have known each other for a long time, so it was an enjoyable day to play," Olszewski, 56, Macungie, Pa., said. "We played fairly well and were consistent throughout the day."
This event was initially scheduled on April 21 but was then postponed due to inclement weather.
GAP
Celebrating Amateur Golf since 1897, GAP, also known as the Golf Association of Philadelphia, is the oldest regional or state golf association in the United States. It serves as the principal ruling body of amateur golf in its region. The Association's 300 Member Clubs and 80,000 individual members are spread across the Eastern half of Pennsylvania and parts of Delaware, Maryland and New Jersey. The GAP's mission is to promote, preserve and protect the game of golf