Caddie chronicles Vannucci's qualifying quest
By Beau Guarino
Apart from his accent, there are no visible signs that Troy Vannucci hails from anywhere but the Philadelphia area.
He embodies everything the area stands for: the grit, the grind, the genuineness — all become apparent upon spending a day with Troy. A highly competitive spirit, who in my 13 years knowing him, has transformed from a 20-something handicap to one of the area's best players.
Despite knowing Troy for quite some time, I would say we have been nothing more than acquaintances. Our relationship persisted on the occasional casual conversation at a local event. However, in recent months we have become closer, bonding over a similar sense of humor and our affinity for local amateur golf.
With an open weekend on deck, I extended an offer to caddie for Troy in the prestigious U.S. Mid-Amateur. With it being a two-hour ride away, I figured he had a long line of suitors ahead of me. Expecting rejection, I was pleasantly surprised when he was excited about the idea and told me I was in. Held at an iconic venue in Sleepy Hollow, I knew this weekend would surely be a special one.
As someone who aspires to be in this arena one day, my intentions are to capture the essence of the venue and competitive environment. I promise to fully immerse myself in what is considered the pinnacle of mid-amateur golf.
When I arrive, I am eager to assess Troy's demeanor. Not only is this his biggest tournament of the year and maybe his career, this also has William Hyndman, III Player of the Year implications, something I know he values highly.
It was at this moment I felt the nerves as if I were the man with the club in my hand. There is something powerful about seeing another person work so hard to get to a defining point in their life.
A spot in match play would close the gap between Troy and reigning BMW Philadelphia Amateur Champion Michael Crowley. With the New Jersey State Golf Association Player of the Year all but locked up, he seeks the rare accomplishment of earning both association POY honors. Conversely, missing match play would leave a bitter taste heading into the offseason.
Troy is no stranger to this scene. My feeling is this is the first time that he is teeing it up in a national tournament with the expectations of making a deep run. We all know expectations and good results don't often marry in this game, so it will be interesting to see how he balances all of this.
Will he show the nerves of someone who is playing in just his second individual USGA tournament? Or the guy who made it to the semifinals of the U.S. Amateur Four-Ball, going toe-to-toe with the likes of Scott Harvey and Matt Parziale? I figure somewhere in between.
From my side, this isn't caddying for a buddy who is just happy to be here. This is a business trip. I will need to be focused. A player of his caliber knows exactly what he needs to do. He has played the practice rounds, charted hazard carries and penciled in club selections. He has three shots with each club and knows the exact carry distance with each shot. Something only an elite level player who consistently strikes the center of the face can do. If I cannot cost him any shots and save him a shot a round, I will have done my job.
---
Our journey begins at Fenway Golf Club.
Located in Scarsdale, N.Y., this place certainly embodies the New York vibe. Property lines defined by roads and backyards, an inordinately sized clubhouse and a diner (yes, a full-service sit-down diner) in the middle of the course seems fitting for only this part of the country.
Designed by A.W Tillinghast, one doesn't have to wait long to notice his touch on this canvas. Littered with his dizzying, wave-like greens, there is no wonder why this place is considered a miniature Winged Foot. At only 6,500 yards, the greens represent a good portion of the challenge. For a high-quality ball striker like Troy, who I figure will only chip a handful of times, putting speed will be the main driver of success here.
I wasn't sure exactly what I expected when I pulled in, but the vibe exceeded whatever expectations I had. Roped off areas, security directing traffic, abundant signage, posters of past champions and galleries, don't coincide with the average amateur golf tournament. Everywhere I turned, I was reminded that this event was a big deal.
I met Troy on the range. My initial read was that he was more excited than nervous. Like a restless horse in the starting gate, he was raring to go.
We arrive at the first tee. An official in a jacket shakes our hands and casual conversation arises, instantly becoming background noise to me. The clock strikes 1:18 p.m.; it's go time. Troy is first. Standing at the podium, the official proudly announces, "Welcome to the United States Mid-Amateur. Please welcome to the first tee, from Marlton, N.J., Troy Vannucci." An applause from his family and friends followed.
It was at this moment I felt the nerves as if I were the man with the club in my hand. There is something powerful about seeing another person work so hard to get to a defining point in their life. From 20 handicap, to the biggest stage, this moment was manufactured on years of arduous work. Would he seize the opportunity? I felt in my heart that he would. And admittedly was not prepared to handle the aftermath of failure.
A center-faced 7 iron off the first tee, followed by a near-holed wedge shot to 10 inches quickly reminded me why my belief was so strong.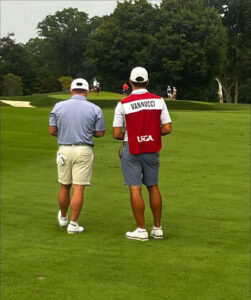 Showing zero signs of nerves, the ball-striking clinic continued. Fairway-and-green pars on Nos. 2 and 3, followed by a tasered 9-iron to 10 feet on the 150-yard No. 4. As his birdie putt dropped, the horn blew. We entered a rain delay at 2 under.
With an ominous three-day forecast, this figured to be the first of many delays. Fortunately, Troy's enthralling uncle, Tommy Hyland, made the trip. His stories kept us entertained for the near two-hour delay.
Out of the break, two of Fenway's toughest challenges lie ahead. The 475-yard 5th hole and 242 -yard sixth hole were brutes. If we could get through those two holes at even, we would be off to the races.
A fairway, green, two-putt par on the 5th, followed by an up-and-down par on the 6th … we were rolling once again.
After an all-world fairway bunker shot to two feet on No. 7, we now stood at 3 under, tied for first with a host of players. From what I had witnessed through seven holes, match play was a foregone conclusion.
Pars on Nos. 8,9,10 and 11 followed, our confidence growing with every shot.
The statistically most difficult hole, the 454-yard par 5 12th, proved to be a worthy challenge. Our first bogey occurred.
Standing on the 13th tee, darkness began to fall. This would be our last hole of the day. One of the easier holes on the course, it was a good hole to conclude our day's work. A slightly pulled drive into the left rough left us with 136 yards on a fluffy, right-to-left lie. Uphill, with an overhanging tree in the way, we elected to hit a punch 8-iron. A routine shot for a player of Troy's caliber.
The club goes back seemingly on plane and descends toward the ball. An unexpected noise emits from the club at impact. The sound is somehow foreign but familiar at the same time. The sound only the hosel can make. The dreaded sound of a shank.
We ended our day with a deflating double bogey.
Our confidence level, which was once off the charts, was undoubtedly damaged. Not often does a plus-5 handicap have to go to bed on a shank. There was no doubt in my mind he would lose some sleep over this one. To fully embrace the culture, we found a local pizza joint. Stuffing our faces with carbs, we hardly spoke about the round. It needed not to be verbalized; we both knew tomorrow was a big day.
---
I travel back to my short-term home, the Fenway parking lot.
It's currently 8:48 p.m. I am laying in my roof tent, writing about the day. The emotional swing of cruising along tied for the lead, to back near the cut line in a matter of 20 minutes is jarring. I pray he can reset and continue the world-class play I had the pleasure of watching for the first 11 holes. I am still confident, but admittedly have some nerves heading into tomorrow.
I dozed off. I am awakened by a loud engine-like noise. The spotlight generators for the range have kicked on. With half blurred vision, I check my phone. It's 4:04 a.m. Day Two has begun.
I kill some time and eventually enter the "Players Only" locker room to clean up (I tipped the attendant well). As play doesn't resume until 7:30 a.m., the place is expectantly barren. I shower, dress and begin to walk out of the locker room. It's 5:20 a.m.
The emotional swing of cruising along tied for the lead, to back near the cut line in a matter of 20 minutes is jarring. I pray he can reset and continue the world-class play I had the pleasure of watching for the first 11 holes.
To my surprise, I bump into another living being. It's Troy. His weariness was instantly apparent. Rocking heavy bags under his eyes, he looked more like the guy who slept in a tent in the parking lot than me. From experience, I know you don't need good sleep to play good golf. I wasn't concerned.
We enter the patio to scurry through another lavish buffet line. I continue to overindulge. The sun is nowhere to be found; a blackness casted upon us. We talk about everything but golf. As a man who is never short on words, this is one thing I am good at. As dark slowly turns into light, Troy transitions from jovial to business-like. It's time for me to shut up. It's game time. We make our way over to the range.
For much of yesterday, I felt like I was watching a touring professional. The guy I watched on the range looked like an imposter. As balls snapped left and spun right, this range session resembled a guy getting ready for a Sunday scat game, not a national championship. He didn't seem concerned, therefore neither was I. Sometimes we use range sessions simply to get loose. The results are meaningless, not reflecting the current state of one's game.
We began our trek to the 14th hole, the farthest point on the golf course. Not only is it the farthest, but also the tee shot is the tightest. "White soldiers," as Troy calls them, were stacked on the left, a mere 10 yards off the fairway. Trees and bunkers protect the right side, setting the stage for our most demanding shot thus far. Troy is last to hit. The first guy shoots off a dramatic flare so far right that it seemed predetermined he wasn't sending a wakeup call to the neighbors residing on the left. The second guy white-knuckles a steered driver into the right rough that flew all of 215 yards.
Troy is up.
To me, this was the most defining moment of the tournament. The shank, the restless night, the slappy range session, would all be forgotten with a good drive. A drive out of bounds would all but remove us from the tournament. I was nervous again for the first time since our first tee shot.
This is what separates good amateur players (Player 1 and Player 2) from the great ones. Troy steps up and smashes a ball right down the bisecting line of the fairway.
Phew. We are back in business. Troy finishes his remaining five holes at 1 under. Posting a 1-under-par 69 at Fenway, we head to Sleepy Hollow very much in the mix.
---
Located off the Hudson River, Sleepy is nothing short of majestic. The layout is highly engaging and offers stunning views. Three of the best architects to ever do it – Macdonald, Raynor, Tillinghast – touched this place in the early 1900s. Add a recent renovation from Philadelphia star Gil Hanse to the mix, there is no surprise the finished product amounted to a Top 50 course in the country.
Our time is 10:58 a.m. off No. 10. A solid two miles from the clubhouse, I pack into a van with the Vannucci/Hyland clan and begin our trip to the tee. Winding through the surrounding affluent neighborhood, we arrive at our destination. Severely downhill and over water, the 156-yard par 3 10th hole is one of the most photographed holes on the course.
The skies open and a steady rain fall begins. I check the time. It's 10:36 a.m.
We pack in closely under the scorer's tent and watch the surrounding action on the 9th green and 10th tee. As bad jokes and uninteresting stories abound, Troy and I remain quiet.
Twenty-two minutes pass. The tee is ours.
Troy emerges from the tent. The rain continues to pound the turf, beginning to puddle. A wind that was dormant for much of the weekend has suddenly emerged.
Taking the downhill into account, this is a 150-yard shot, a perfect 9-iron.
The ball leaves the face and instantly beelines toward the pin.
"Go in," a few folks, including myself mutter.
The ball lands inches from the hole. We anxiously wait to see if it will drop. It halts inches short. From our vantage point, it looked like a stiff breeze could send her home.
The official turns and says, "Great shot. That's the best of the week."
We just rattled off three birdies in the toughest conditions of the week. I would be lying if I said I saw this coming. I am dumbfounded.
"No kidding," I sarcastically thought to myself.
We stand on the 11th tee, the heaviest rain of the day fell around us, a half-club wind steadily brushes the front of my face.
Checking in as the second hardest hole on the course, I figure par, in these conditions, is a great score here. Unfazed by the conditions, Troy hits one of his best drives of the week, a power cut that flew nearly 280 yards. We are left with 161 yards to a back pin, into the wind, and over a club uphill.
I grab his 7-iron and begin to clean his grooves. Despite this being our 20th hole, I continue to marvel at the quarter-sized wear mark on his club face.
Troy hits one of his best shots of the week, a 7-iron on a trolley-cable to eight feet. The putt falls dead center. It was at this moment I realized I was watching something truly special. In conditions where even the best resorted to preservation mode, and the feeble are holding for dear life, Troy is making a charge.
The rain has turned into a downpour. As we arrive on the 12th tee, a team feverishly attempts to squeegee the standing water in the fairway. The par 5 is listed at 540 yards, but being severely uphill, into the wind, and the fairway resembling a splash pad, I figure it's playing close to 600.
Troy hits another seed down the center cut. We are gaining shots on the field with every swing.
As we wait for the green to clear, I ask Troy what he's thinking here.
"Honestly, just trying to envision the Mill", he says softly.
I laugh out loud. Here we are in golf heaven and Troy is visualizing the suffocating Jersey Pines. I guess it's true. There is no place like home.

A 3-wood leaves us with 65 yards. A low skipping sand wedge to six feet follows. Another birdie. The horn sounds.
We just rattled off three birdies in the toughest conditions of the week. I would be lying if I said I saw this coming. I am dumbfounded.
I immediately check the scores. From starting the day on the cut line, we now share the lead with one player at 4 under.
We are forced to go back to the vans to wait out the rain. Troy and I have a van to ourselves. I do my best to talk about anything other than golf. We laugh and tell life stories about dating, family and past mishaps. In this moment, you would never guess he is in the lead of a national tournament.
After an hour, the rain slows, and the show goes on. Troy picks up right where he left off. Two fairways, two greens, two pars.
He hits the par 5 15th hole in two shots. A two-putt birdie ensues. He is 5 under. I quickly check the leaderboard just to lay eyes on the image.
"1 Vannucci -5 thru 6* – SH"
Troy is in solo first. The most astonishing part is he has not made a single putt over 10 feet for the tournament. No, that's not a typo.
Think about that for a minute, folks. He's leading our national tournament thru 24 holes, and he hasn't made a single putt over 10 feet.
On this weekend, I didn't need shots gained, or tee-to-green metrics to know I was caddying for the best ball-striker in the field.
We stand on the 16th tee. The famous thumbprint green is 125 yards away. The pin, burrowed in the center of the print, has an inviting aura. The enchanting Hudson River, flexing its profound beauty, serves as the backdrop. It's no wonder this is one of the most photographed holes in the world.
In a game where each moment is fleeting, time seems to move a bit slower here. In a world where societal obligations can make one's soul restless, here I feel an overwhelming sense of peace. In this moment in time, I know I'm right where I should be. I wonder if Troy feels the same.
The green clears. Back to putting a white ball in a hole.
We laugh and tell life stories about dating, family and past mishaps. In this moment, you would never guess he is in the lead of a national tournament.
The club selection is a choke pitching wedge. Once struck, the ball, to no one's surprise, stalks the pin.
If this was a movie, this would certainly be the climax. The lead, the all-world 16th hole as the setting, and a hovering ball that looked destined to find the bottom of the cup.
The ball finally falls out of the sky, landing three inches to the left of cup and spinning back to eight feet.
Another shot, another absolute dart. This was starting to get silly.
Troy would go on to miss this putt. Two pulled wedges in the middle of the round resulted in a bogey and a double bogey. With our medalist hopes all but extinguished and the projected cut at 3 over, the table was set for an anticlimactic finish. We were simply playing for seeding.
We would go on to finish at 2 under for the tournament. His best chip of the weekend, an open-faced 60-degree wedge from thick rough, capped off the round.
As we walked to the scorer's tent, I can finally utter what was on the tip of my tongue all day.
"Congrats buddy! You know that locks up GAP Player of the Year?"
To this point, it was something neither of us mentioned.
With a smirk firmly fixed upon his face, he responds "Oh. I know." It was the dumbest question I asked all week.
---
A golf tournament of my own and fatherly duty called me back home. My physical body came to Marlton, but my heart still lied in Scarborough, N.Y. I was to miss his first match but was committed for the rest of the week if he continued to advance.
I wake up at 7:15 on Tuesday morning and instantly open live scoring. Troy is 2-up thru five holes in the Round of 64. Expecting a deep run, I pack what felt like my whole closet and begin my trek back to Sleepy. The closer I get, the worse the match turns against us. I eventually park off the New Jersey Turnpike and anxiously refresh my phone.
After some time, I hop back on the turnpike. Heading south.
Troy lost, 3&2. My journey had ended at the Grover Cleveland Service Area.
As someone who believes you always finish what you start, I felt like I let us down. If the ship went down, I wanted to be on it. My soul feeling empty, my stomach in knots, I begin the descent back to reality.
Troy's journey ended on the same hole where we peaked. I will always remember that moment, the ball in the air traveling to the pin like a heat-seeking missile. In that moment, it seemed like the success would never end.
Although it ended early, I hope it feels like the beginning of something to him. It sure does to me. The player I had the pleasure of watching is one whose ceiling is without bounds. Despite winning Player of the Year, his accomplishments have not yet caught up with his playing ability.
As much as I know the GAP events hold a special place in his heart, the USGA events are his true arena. His game is destined for the national scene.
There is no doubt in my mind he will be back. I hope when that time comes, I get the call to embark on our next journey.
To write our next chapter.
Beau Guarino is a Riverton Country Club member and cohost of "Slammers Weekly," a podcast that analyzes amateur golf in the Philadelphia region.