Stonewall's Gradisek champions championship
By Marin Dremock
"Golf has made the world a little smaller," Kim Gradisek said, smiling.
| U.S. Women's Mid-Amateur home |
During a rainy lunch conversation at historic Philadelphia Country Club, the world did, indeed, seem fairly small and quite intertwined. Two women in the golf industry sat at a small booth and watched the water pour onto a premier golf course. Golf brought her here. Golf brought me here.
But this connection was not happenstance, not luck or chance. Stonewall, a GAP (Golf Association of Philadelphia) Member Club, is set to host this week's U.S. Women's Mid-Amateur Championship, and Gradisek is a member of the tournament supervising committee.
The Wayne, Pa. resident has a rich history at Stonewall. The 56-year-old seasoned golfer and self-proclaimed "pioneer woman" of female involvement there first joined the Elverson, Pa. golf club with her husband, Mike, and kids, William, Alyssa and James. Some family genes perhaps propelled her to begin asking about Ladies' Day at Stonewall, as her mother, Jean Kelly, was the chair of women's golf at her home club.
When Gradisek went to the Stonewall pro shop with questions, they gave her a sufficient enough answer: Wednesday. Deal. She showed up the next week, stood on the first tee box and waited for a caravan of golfing women to arrive just to play a round with her. No one showed.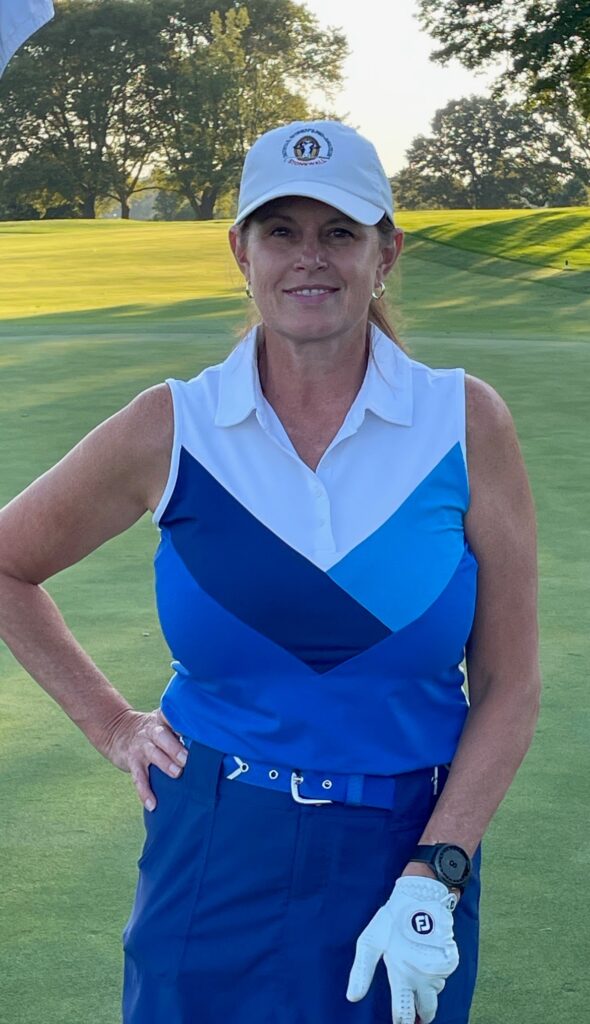 Gradisek decided to take matters into her own hands. She was determined to find some other women to play golf with at Stonewall, so she started recruiting the male members' spouses.
"Give me the directory. I'm going to start emailing the wives," she said.
Gradisek made connection after connection, pulling together a group of ladies that eventually formed a WGAP team representing Stonewall. Although small—one team, when other clubs had three or four teams—this group of women went on to compete in several Women's Golf Association of Philadelphia (WGAP) Team Matches and to advance their cup standing from 22nd to 16th.
Thus, it began. Gradisek paved the way for women's golf at Stonewall, and a USGA championship coming to that very course continues that road. It's a full-circle moment for Gradisek's ambassador roles and leadership in the golf world, especially at Stonewall.
"It's very exhilarating, and I get goosebumps talking about it. In some ways, I can't fathom that we've accomplished this much," Gradisek said.
From the moment the USGA announced that Stonewall would host, preparations began. Gradisek made a trip to Fiddlesticks Country Club in Fort Meyers, Fla. for last year's championship and was able to witness what a U.S. Women's Mid-Amateur looked like. Some history with hosting the U.S. Mid-Amateur at Stonewall (2016) also contributed to this year's operation.
"I like putting pieces of puzzles together and making connections, and I've always loved to plan a good party. When you can combine all of those things together for a successful golf tournament, it's a good day," Gradisek said.
As a committee chair member, Gradisek is tasked with responsibilities that, in her words, begin the minute a player steps foot on Stonewall's grounds. She arranges player parking, hospitality areas, locker rooms, registration and various packets that are given to players from the USGA and the host club. She also coordinates volunteer hospitality and registration.
"There's a lot of moving parts. There's merchandise to be ordered, menus to be planned," she said. "It's kind of combined all of my skills, you know, my education, my passion for golf, my desire to grow the women's game."
Gradisek wrangles volunteers everywhere she goes, using communication and marketing tactics to draw in the event's helpers. She even entices volunteers with complimentary rounds of golf if they work at least two shifts.
But, of course, it wasn't just Gradisek and her superb networking skills that got it all done. She gives credit to the collaboration of her Stonewall team, Kevin Davies and Dick Flannery, fellow committee chairs; Paul Mauer, general manager and Ryan Lagergren, head golf professional. Zoom meetings every two weeks over the last two years have become the norm for coordinating the national event.
"It was a lot of teamwork amongst the five people on how we saw fit to best showcase our club and the logistics," Gradisek said. "It's a very special relationship among the staff there."
There was one key preparation that had to be made that would elevate the focus on inspiring female golfers, and Gradisek tackled this task as well. She contacted and secured the keynote speaker for the formal USGA dinner: Carol Semple Thompson.
"She's the queen of amateur golf in Pennsylvania," Gradisek said.
Semple Thompson is indeed a queen. She won seven USGA championships: the 1973 Women's Amateur, the 1990 and 1997 Women's Mid-Amateur and four straight Senior Women's Amateur (1999-2002). These stats warrant her a tie for the second-most USGA championships won, with Ellen Port and Anne Quast Sander.
After asking for Semple Thompson's contact at her home club, Oakmont Country Club, Gradisek found nothing. She resorted back to connections at Stonewall, who remembered meeting Semple Thompson at a Women's Transnational Championship. Gradisek obtained her address, put pen to paper, wrote an old-fashioned letter and mailed it.
To Gradisek's joyful surprise, she got a response from Semple Thompson. They eventually connected with a phone call, introducing themselves and having a "wonderful conversation" about the event, their histories in golf and the U.S. Women's Mid-Amateur. The chat ended with an affirmative from Semple Thompson: she was "flattered" that Gradisek thought of her and would take the role of keynote speaker at the formal USGA dinner on Friday, Sept. 8. Gradisek hopes the "fireside chat" with her, Semple Thompson and USGA Manager of Championship Communications Joey Geske will spark some fire in the hearts of the competing ladies.
"That was a huge win in my book. I think these girls are going to be so inspired," Gradisek said.
And that's just the point, isn't it? Events like these USGA Championships inspire, promote and elevate golf in the area the event is hosted in. The U.S. Women's Mid-Amateur at Stonewall is an opportunity for local ladies to gain or break ground in the golf industry.
Whether it's through a Women's Program Day with USGA supporters Grant Thornton and Duane Morris or volunteering at the tournament, women are being shown that they can step out of the office and still network while on the golf course.
GAP chases these goals. The second GAP Women's Championship was held this summer at Riverton Country Club. Its Women's Week programming gave ladies the opportunity to spectate or play in tournaments, all while networking with other women in the golf industry.
By watching these players in the U.S. Women's Mid-Amateur and by joining forces with GAP's female initiatives, ladies in the Greater Philadelphia area have the chance to learn more about the game of golf: what to wear, how to act, the rules of the game, how to practice and prepare and even how to play.
"Some women are intimidated to even begin playing golf because they don't know what the etiquette is, what the rules are, or what the dress code is. Feeling welcome and having a little bit of a golf IQ is one of the most hospitable things that I like to foster. [I like to] make women know that they have a place. Give them a Ladies' Day," Gradisek said. "I love the fact that this area in particular is a mecca, if you will, and a great breeding ground for women's golf."
Marin Dremock is a senior Communications: Journalism major and women's golfer at Eastern University. She spent the summer as a GAP Tournament Operations Intern before preparing for a semester abroad in St. Andrews, Scotland.
GAP
Celebrating Amateur Golf since 1897, GAP, also known as the Golf Association of Philadelphia, is the oldest regional or state golf association in the United States. It serves as the principal ruling body of amateur golf in its region. The organization's 340 Member Clubs and 100,000 individual members are spread across Pennsylvania, Delaware, New Jersey and Maryland. The GAP's mission is to promote, preserve and protect the game of golf.