The Barbin Bash: Loch Nairn members take Hussey
| Scoring portal| History | Photo gallery |
SPRINGFIELD, Pa. — Austin Barbin continues to flood Junior golf headlines in 2019. On Monday, the recent GAP Junior Boys', Philadelphia Boys Junior PGA and Maryland State Golf Association Junior Amateur (Ages 16-18) Champion made room on stage for brother Evan to share the spotlight.
The Elkton, Md. residents carded a 6-under-par 65 to capture the 34th Francis X. Hussey Memorial, part of the GAP Junior Series presented by Citadel, at a rainy Rolling Green Golf Club (par 71, 6,302 yards). Austin, who will attend the University of Maryland in the fall, shot 5 under on his own ball.
The Francis X. Hussey Memorial is a better-ball-of-partners event.
"He's playing really well. We're all really proud of him," Evan, 15, an incoming sophomore at Red Lion Christian Academy, said. "For me, [seeing Austin's success] pushes me. It's motivation. I feel like I should play better. He's given me a ton of advice. Watching him play well helps me on the course. It's fun to watch him. It was fun to be by his side today."
"I had a target in mind. If we could make seven birdies today, maybe throw in a bogey, then that should be good enough," Austin, 18, added. "We were pretty much in it every hole, so that helped the par situation."
The par situation? Plentiful. The birdie situation? Bountiful.
It started on No. 5 (par 4, 370 yards), where Austin and Evan faced similar lines inside 10 feet. Evan's seven-footer lipped out. Austin rolled in a five-footer for birdie following a 58-degree wedge from 95 yards. On the par 5, 518-yard No. 7, Evan gave his teammate leverage by launching a hybrid from 230 yards to 25 feet. Austin's flop shot stopped at seven feet. He cleaned up the birdie putt. The Loch Nairn Golf Club members cleansed their lone bogey (No. 8, par 4, 395 yards) with red on the next hole. Austin's 58-degree wedge from 40 yards bounced once before drifting to three feet.
Three straight back-nine birdies sent the Barbin team on its way to the winner's circle.
On the tempting par 4, 275-yard 12th hole, Austin walloped a 3-wood over the green and into fretting flop territory. No need to fret when you can bet on wedge wonder. Austin's "insane" flop shot stopped four feet from the jar. He cleaned up the birdie putt. A cut 7-iron from 182 yards set up a 20-footer for birdie on No. 13 (par 4, 425 yards). The par 3, 187-yard 14th hole saw Austin execute a nearly identical shot, flighting a 6-iron to six feet below the hole for birdie.
Evan punctuated a two-shot victory for his team by lifting a 56-degree wedge from 105 yards to three feet for birdie on No. 17 (par 5, 488 yards). Austin rolled in a 20-footer prior to make any Evan jitters skitter.
After competing in the Philadelphia Boys Junior PGA Championship at The Springhaven Club on July 1, the Barbins retreated to Cape May, N.J. for a week of rest and relaxation on the beach. Both only grabbed the golf clubs twice: a casual round at The Shore Club and a 45-minute swing session at Cape May National Golf Club.
That rest and relaxation refreshed Austin and Evan for their Francis X. Hussey Memorial debut — and curtain call; this is Austin's last year of eligibility.
"We both love Rolling Green. You can't pass up a chance to play here," Evan said.
"We're going for GAP Junior Player of the Year, and this is an event where you can get more points," Austin said. "Our games are on and we're playing well right now. We wanted additional points for Junior Player of the Year. That's kind of my goal this year."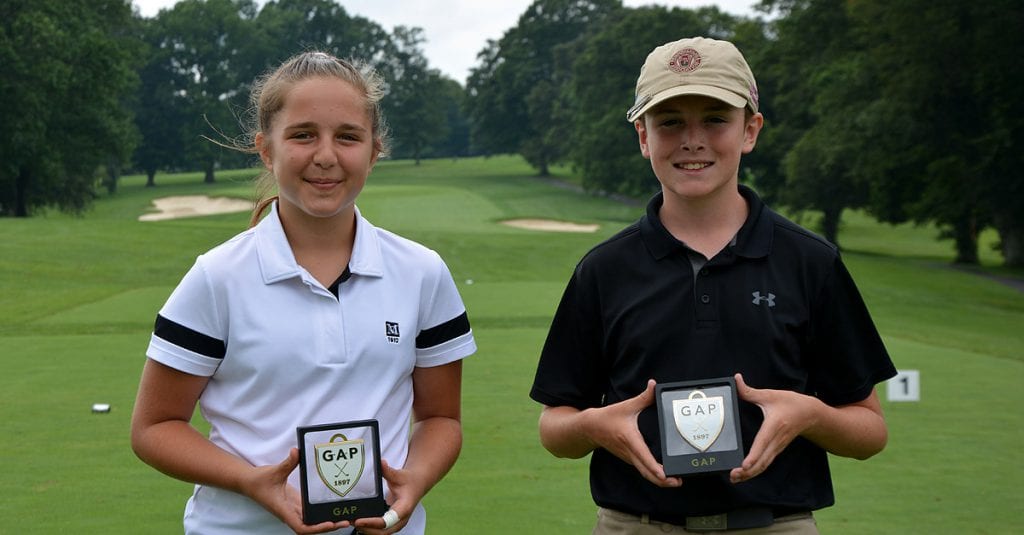 Junior-Junior Division
McCall Golf Club's Libby Flaisher and J.P. Hoban won the event's Junior-Junior (par 36, 2,930 yards) title with a 6-over-par 42. The incoming Havertown Middle School seventh graders agreed that it felt "cool" to walk away with a trophy.

Flaisher and Hoban met through their dads, Ari and Joe. The two play golf together as part of McCall's PGA Junior League team. When asked to cite a memorable Rolling Green moment, Hoban pauses before bringing up No. 4 (par 4, 412 yards).
"I was debating between a 9-iron and an 8-iron [for my approach]. It went up the hill, and rolled back down. Then it went up the hill, and it rolled back down again," Hoban, 12, of Havertown, Pa., said. "I hit it like four times."
"That was his downfall I think," Flaisher, 12, of Ardmore, Pa., added. "But we bounced back after that."
In the Junior-Junior Girls' Division, Llanerch Country Club's Riley Quartermain and Kathleen Mark of the host club prevailed with a 6-over-par 77. Quartermain, 16, of Bryn Mawr, Pa., is an incoming junior at Haverford High School. Mark, 16, of Media, Pa., is an incoming junior at Episcopal Academy.
Francis X. Hussey, the tournament's namesake, was a Junior member at Rolling Green. He suffered from congenital heart disease and died in December 1983 while undergoing major heart surgery. He was 13 years old when he died. Francis was a student in the Haverford Township School system, an avid sports fan and an active Junior member at Rolling Green. His courage in the face of his illness was a great inspiration to all who knew him.
GAP
Celebrating Amateur Golf since 1897, GAP, also known as the Golf Association of Philadelphia, is the oldest regional or state golf association in the United States. It serves as the principal ruling body of amateur golf in its region. The Association's 274 Full Member Clubs and 75,000 individual members are spread across the Eastern half of Pennsylvania and parts of New Jersey and Delaware. The GAP's mission is to promote, preserve and protect the game of golf.
Results
Junior Boys' Division
Name, club, score
Austin Barbin/Evan Barbin, Loch Nairn Golf Club
65
Ryan McCabe/Nicholas Ciocca, The Springhaven Club/Aronimink Golf Club
67
Jack Fialko/Jake Maddaloni, Aronimink Golf Club
68
Roy Anderson/Jacob Sokalsky, Kennett Square Golf & CC/Penn Oaks Golf Club
69
Patrick Isztwan/John Bradbeer, Huntingdon Valley Country Club/Merion Golf Club
69
Jeffrey Homer/Matthew Homer, Wilmington Country Club
71
Henry Stone/Win Thomas, Bidermann Golf Club/Concord Country Club
72
August Blatney/Corey Haydu, Philadelphia Cricket Club/Spring Mill Country Club
72
Derek Answini/Martin Cryan, Fox Hill Country Club
72
Owen Heffernan/Liam Hart, Jericho National Golf Club/Spring Mill Country Club
73
Thomas Butler/Stephen Butler, Indian Valley Country Club
73
James Gradisek/Christopher Buysse, Philadelphia Country Club/Waynesborough Country Club
74
Kemp Bassett/Will Blatchford, Waynesborough Country Club/St. Davids Golf Club
75
Anthony Ciconte/Jack Homer, Wilmington Country Club
75
Scott Hughes/Seamus Leonard, Talamore Country Club
76
Nathan Guertler/Matthew Normand, Tavistock Country Club/Riverton Country Club
77
Jack Kearns/Kevin Roberts, Trenton Country Club/Lu Lu Country Club
77
Case Hummer/Luke Kelly, Aronimink Golf Club/Merion Golf Club
77
Jack Marvin/Luke Marvin, Commonwealth National GC
78
Wade Gregor/Patrick Sullivan, Jr., Huntingdon Valley Country Club/Philadelphia Publinks GA
80
Jeffrey Reilly, Jr./Jon Sheehan, Hidden Creek Golf Club/Sea Oaks Country Club
81
Finn Coll/Liam Coll, Sandy Run Country Club
83
Charlie Hurchalla/Matthew Hurchalla, The Springhaven Club
87
Junior Girls' Division
Name, club, score
Kathleen Mark/Riley Quartermain, Rolling Green Golf Club/Llanerch Country Club
77
Junior-Junior Division
Name, club, score

| | |
| --- | --- |
| J.P. Hoban/Libby Flaisher, McCall Golf Club | 42 |
| Gavin Dirita/Jason Dirita, The Springhaven Club | 43 |
| Joe Ciconte/Fletcher Jones, Wilmington Country Club | 44 |
| Keller Tannehill/Paul Reilly, Greate Bay Country Club/Hidden Creek Golf Club | 47 |
| Adriana Seravalli/Logan Cassidy, Union League GC at Torresdale | 48 |
| Brad McDermott/Ravi Khana, Merion Golf Club/Talamore Country Club | 55 |
| Walker Mannon/Luka Fediukov, Phoenixville Country Club | 55 |
| Manik Narula/Angelo Seravalli, Union League Golf Club at Torresdale | 55 |