Four Find Favor at Valley
Joseph Orsulak of Olde Homestead Golf Club expressed some surprise as his photo was being snapped with the Men's Overall Champion trophy Tuesday at the 2nd Net Championship at Valley Country Club (par 71, 6,218 yards).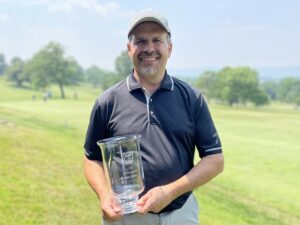 "I didn't even realize I had a chance to win," Orsulak, 58, of New Ringgold, Pa., said.
Orsulak posted 38 Stableford points to top the Overall Men's Division leaderboard.
His winning round started with a net eagle for four points on No. 1 (par 5, 524 yards). After finding the fairway off the tee with his driver, Orsulak laid up with a hybrid to leave himself 128 yards to the hole. From there, he stuck a 9-iron to six feet and sank the putt.
Another solid hybrid shot worked in the winner's favor on the 176 yard, par 3, 12th hole. Orsulak's ball bounced just past the flag and sat on a bank above the hole. After a light tap, his ball trickled 10 feet down the hill into the hole for a natural birdie and three points.
"I just got done saying to the guys, 'don't go long here. The pin's in the back, don't go long'," Orsulak laughed. "I just tapped my putt, read it right and it curled in and went right in the hole."
Orsulak is a former member of Valley Country Club.
The champion played the back tees during today's round, so No. 15 (par 4, 405 yards) seemed a little daunting.
"I got to the tee and I said, 'no, the tees are way back. This is going to be an unbearable hole'," Orsulak said.
He was left with 200 yards after his tee shot, but he was unfazed. Orsulak then striped a 4-hybrid to nine feet and made the putt for a net eagle and four points.
"I love this course, [it's] in immaculate shape," Orsulak, who has been playing golf for 48 years, said. "The greens were rolling really good. It's not a long course, but the greens are tough. You've got to hit the ball in the right spot."
Added Orsulak, who carries a 4.5 Handicap Index, of the Stableford scoring, "It's difficult for someone like me. It's hard because I have to shoot par or even under par to be competitive. I just wanted to play the course here. I thought I'd have a bit of an advantage.
"I just love to compete. It's a sport where it's just you against the field."
Henry Holst of Penn Oaks Golf Club listed 35 points to top the Amateur Men's Division (par 71, 5,749 yards) and finish in third place overall. Holst credited a friendly back nine to his success.
"I really like to play for fun," Holst, 37, of West Chester, Pa. said. "My first competitive tournament was last year at a GAP tournament. I think I finished last or close to last so today is pretty surreal."
Like a lot of the field, it was Holst's first time playing the A.W. Tillinghast design.
"If you keep your first shot in the fairway, it gives you a pretty good opportunity to get to the green and two putt," Holst, a sales director at Green Lawn Fertilizing, said. 
He did just that on No. 15 (par 4, 350 yards) and No. 16 (par 3, 160 yards).
In the Overall Women's Division (par 71, 5,432 yards), Danielle Bell of McCall Golf Club took home the trophy. She also finished atop the Amateur Women's leaderboard three points ahead of Valley Country Club member Isabelle Seratch. Bell posted 38 points to secure her victory.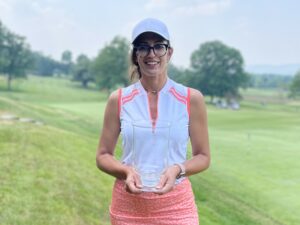 "I'm a pretty high handicap, and the first six holes I played 1-under-par which I've never done before," Bell, 36, of Bryn Mawr, Pa. said. "That was pretty amazing. Everything was clicking, and it was a great feeling. I had a great time out there." Bell said. 
Bell had a tough stretch of holes on the latter part of the front nine, but her relaxed mindset kept her in the competition.
"Bad holes are going to happen for me," Bell, a physician's assistant, said. "It's just kind of taking the objective from that and then learning from it, then implementing it and not really letting it get to you. At the end of the day, this is for fun, so I try to just enjoy my time out there and enjoy the course."
No. 2 (par 3, 168 yards) was the highlight of Bell's day. She almost holed out for an ace. Hitting a 4-hybrid to less than a foot and tapping in the putt for a net eagle allowed for four points. Bell carded two other net eagles on her front nine stretch on Nos. 4 (par 4, 326 yards) and 6 (par 4, 339 yards).
The only event participant to compete in the Senior Women's Division was Alison Kellock of Flourtown Country Club. Kellock, 57, of Oreland Pa. loved playing in a previous GAP event at Valley.
"It's a great venue. I know it's far for some people, but it's worth it," Kellock, a biostatistics programmer for AstraZeneca, said. "I do the Winter Series every year, I do the Member Play Days and I've done the Net [Championship] in the past. I won one a couple years ago."
Kellock's love for GAP events keeps her coming out to play, no matter her score.
GAP
Celebrating Amateur Golf since 1897, GAP, also known as the Golf Association of Philadelphia, is the oldest regional or state golf association in the United States. It serves as the principal ruling body of amateur golf in its region. The organization's 340 Member Clubs and 100,000 individual members are spread across Pennsylvania, Delaware, New Jersey and Maryland. The GAP's mission is to promote, preserve and protect the game of golf.
| | |
| --- | --- |
| #Stableford scoring used# | |
| Men's Division | |
| Overall | |
| Name, club | Points |
| Joseph Orsulak, Olde Homestead Golf Club | 38 |
| Timothy Kiorpes, Lookaway Golf Club | 37 |
| Henry Holst, Penn Oaks Golf Club | 35 |
| William Erskine, Philadelphia Publinks Golf Association | 34 |
| Scott Seibert, LuLu Country Club | 34 |
| Tyler Wray, Penn Oaks Golf Club | 32 |
| Terrance Schmidt, Talamore Country Club | 31 |
| Mick Dunphy, Flourtown Country Club | 30 |
| Gerald Barr, Lehigh Country Club | 30 |
| Allan Shannon, Makefield Highlands Golf Club | 29 |
| Michael Rose, Commonwealth National Golf Club | 28 |
| John O'Rourke, McCall Golf Club | 28 |
| Brian Kreamer, Bala Golf Club | 28 |
| Bill Rodweller, Green Pond Country Club | 28 |
| Malachy Duffin, Flourtown Country Club | 27 |
| Alexander Johnson, USGA/GAP GC | 27 |
| Gerry McCloy, Flourtown Country Club | 26 |
| Jason Marie, Five Ponds Golf Club | 26 |
| Ed Osciak, Philadelphia Publinks Golf Association | 26 |
| Jeffrey Amrhein, Briarwood Golf Club | 26 |
| Christopher Bell, McCall Golf Club | 25 |
| Matthew Miller, Golf Tour Greater Philadelphia | 25 |
| David Kearney, Lehigh Country Club | 24 |
| Chuck Simalchik, Glenmaura National Golf Club | 20 |
| Tommy Zanghi, USGA/GAP GC | 18 |
| Daniel Kelley, RiverWinds Golf & Tennis Club | WD |
| Edward Conway, Blue Bell Country Club | WD |
| | |
| Amateur | |
| Player, name | Points |
| Henry Holst, Penn Oaks Golf Club | 35 |
| Scott Seibert, LuLu Country Club | 34 |
| Tyler Wray, Penn Oaks Golf Club | 32 |
| Brian Kreamer, Bala Golf Club | 28 |
| Bill Rodweller, Green Pond Country Club | 28 |
| Alexander Johnson, USGA/GAP GC | 27 |
| Jason Marie, Five Ponds Golf Club | 26 |
| Christopher Bell, McCall Golf Club | 25 |
| Matthew Miller, Golf Tour Greater Philadelphia | 25 |
| Chuck Simalchik, Glenmaura National Golf Club | 20 |
| Tommy Zanghi, USGA/GAP GC | 18 |
| Daniel Kelley, RiverWinds Golf & Tennis Club | WD |
| Edward Conway, Blue Bell Country Club | WD |
| | |
| Senior Flight | |
| Name, club | Points |
| Joseph Orsulak, Olde Homestead Golf Club | 38 |
| Timothy Kiorpes, Lookaway Golf Club | 37 |
| William Erskine, Philadelphia Publinks Golf Association | 34 |
| Terrance Schmidt, Talamore Country Club | 31 |
| Mick Dunphy, Flourtown Country Club | 30 |
| Gerald Barr, Lehigh Country Club | 30 |
| Allan Shannon, Makefield Highlands Golf Club | 29 |
| Michael Rose, Commonwealth National Golf Club | 28 |
| John O'Rourke, McCall Golf Club | 28 |
| Malachy Duffin, Flourtown Country Club | 27 |
| Gerry McCloy, Flourtown Country Club | 26 |
| Ed Osciak, Philadelphia Publinks Golf Association | 26 |
| Jeffrey Amrhein, Briarwood Golf Club | 26 |
| David Kearney, Lehigh Country Club | 24 |
| | |
| Women's Division | |
| Overall | |
| Name, club | Points |
| Danielle Bell, McCall Golf Club | 38 |
| Isabelle Seratch, Valley Country Club | 35 |
| Alison Kellock, Flourtown Country Club | 25 |
| Jill Marie, Five Ponds Golf Club | 20 |
| | |
| Amateur | |
| Name, club | Points |
| Danielle Bell, McCall Golf Club | 38 |
| Isabelle Seratch, Valley Country Club | 35 |
| Jill Marie, Five Ponds Golf Club | 20 |
| | |
| Senior | |
| Name, club | Points |
| Alison Kellock, Flourtown Country Club | 25 |