Three triumph in Women's Championship at Riverton
| Scoring | GAP Women's homepage | Women's Schedule |
| Video recap | History | Photos |
CINNAMINSON, N.J. – Anna Kittelson, a recent graduate of the University of Delaware and 12-month P.J. Boatwright Fellow at GAP, traveled to the top leaderboard at GAP's 2nd Women's Championship at Riverton Country Club (par 73, 5,886 yards) Thursday.
Nervous was Kittelson's tone coming into today's round. She spent the week leading up to the tournament in Paris celebrating the end of her collegiate golf career with her two siblings, Dori and Ethan.
"I played nine [holes] yesterday and I putted a lot the day before," Kittelson, 23, of Newark, Del., said. "I actually have not hit a driving range in three weeks which is crazy. When I had the option yesterday to either putt or hit the driving range, I know you have to make putts to win a tournament so [that's what I chose]."
It seems like Kittelson has traveled for most of her life. Her family lives in Boise, Idaho, but because of her father's military involvement she spent her high school years attending William Howard Taft High School in Texas. She stayed for another year to attend Midwestern State University, where she played on the golf team. Midway through her sophomore year, she transferred to the University of Delaware, where she continued her collegiate career until she reached the end of her eligibility at the end of the spring 2023 season.
"[Transferring to Delaware] was the best decision of my life," Kittelson, who works in the pro shop at Bidermann Golf Club, said. "If I could go back, I would come to Delaware a million times over again. I am a big fan of the East Coast now. The stars just all aligned for me to come here."
Exercise science was an area of study for her during undergrad. After taking a class titled "Clinical Exercise Physiology," she learned about the means available for disabled individuals to exercise. At the same time, the USGA hosted the inaugural U.S. Adaptive Open.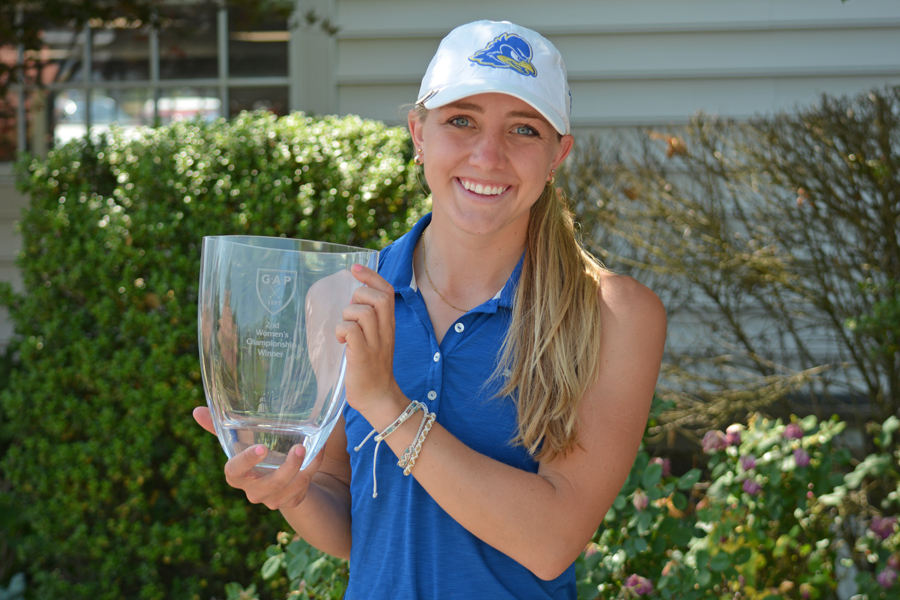 Conversations between Mario Machi, GAP's Assistant Executive Director and Anthony Malizia, Bidermann's head golf professional, led Kittleson to a 12-month Fellowship at GAP with a special focus on adaptive golf.
"I played [in the Women's Championship] because I thought it would be fun," Kittelson said. "I have no more college golf left, which is so sad, so just trying to find things to stay competitive and keep enjoying the game is why I played."
A gleaming smile from Kittelson suggests a fun time at Riverton.
Heading outward, she circled three figures on her card. On No. 2 (par 4, 373 yards) she hit a 9-iron 126 yards to 15 feet. A 50 degree wedge from 96 yards to seven feet on No. 5 (par 4, 307 yards) led to another birdie. A tap-in birdie on No. 7 (par 5, 510 yards) got her to 3 under. A disappointing double bogey on No. 9 (par 5, 480 yards) after a tee shot that landed out of bounds ended Kittelson's front nine.
It was a similar trip inward. On No. 15 (par 5, 405 yards), Kittelson flighted an 8-iron 137 yards to 24 feet; a confident putting stroke sealed the deal. A well-struck 50-degree wedge from 100 yards on No. 17 (par 5, 452 yards) landed 24 feet from the hole. The putt crawled over the front lip to put her ahead of playing partners Bailey Davis of USGA/GAP GC and Rhianna Gooneratne of The 1912 Club, who both sat at 1 under and made pars on the 17th. Routine pars on No. 18 (par 4, 339 yards) for the trio allowed Kittelson to come out on top.
"[Riverton] is absolutely stunning. I was genuinely surprised by how well the greens rolled. There is not an imperfection on them," Kittelson said. "[The greens] roll true to their line. I think that fit my game really well. When the greens are nice, it's easy to make putts."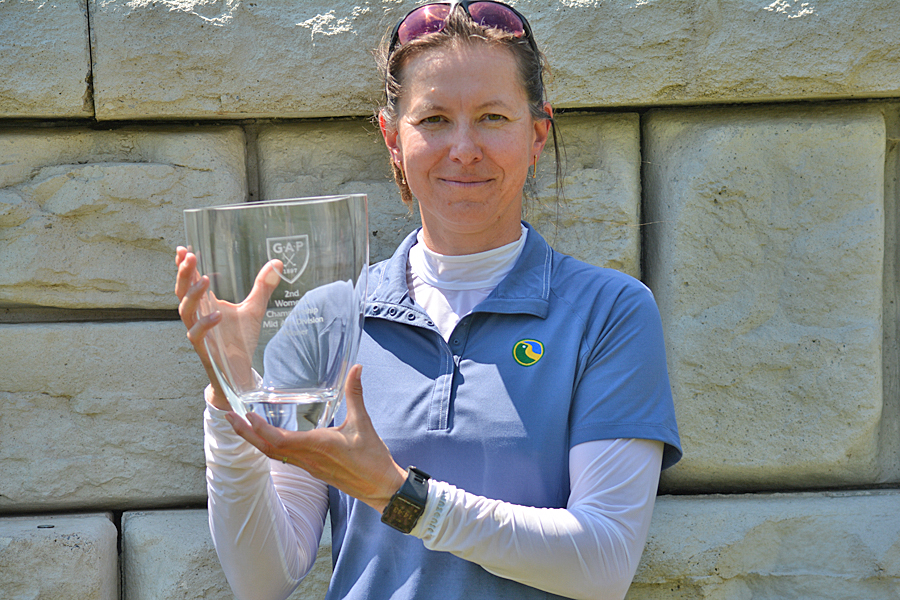 The 2nd Women's Championship was Kittleson's first GAP Championship.
"It's so fun," Kittelson said. "I think it shows how well run our organization is because if it wasn't a good organization, I wouldn't play for it. I think if you can have people in the organization play in events, it shows how we do things and how well we do them because we don't want to go elsewhere to play. We want to play in our own events."
Also a traveler is this year's Middle-Amateur Division winner: Barbora Millichip of Honeybrook Golf Club, who bested the field with a 7-over 80.
"This was my first time at Riverton," Millichip, 45, of West Caln , Pa. said. "Big, hard greens, nice fairways, tough. Little errors were punished badly. [I] enjoyed it.
Originally from the Czech Republic, Millichip moved to the United States five years ago and lived in Chicago, Ill. for a year before moving to the Philadelphia area. Her husband's management position in the pharmaceutical industry led her westward.
Despite her unfamiliarity with Riverton's layout, she navigated the course as if she were a local. A tough opening stretch of holes included a double bogey, a triple bogey, and two bogeys. The 2022 U.S. Women's Amateur qualifier hit her stride on the back nine. A flushed 9-iron on the 119 yard, par 3, 11th, stuck 10 feet from the cup and allowed her to capture her first birdie. She thumped a 7-iron 162 yards to two feet on No. 13 (par 4, 380 yards). She closed her suitcase of birdies on No. 15 (par 5, 405 yards) by lacing a 5-iron just short of the green and knocking her chip to three feet. An easy putt, zippered it shut.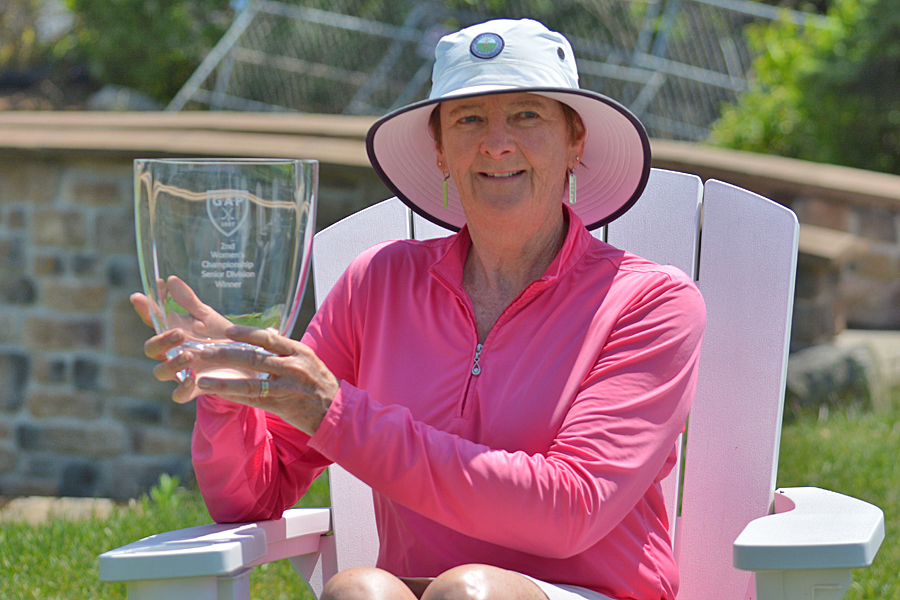 The Senior Division (par 73, 5,192 yards) was topped by Northampton Country Club's Noreen Mohler, who carded a 2-over 75 to best the field of 18 by four shots. Her round started with some slight turbulence.
"I started off shaky," Mohler, 69, of Bethlehem, Pa., said. "I made a couple of bogeys, and I was a little hesitant with my swing. On the ninth hole, I finally hit a good iron to the green and it just felt really solid. After that, I just swung more freely."
To clarify, she hit an 8-iron 125 yards to 15 feet on the 425-yard, par 5 9th to stabilize her flight toward the clubhouse. On No. 10 (par 5, 394 yards), she hit a 5-wood 180 yards to five feet. The putt dropped for an eagle. On the par 3, 104 yard, 11th, she dropped a 9-iron 12 feet from the hole and curled in the putt. After 10 and 11, she was 3-under. A bogey on No. 16 (par 3, 89 yards) was her only hiccup on the back nine. No lost luggage here.
Today's division winners were on their first visit to Riverton. All things considered, they will likely book a trip back soon.
The GAP Women's Championship is the premier event on the GAP Women's schedule. In 2022, GAP hosted the first edition at Bala Golf Club.
GAP
Celebrating Amateur Golf since 1897, GAP, also known as the Golf Association of Philadelphia, is the oldest regional or state golf association in the United States. It serves as the principal ruling body of amateur golf in its region. The Association's 330 Member Clubs and 90,000 individual members are spread across Pennsylvania, Delaware, New Jersey and Maryland. The GAP's mission is to promote, preserve and protect the game of golf.
| | |
| --- | --- |
| Championship Division | Score |
| Anna Kittelson, GAP Oaks Club | 71 |
| Bailey Davis, USGA/GAP GC | 72 |
| Rhianna Gooneratne, The 1912 Club | 72 |
| Brooke Oberparleiter, Trump National Golf Club – Philadelphia | 75 |
| Christina Carroll, USGA/GAP GC | 75 |
| Meredith Finger, DuPont Country Club | 78 |
| Barbora Millichip, Honeybrook Golf Club | 80 |
| Taylor Oberparleiter, Trump National Golf Club – Philadelphia | 81 |
| Silvana Gonzalez, Applecross Country Club | 82 |
| Reagan Garnsey, Wild Quail Golf & Country Club | 83 |
| Allison Wix, Country Club of Harrisburg | 85 |
| Meghan Adams, Wilmington Country Club | 87 |
| Olivia Strigh, Scotland Run Golf Club | 87 |
| Angie Whitley Coleman, DuPont Country Club | 88 |
| Grace Battista, Golf Course at Glen Mills | 89 |
| Jocelyn Abel, Regents' Glen Country Club | 90 |
| Madison Seidel, Lehigh Country Club | 91 |
| Audrey Reese, Commonwealth National Golf Club | 94 |
| Maureen Koerwer, Huntingdon Valley Country Club | 94 |
| Danielle Lunger, Wilmington Country Club | 98 |
| Madison Rase, West Shore Country Club | 98 |
| Anne Harrower, USGA/GAP GC | 104 |
| Emilee Barkley, Moselem Springs Golf Club | 105 |
| Leigh Anne Fry, Brookside CC of Allentown | 123 |
| | |
| Amateur Division | |
| Anna Kittelson, GAP Oaks Club | 71 |
| Bailey Davis, USGA/GAP GC | 72 |
| Rhianna Gooneratne, The 1912 Club | 72 |
| Brooke Oberparleiter, Trump National Golf Club – Philadelphia | 75 |
| Christina Carroll, USGA/GAP GC | 75 |
| Meredith Finger, DuPont Country Club | 78 |
| Taylor Oberparleiter, Trump National Golf Club – Philadelphia | 81 |
| Silvana Gonzalez, Applecross Country Club | 82 |
| Reagan Garnsey, Wild Quail Golf & Country Club | 83 |
| Olivia Strigh, Scotland Run Golf Club | 87 |
| Audrey Reese, Commonwealth National Golf Club | 94 |
| Anne Harrower, USGA/GAP GC | 104 |
| Emilee Barkley, Moselem Springs Golf Club | 105 |
| | |
| Mid-Amateur Division | |
| Barbora Millichip, Honeybrook Golf Club | 80 |
| Allison Wix, Country Club of Harrisburg | 85 |
| Meghan Adams, Wilmington Country Club | 87 |
| Angie Whitley Coleman, DuPont Country Club | 88 |
| Grace Battista, Golf Course at Glen Mills | 89 |
| Jocelyn Abel, Regents' Glen Country Club | 90 |
| Madison Seidel, Lehigh Country Club | 91 |
| Maureen Koerwer, Huntingdon Valley Country Club | 94 |
| Danielle Lunger, Wilmington Country Club | 98 |
| Madison Rase, West Shore Country Club | 98 |
| Leigh Anne Fry, Brookside CC of Allentown | 123 |
| | |
| Senior Division | |
| Noreen Mohler, Northampton Country Club | 75 |
| Allison Long, Honeybrook Golf Club | 79 |
| Katherine Sahm, The Shore Club | 80 |
| Suzi Spotleson, RiverCrest GC & Preserve | 80 |
| Nicoll Keeney, Wilmington Country Club | 84 |
| Megan Grosky-McGowan, Blue Bell Country Club | 85 |
| Jane Sassaman, DuPont Country Club | 85 |
| Jennifer Meyer, Stanton Ridge G & CC | 87 |
| Tia Toms, Legacy Club at Woodcrest | 88 |
| Sarah Braendel, White Manor Country Club | 88 |
| Roxane Hoffmann, Scotland Run Golf Club | 90 |
| Mim Schreck, Linwood Country Club | 90 |
| Louise Gebhart, Hanover Country Club | 90 |
| Muffy McCabe, French Creek Golf Club | 91 |
| Jackie Beck, Lehigh Country Club | 92 |
| Diane Cardano-Casacio, Cedarbrook Country Club | 94 |
| Ana Rimkus, White Manor Country Club | 96 |
| Tesa Donnelly Smith, Moorestown Field Club | 102 |