Matt duo takes Deeg Sezna Junior Boys' title at Merion (West)
| Scoring portal | History |
ARDMORE, Pa. – Nephew-uncle chemistry equated into championship crowns Monday at Merion Golf Club's West Course (par 70, 5,981 yards).
Christian Matt of Cedarbrook Country Club paired up with uncle Keith Matt of Talamore Country Club to file a 2-under 68, earning them the Junior Boys' title in the 19th Deeg Sezna.
In the end, the Matt squad sat a top a full field of 37 teams, finishing with the event's overall low round. The format was selective drive/alternate shot.
Five birdies dropped on the day for the family of champions. The Matt squad started on No. 12 (par 4, 335 yards) and quickly picked up their first birdie on the day after Christian's blasted drive left Keith with just 50 yards in. His wedge approach landed to 15 feet, and Christian went on to drain the putt for 3. The next arrived on the par-3, 221-yard 15th, where Christian's 3-iron tee shot rolled to 20 feet, leading to a converted 2 by Keith. The duo made the shortened-turn at 2 under.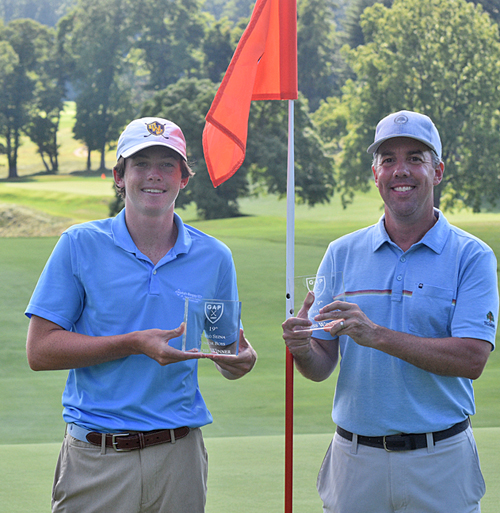 "We were really hitting it good to start. We just wanted to keep giving ourselves birdie chances," said Christian, 17, of Springhouse, Pa.
The par-5, 526-yard 3rd hole saw the next Matt birdie. After flying the green on Christian's approach, a flop shot by Keith landed to 15 feet, leading to another mid-range birdie make by Christian. Another would drop on No. 6 (par 3, 140 yards) when Keith's pitching wedge dart landed to two feet and Christian cleaned up the putt for 2. The final of five red figures dropped on No. 8 (par 4, 246 yards). Christian's drive was bombed over the green, Keith chipped up and the younger Matt drained a 12 footer for 3. Despite a bogey on their last hole, the par-4, 395-yard 11th, the 2-under 68 score remained safe at the top.
"Man, he could putt today," said Keith, 46, of Lower Gwynedd, Pa. "It's been 31 years since I've played here, so it was really great to see it again. It's a fun golf course. And I'm glad I got to experience today [with Christian]."
"I made a few changes [to my putting] and it paid off. Everything was really clicking today," said Christian, a rising senior at Wissahickon High School.
The event itself, according to Keith, "is what GAP is all about." Winning a trophy alongside your nephew, on the grounds of famed Merion, is what today was all about, too.
"It's just awesome. The event, it's really fun. I think this is the second time we've played and it was awesome," said Keith.
"When we saw this event, plus it's [at Merion], we knew we had to do this," said Christian.
In total, there were four Divisions, consisting of both Gross and Net prizes, on the day.
Beth Brennan of Philadelphia Cricket Club and Nicole Yun of Spring Ford Country Club combined to card a 16-over 90, taking home the Junior Girls' title.
The Junior-Junior Boys' Division crown was captured by RiverCrest Golf Club & Preserve's Kurt Meyers and Colby Komancheck (7-over 77), topping a field of five teams.
In the Mixed category, Whitford Country Club's Bruce Cowgill and Mia Pace took the title title with a 5-over 75, bettering eight other pairs.
The Deeg Sezna celebrates the mentorship of the older generation for its younger counterparts. It is named in honor of Davis "Deeg" Sezna, Jr. of Hartefeld National, who lost his life on Sept. 11, 2001 in the attack on the World Trade Center in New York City.
Deeg, an avid golfer long a mentor to his younger brothers Teddy and Willy, and a recent graduate of Vanderbilt University with a degree in economics, was in his sixth day of work on the 104th floor of the South Tower when the terrorists struck.
To memorialize his name, the Golf Association of Philadelphia and his father, Davis Sezna, Sr., established the Deeg Sezna, pairing a junior player and an older amateur in a better ball competition, with a minimum age difference of 10 years and the stipulation that the younger player be 21 or younger. The goal is to give experienced golfers quality time with the next generation, and vice versa.
GAP
Celebrating Amateur Golf since 1897, GAP, also known as the Golf Association of Philadelphia, is the oldest regional or state golf association in the United States. It serves as the principal ruling body of amateur golf in its region. The Association's 274 Full Member Clubs and 75,000 individual members are spread across the Eastern half of Pennsylvania and parts of New Jersey and Delaware. The GAP's mission is to promote, preserve and protect the game of golf.
| | |
| --- | --- |
| Gross | |
| Junior Boys' | |
| Name, club | Score |
| Keith Matt/Christian Matt, Talamore Country Club/Cedarbrook Country Club | 68 |
| Mark Wachter/Danny Dougherty, DuPont Country Club | 70 |
| Stephen Wallick/Brett McGrath, Huntingdon Valley Country Club | 70 |
| Steve Belh/Gage Wolfle, Pitman Golf Course/Merchantville Country Club | 71 |
| Brian Skrip/Tyler Leyden, Old York Road Country Club/North Hills Country Club | 71 |
| Jeff Kavanagh/Dylan Gooneratne, Sandy Run Country Club/The 1912 Club | 72 |
| Scott Lawson/Noah Sim, Cedarbrook Country Club/Commonwealth National Golf Club | 73 |
| Matthew Vandevere/Nicklaus Woods, Concord Country Club | 73 |
| William Givens/Drue Nicholas, The Shore Club/Galloway National Golf Club | 74 |
| Anthony Ciconte/Jeffrey Ciconte, Wilmington Country Club | 74 |
| Evan Rosenstein/Dan Knaster, Bluestone Country Club | 75 |
| Trippe Wayman/Jake Bryson, Wilmington Country Club/ DuPont Country Club | 75 |
| Ari Flaisher/Aidan Farkas, Llanerch Country Club | 76 |
| Jim Sullivan/Cole Coffey, LuLu Country Club | 76 |
| Bryce Fazio/Joe Perese, Huntingdon Valley Country Club | 77 |
| Paul Kennedy/Hunter Probst, Shawnee Country Club/Philadelphia PGA Junior Tour | 78 |
| John VanDame, Jr./Joshua Ryan, Talamore Country Club/The 1912 Club | 78 |
| Steve Owens/Reese Dalzell, Huntingdon Valley Country Club | 79 |
| Frank Boensch/Frank Boensch, Steel Club | 80 |
| Bill Murray/Will Murray, Burlington Country Club | 80 |
| Matt Brennan/Matthew Brennan, Jr., Rolling Green Golf Club | 81 |
| Steven Fryer/Eric Fryer, Commonwealth National Golf Club | 81 |
| Nate Sauder/David Ripa, Running Deer Golf Club | 81 |
| Bart Tizio/Andrew Benner, Olde Homestead Golf Club/Steel Club | 81 |
| Anthony Villari/Sean Maguire, Riverton Country Club/Chester Valley Golf Club | 82 |
| Nick Villari/Phil Villari, Riverton Country Club | 82 |
| Timothy Casale/Kyle Pernell, Moorestown Field Club/Woodcrest Country Club | 82 |
| Nicky Riscica/Steven Marlow, Trenton Country Club/Jericho National Golf Club | 83 |
| Shane Powelson/Nicholas Ryder, Bidermann Golf Club/Aronimink Golf Club | 83 |
| Chris Sarnoski/Colin Sarnoski, Saucon Valley Country Club | 83 |
| John Fleming/Matthew Fleming, Spring Mill Country Club | 84 |
| Ryan Quinn/Joe Arndt, Commonwealth National Golf Club | 84 |
| Robert Bechtold/Charlie Guzzio, Fieldstone Golf Club/Kennett Square Golf & Country Club | 85 |
| Simon Miller/Mike Citro, Woodcrest Country Club | 87 |
| Charlie Hurchalla/Greg Hurchalla, The Springhaven Club | 88 |
| Stephen Digiulio/Thomas DiGiulio, Wedgwood Country Club | 90 |
| Mark Ridge/Trevor Ridge, Cedarbrook Country Club/GAP Youth on Course | 91 |
| | |
| Junior Girls' | |
| Name, club  | Score |
| Beth Brennan/Nicole Yun, Philadelphia Cricket Club/Spring Ford Country Club | 90 |
| | |
| Junior-Junior Boys' | |
| Name, club  | Score |
| Kurt Meyers/Colby Komancheck, RiverCrest Golf Club & Preserve | 77 |
| Brian Herman/Pearson Wolfe, Merchantville Country Club | 82 |
| Ben Bullaro/Johnny Hoffman, Trump National Golf Club – Philadelphia | 85 |
| Aaron Nye/Logan Nye, The 1912 Club | 92 |
| Blake Caldwell/Ethan Caldwell, Indian Valley Country Club | 95 |
| | |
| Mixed | |
| Name, club  | Score |
| Bruce Cowgill/Mia Pace, Whitford Country Club | 75 |
| Joshua Sanborn/Grace Sanborn, Northampton Country Club | 76 |
| John Brennan/Morgan Kunze, Philadelphia Cricket Club/Spring Ford Country Club | 77 |
| Mark Harris/Nina Harris, Doylestown Country Club | 80 |
| Zoey Moua/Chong Moua, St. Davids Golf Club | 84 |
| Kelly Brown/Owen Brown, Applecross Country Club | 86 |
| Richard Hummers/Kaitlyn Hummers, Saucon Valley Country Club | 88 |
| John Liskowitz/Ashley Liskowitz, Metedeconk National Golf Club | 89 |
| Scott Siravo/Luciana Siravo, Laurel Creek Country Club | 102 |
| | |
| Net | |
| Junior Boys' | |
| Name, club | Score |
| Stephen Wallick/Brett McGrath, Huntingdon Valley Country Club | 67 |
| Mark Wachter/Danny Dougherty, DuPont Country Club | 68 |
| Jeff Kavanagh/Dylan Gooneratne, Sandy Run Country Club/The 1912 Club | 69 |
| Steve Belh/Gage Wolfle, Pitman Golf Course/Merchantville Country Club | 70 |
| Keith Matt/Christian Matt, Talamore Country Club/Cedarbrook Country Club | 70 |
| Brian Skrip/Tyler Leyden, Old York Road Country Club/North Hills Country Club | 70 |
| Trippe Wayman/Jake Bryson, Wilmington Country Club/DuPont Country Club | 70 |
| William Givens/Drue Nicholas, The Shore Club/Galloway National Golf Club | 71 |
| Matthew Vandevere/Nicklaus Woods, Concord Country Club | 71 |
| Scott Lawson/Noah Sim, Cedarbrook Country Club/Commonwealth National Golf Club | 72 |
| Paul Kennedy/Hunter Probst, Shawnee Country Club/Philadelphia PGA Junior Tour | 72 |
| Jim Sullivan/Cole Coffey, LuLu Country Club | 72 |
| Bill Murray/Will Murray, Burlington Country Club | 72 |
| Evan Rosenstein/Dan Knaster, Bluestone Country Club | 73 |
| Nick Villari/Phil Villari, Riverton Country Club | 73 |
| Anthony Ciconte/Jeffrey Ciconte, Wilmington Country Club | 73 |
| Anthony Villari/Sean Maguire, Riverton Country Club/Chester Valley Golf Club | 74 |
| Ari Flaisher/Aidan Farkas, Llanerch Country Club | 74 |
| Steve Owens/Reese Dalzell, Huntingdon Valley Country Club | 74 |
| Chris Sarnoski/Colin Sarnoski, Saucon Valley Country Club | 74 |
| Bryce Fazio/Joe Perese, Huntingdon Valley Country Club | 75 |
| Frank Boensch/Frank Boensch, Steel Club | 75 |
| Steven Fryer/Eric Fryer, Commonwealth National Golf Club | 76 |
| Matt Brennan/Matthew Brennan, Jr., Rolling Green Golf Club | 77 |
| Nate Sauder/David Ripa, Running Deer Golf Club | 77 |
| Bart Tizio/Andrew Benner, Olde Homestead Golf Club/Steel Club | 77 |
| Ryan Quinn/Joe Arndt, Commonwealth National Golf Club | 78 |
| Robert Bechtold/Charlie Guzzio, Fieldstone Golf Club/Kennett Square Golf & Country Club | 79 |
| Nicky Riscica/Steven Marlow, Trenton Country Club/Jericho National Golf Club | 79 |
| Shane Powelson/Nicholas Ryder, Bidermann Golf Club/Aronimink Golf Club | 79 |
| John VanDame, Jr./Joshua Ryan, Talamore Country Club/The 1912 Club | 79 |
| John Fleming/Matthew Fleming, Spring Mill Country Club | 80 |
| Timothy Casale/Kyle Pernell, Moorestown Field Club/Woodcrest Country Club | 80 |
| Simon Miller/Mike Citro, Woodcrest Country Club | 80 |
| Charlie Hurchalla/Greg Hurchalla, The Springhaven Club | 81 |
| Mark Ridge/Trevor Ridge, Cedarbrook Country Club/GAP Youth on Course | 82 |
| Stephen Digiulio/Thomas DiGiulio, Wedgwood Country Club | 82 |
| | |
| Junior-Junior Boys' | |
| Name, club | Score |
| Aaron Nye/Logan Nye, The 1912 Club | 71 |
| Kurt Meyers/Colby Komancheck, RiverCrest Golf Club & Preserve | 73 |
| Ben Bullaro/Johnny Hoffman, Trump National Golf Club – Philadelphia | 76 |
| Brian Herman/Pearson Wolfe, Merchantville Country Club | 77 |
| Blake Caldwell/Ethan Caldwell, Indian Valley Country Club | 94 |
| | |
| Mixed | |
| Name, club | Score |
| Mark Harris/Nina Harris, Doylestown Country Club | 67 |
| Zoey Moua/Chong Moua, St. Davids Golf Club | 70 |
| Joshua Sanborn/Grace Sanborn, Northampton Country Club | 71 |
| John Brennan/Morgan Kunze, Philadelphia Cricket Club/Spring Ford Country Club | 72 |
| Bruce Cowgill/Mia Pace, Whitford Country Club | 73 |
| Richard Hummers/Kaitlyn Hummers, Saucon Valley Country Club | 74 |
| John Liskowitz/Ashley Liskowitz, Metedeconk National Golf Club | 74 |
| Kelly Brown/Owen Brown, Applecross Country Club | 78 |