Clauson wins Super-Senior, West and Beck to duel Friday for Senior title
LAFAYETTE, HILL, Pa. – For the past 42 years, Christopher Clauson has owned and operated his own painting company; Christopher Clauson Painting.
In the 16th Brewer Cup Super-Senior Final at Green Valley Country Club Wednesday (par 71, 6,205 yards), Clauson traded his brush strokes for golf strokes to edge past Country Club of Scranton's Michael Vassil for a 3&2 victory that secured the title.
| Scoring Portal | History | Medalist History | Day One Recap | Day Two Recap |
This is Clauson's second Super-Senior Major. He won the 2022 Frank H. Chapman Memorial Cup (Super Senior) at Merion Golf Club (West).
"My thought was to hit as many greens as possible, I thought making pars would do the trick," Clauson, 66, of Chestnut Hill, Pa., said. "I did a decent job of managing my game, [but I] had some moments where I just felt really out of sorts."
Trouble fading the golf ball in high-pressure situations made attacking right-side pin locations difficult.
All things considered, a steady-handed Clauson registered 11 greens in regulation and hit seven fairways.
Struggles with putting and ball-striking contributed to Vassil's downfall.
"I've been struggling with my putting all week, and it really set me back in that final match," Vassil, 66, of Clarks Summit, Pa., said. "I didn't hit the ball as well in the last match as I had in the other two, but [I] still hit it well enough to be competitive and have a chance to win if I could have managed the putting end of it."
Clauson took the lead early. On No. 2 (par 4, 275 yards), he feathered a gap wedge 84 yards to eight feet to take a 1-up lead. Clauson extended his lead on No. 3 (par 5, 487 yards) with a two-putt par after his gap wedge settled 20 feet from the front-right hole location. His tee shot on No. 4 (par 3, 165 yards) landed in the front-right greenside bunker resulting in a bogey. Vassil made par after hitting the green with his tee shot, cutting Clauson's lead to 1-up.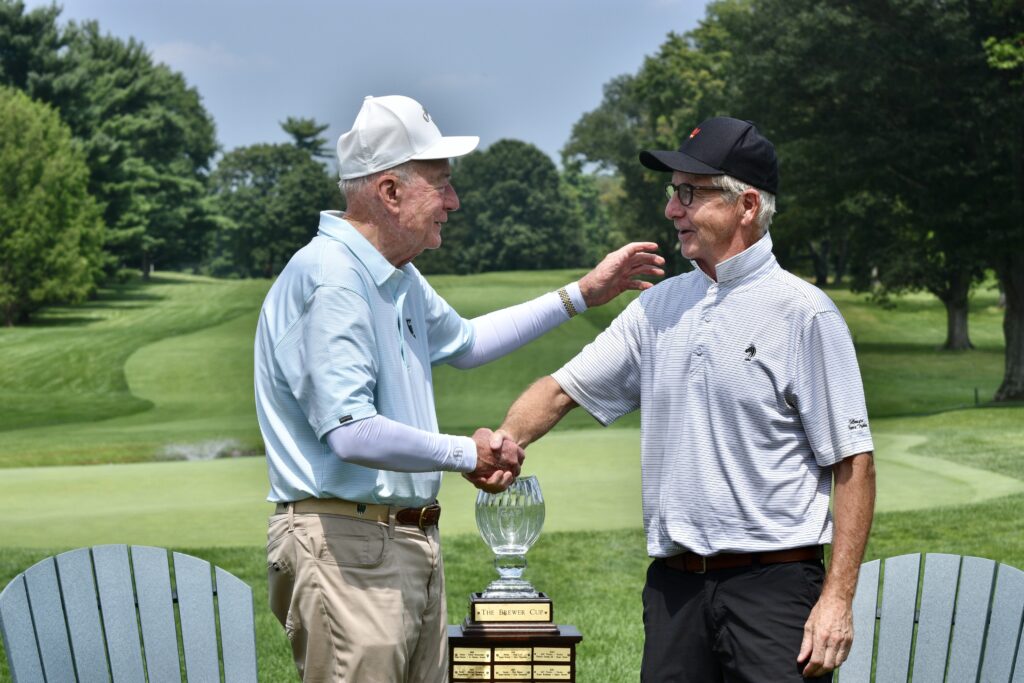 The opponents halved No. 6 (par 4, 389 yards) with pars. On No. 7 (par 5, 520 yards), a 54-degree wedge from 90 yards settled 10 feet from the center-right pin position for another red brushstroke. Clauson was 3-up. Pars for the pair filled in Nos. 8 (par 3, 139 yards) and 9 (par 4, 379 yards). A two-putt par on No. 10 (par 3, 174 yards) extended Clauson's lead to 4-up.
Pars coated Nos. 11 (par 5, 483 yards), 12 (par 4, 313 yards), 13 (par 4, 365 yards). Vassil battled back with a birdie on No. 14 (par 4, 350 yards) to cut Clauson's lead to 3-up after his approach landed seven feet from the center-right hole location. Both parties bogeyed No. 15 (par 3, 177 yards) after their tee shots found the front left greenside bunker. On No. 16 (par 4, 410 yards), Clauson hit a pitching wedge 140 yards to 12 feet. He lagged the birdie attempt to three feet. Vassil, whose approach missed the green on the right side, chipped his ball five feet from the hole for a conceited par.
Then, it was Clauson's turn.
In the audience of the tournament's namesake, O. Gordon Brewer, Jr., Clauson sank the 3-footer for the win.
"Mr. Brewer is an obvious icon and such a gentleman." Clauson said. "He's got a lot of wisdom and I deeply respect what he's done for the game. It's nice to have my name attached to his trophy."
Semifinals
In the morning, Clauson took down Nittany Country Club's Vince Scarpetta, Jr., 2&1. Trouble off the tee contributed to his demise.
"I made too many mistakes against a good player," Scarpetta, 71, of Moosic, Pa. said. "You can't make mistakes against a player of that caliber."
Vassil defeated Tom Humphrey, of Wilmington Country Club, 5&3. Trouble putting coupled with untimely misses put Humphrey in an uphill climb.
"What was easy the last couple of days was hard today," Humphrey, 71, of Rockland, Del., said. "I hit some poor shots at bad times and my putter was not very cooperative today, that's not a good combination."
Senior Division
Dave West wasn't sure he could survive.
He was constantly chasing from behind, looking for a key moment to turn the tides.
West stuck to the job and outlasted Little Mill Country Club's Adam Armagost in 19 holes to reach the Senior Division Final of the 16th Brewer Cup at Green Valley (par 71, 6,479 yards).
West defeated medalist Mark Walkush of Sunnybrook Golf Club, 4&2, in the morning quarterfinals after the match was suspended Tuesday due to severe weather.
He will take on 2016 champion Bob Beck of Lehigh Country Club who beat Pat Dougherty of Philadelphia Cricket Club, 4&2, in the quarterfinals. In the semis, Beck survived John Barry of Lancaster Country Club in 19 holes.
West and Beck will play at 7:45 a.m. Friday, July 28 at Green Valley to determine the Senior Brewer Cup champion.
"I was never up against Adam until the last hole," West, 63, of Exton, Pa., said. "It was a wild match because Adam got off to a strong start and I was a little sloppy later in the front nine. I wanted to start to chip away at his lead. It was a roller coaster ride."
Armagost took control of their match from the start with birdies on three of the first four holes. 
West was hanging on for dear life. He was 3-down through 10 and had no momentum. But then he found his stride. He rolled in a 10-footer for birdie on No. 11 (par 5, 500 yards), hit a 65-yard pitch stone dead for birdie on No. 12 (par 4, 313 yards) and won No. 13 (par 4, 407 yards) with a par.
Armagost regained control with wins on Nos. 14 (par 4, 377 yards) and 15 (par 3, 215 yards).
West cut the lead to 1-down on No. 17 (par 4, 415 yards) where Armagost proved the essence of match play.
"I haven't played a whole lot of match play," West, of Philadelphia Publinks Golf Association, said. "You have to keep telling yourself that your opponent will make the next putt or execute the next shot they hit. I never thought he would make a 45-footer for par after he hit a duck hook off the tee and chunked his wedge. That's the beauty of match play. I just regrouped and focused on making the 5-footer to extend. I had no other choice."
With Armagost shortsided in the bunker on the last (par 4, 410 yards), West made great two-putt to advance to extra holes. He had to putt sideways and trust the contours of the green.
"I'm retired," West said. "I caddie at Applebrook Golf Club. The greens there have a lot of slope and are hard to read. I've learned that you have to pick out a spot on the greens. Sure enough, I hit my spot perfectly and the putt stopped next to the hole."
West would win with a par on the 19th hole (No. 1, par 4, 368 yards).
Only five of the 19 holes were halved. Pure mayhem.
"I got off to a great start," Armagost, 60, of National Park, N.J., said. "I birdied three of the first four holes, which got me to 3-up. Then I lost it all, then got it back to 2-up. We didn't tie many holes. There was a lot of back and forth. It was crazy."
Beck and Barry didn't get more than 1-up, respectively. It all came down to a properly placed second shot on the 19th hole from Beck. He hit a 50-degree wedge from 100 yards to 25 feet below the pin.
Barry hit the green and was flag high on the right side. He had a miniature golf putt with a ton of slope, break, and speed for his third. Barry three-putted for bogey and Beck rolled in a 5-footer for par and the win.
"I am happy to have a chance at the end," Beck, of Allentown, Pa., said. "I could have easily lost both matches today. At 63 years old, my golf game has good and bad days. But I have been working hard to limit the bad."
Barry's semifinal run continues a stretch of solid play. He won the Frank H. Chapman Cup at Berkshire Country Club earlier this month. He defeated George Steinmetz of Spring Ford Country club in their 19-hole quarterfinal tilt.
"I played well for the majority of the week," Barry, 57, of Lancaster, Pa., said. "In the second match, I started to get tired. I felt good but was tired. Poa annua greens are tough. Bob played great. We were dead even throughout the whole match."
In 2016, Beck defeated Clauson in 19 holes at Overbrook Golf Club. His consistent driving and ball striking has been an asset for him this week. He won't beat himself.
"If I happen to go out on Friday and win another one that's great, if not I'll be fine," Beck said. "I focus on playing one match at a time and see where I end up. I've been fortunate to play all of my matches against nice guys. That makes it much more enjoyable."
The Brewer Cup is named in honor of O. Gordon Brewer, Jr., the former president of Pine Valley Golf Club. He is a two-time U.S. Senior Amateur Champion and veteran of 42 USGA Championships. He's captured two Golf Association of Philadelphia Amateur Championship titles (1967, 1976), a GAP Senior Amateur Championship crown (1997) and a Senior Player of the Year (1997) as well as countless invitational titles. He is a recipient of the USGA's Bob Jones Award and a member of the GAP Hall of Fame.
Results
Senior Division
Semifinals
8. David West, Philadelphia Publinks Golf Association, d. 13. Adam Armagost, Little Mill Country Club, 19 holes; 7. Bob Beck, Lehigh Country Club, d. 3. John Barry, Lancaster Country Club, 19 holes.
Quarterfinals
8. West d. 1. Mark Walkush, Sunnybrook Golf Club, 4&3; 13. Armagost d. 5. Paul Rogowicz, Yardley Country Club, 5&4; 7. Beck d. 2. Pat Dougherty, Philadelphia Cricket Club, 4&2 and 3. Barry d. 11. George Steinmetz, Spring Ford Country Club, 19 holes.
Super-Senior Division
Final
1. Chris Clauson, LuLu Country Club, d. 3. Mike Vassil, Country Club of Scranton, 3&2.
Semifinals
1. Clauson d. 4. Vince Scarpetta, Jr., Nittany Country Club, 2&1, and 3. Vassil d. 2. Tom Humphrey, Wilmington Country Club, 5&3.
GAP
Celebrating Amateur Golf since 1897, GAP, also known as the Golf Association of Philadelphia, is the oldest regional or state golf association in the United States. It serves as the principal ruling body of amateur golf in its region. The organization's 340 Member Clubs and 100,000 individual members are spread across Pennsylvania, Delaware, New Jersey and Maryland. The GAP's mission is to promote, preserve and protect the game of golf.