DiCinti, Whitman win Senior 27-Hole Challenge
POTTSTOWN, Pa. — They competed alongside different teammates in years past. Heck, Byron Whitman even won the Senior 27-Hole Challenge once, teaming with fellow Berkshire Country Club member Joe Butto in 2018.
| Scoring portal | History | Photo gallery |
So, what exactly brought Whitman and Tom DiCinti together for the event's 14th edition at a steamy Bellewood Country Club (par 71, 6,371 yards)?
"Joe (Butto) and I were going to play again this year, but he had [closing on a new home] that fell on the same day. I wasn't sure if I was going to play today or not," Whitman, 62, of Reading, Pa., said. "I got paired with Tom in U.S. Senior Amateur Qualifying [at Radnor Valley Country Club two weeks ago]. I said, 'Hey Tom, do you want to play in the Senior 27-Hole Challenge?' He was gracious enough to accept, and here we are. I was elated he said yes."
"It was great that he invited me. I had no intentions of playing," DiCinti, 72, of Voorhees, N.J., said. "I'm glad we got it done."
Indeed they did. DiCinti and Whitman filed a 3-under-par 140 to prevail by six strokes. The Senior 27-Hole Challenge format is as follows: four-ball stroke play, greensomes (selective drive/alternate shot) and team aggregate.
DiCinti and Whitman withstood oppressive temperatures and outlasted an opportunistic 22-team field Thursday. They established a one-stroke advantage over Doylestown Country Club's Rick Hodge and Rick James through 18 holes.
Adversity infused both DiCinti and Whitman. Aside from stifling heat and a tight leaderboard, DiCinti encountered obstacles en route to Bellewood.
"This morning, I got stuck in traffic on the Pennsylvania Turnpike. There was an accident," DiCinti, who won the Senior Four-Ball Stroke Play in 2009 alongside Robert Lodovici, said. "Our tee time was 10 a.m., and my GPS was saying I wasn't going to be at Bellewood until 10:15. I pulled into the parking lot at 9:58. I didn't even tie my shoes until I got to the tee-box. I hit my drive right down the chute."
DiCinti followed with a pitching wedge 125 yards to four feet for birdie on No. 1 (par 4, 368 yards). It wasn't the first time he pulled off heroics without warmups. In the 2006 Metropolitan Golf Association Senior Open at Nassau Country Club, DiCinti encountered traffic on the George Washington Bridge. He arrived at the course two minutes prior to his tee time. DiCinti then aced No. 10, his first hole, with a 9-iron.
"I call him the best right-out-of-your-car player in the region," Whitman said.
Whitman, too, needed to overcome a bit of adversity. An impacted wisdom tooth limited sleep the night before. Coincidentally, in his prior Senior 27-Hole Challenge victory, Whitman ran on fumes. He took a red-eye from Eugene, Ore., with at best three hours of sleep to his body.
"A little bit of adversity getting to the first tee can quell some of the nerves, just being happy to be there," Whitman said. "It can take your mind off the pressure."
"Apparently he does very well under adversity," DiCinti added.
The DiCinti and Whitman team performed exceptionally well in the team aggregate portion, which epitomizes adversity. DiCinti again birdied No. 1, this time drilling a 9-iron 135 yards to 30 feet. Both he and Whitman fired birdies on the par 5, 505-yard No. 2: the former knocking a wedge 30 yards to three feet; the latter reaching the green in two with a 5-rescue and two putting. On the team's final hole (No. 9, par 4, 412 yards), DiCinti, despite presumably dogged due to sweat and swing accumulation, split the fairway with a booming drive. "Way to go, partner," Whitman jeered.
"It was enthusiasm to be on the last hole in 100-degree heat," Whitman said.
"We felt like everybody else out here. It was torture," DiCinti said. "We were focused long enough to hold on."
Whitman closed the team's championship case with a birdie on No. 9, where he knocked a pitching wedge 129 yards downwind to five feet.
DiCinti and Whitman met on the GAP circuit in the mid-1990s. Thursday marked their first competition together as a team.
Now they'll need to reunite in 2022 for the sake of a title defense, right?
"I'm going to put him on a weight-training program to get him ready," Whitman said.
"He's got GHP and some other chemicals to help," DiCinti added.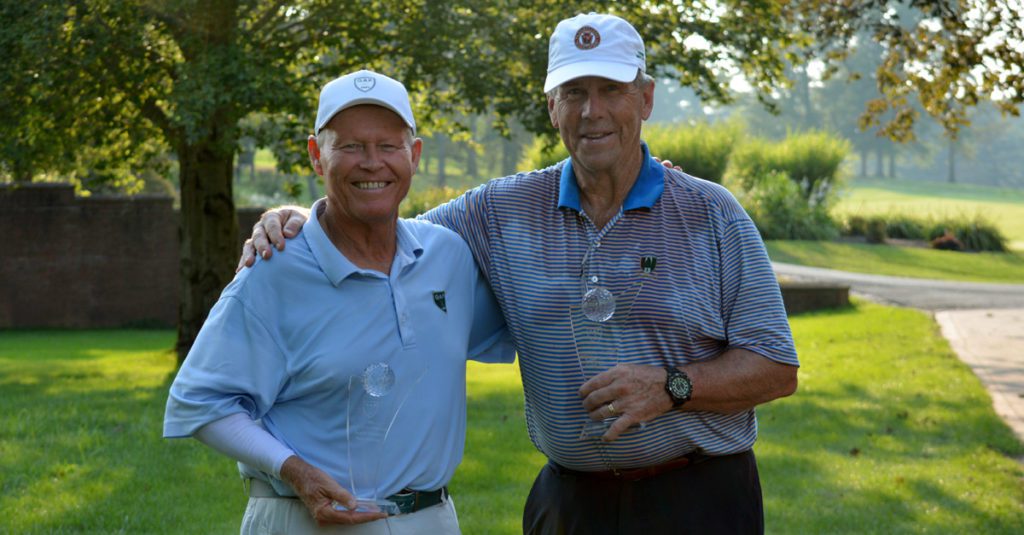 Super-Senior Division
Robin McCool of Saucon Valley Country Club and Craig Scott of Great Bear Golf Club worked their way to a third-straight title Thursday, finishing at 5-under-par 138. Their day at Bellewood (par 71, 5,948 yards) earned them a five-stroke victory over the 19-team Super-Senior field.
A 2-under 34 start in the better-ball portion got the duo in the mix early. McCool and Scott stepped up in the second leg as they finished 4-under 31. After carding a bogey on No. 14 (par 3, 147 yards), the duo capitalized with a clutch eagle on No. 15 (par 4, 374 yards). McCool holed a pitching wedge from 105 yards. McCool and Scott then finished the round with back-to-back birdies on Nos. 17 (par 3, 154 yards) and 18 (par 5, 505 yards).
"We definitely refocused ourselves in the second round because neither of us missed a green or fairway," McCool, 70, of Center Valley, Pa. "After completing that round, we knew that we were in a good position to win it and didn't look back from there."
"In the alternate shot round, our play was special, and we played very steady," Scott, 72, of Marshalls Creek, Pa. "I think this tournament format is one of the best ones that GAP runs, and it's truly a privilege to win this event for the third time."
McCool and Scott, who have been playing golf together for nearly 40 years, won last year's at Bala Golf Club and in 2019 at Wild Quail Golf & Country Club.
Maybe it's because they are the first duo ever to complete a three-peat in the Senior 27-Hole Challenge. Or perhaps it's their experience playing golf together. Either way, you can count on McCool and Scott to bring their best play in the Senior 27-Hole Challenge amidst the brutal heat.
"We both are experienced tournament players, and as a result, you learn what to do out there and learn how to pace yourself," McCool said. "It was so hot today that I told Craig after three holes in the final round I didn't think I was going to finish, but I took one shot at a time and got the job done."
"The weather was intense, and it probably was the hottest conditions I've ever played in at a competitive level," Scott said. "But in these types of situations, you can only worry about how you play and not overthink the task at hand."
GAP
Celebrating Amateur Golf since 1897, GAP, also known as the Golf Association of Philadelphia, is the oldest regional or state golf association in the United States. It serves as the principal ruling body of amateur golf in its region. The Association's 300 Member Clubs and 80,000 individual members are spread across the Eastern half of Pennsylvania and parts of Delaware, Maryland and New Jersey. The GAP's mission is to promote, preserve and protect the game of golf.
| | | | | |
| --- | --- | --- | --- | --- |
| Gross | | | | |
| Senior Division | | | | |
| Name, club | R1 | R2 | R3 | Total |
| Byron Whitman/Tom DiCinti, Berkshire/Philadelphia Publinks | 35 | 36 | 69 | 140 |
| Dave Reinhart/Mark Kroll, Bellewood | 36 | 35 | 75 | 146 |
| Brent Peterson/Mark Fine, Lehigh | 34 | 39 | 73 | 146 |
| Doug Fedoryshyn/William Dwyer, Concord | 34 | 39 | 76 | 149 |
| Ken Silverwood/Matthew Hancock, Chester Valley | 34 | 39 | 76 | 149 |
| Rick Hodge/Rick James, Doylestown | 33 | 39 | 79 | 151 |
| Thomas Krug/James Witt, Commonwealth National | 35 | 41 | 76 | 152 |
| Jeff Bergeman/Tom Gergel, Hershey's Mill | 39 | 38 | 77 | 154 |
| Michael Quinn/Robert Amen, Philadelphia Publinks | 36 | 40 | 78 | 154 |
| Brian Trymbiski/Jack McCue, Doylestown | 37 | 41 | 77 | 155 |
| Dwight Dudas/Tim Rimmer, Indian Valley | 38 | 41 | 79 | 158 |
| Jim Fronzoni/Bill Lydick, Huntsville | 38 | 40 | 80 | 158 |
| Dave Loftus/John McCleerey, Five Ponds | 40 | 39 | 83 | 162 |
| John Lobb/Terry Williams-Woodward, Bellewood | 37 | 41 | 85 | 163 |
| Ron Dirienzi/Jamie Wolsky, Rolling Green/RiverCrest | 41 | 40 | 82 | 163 |
| Jay Bellwoar/Dave Eckhart, Overbrook/Bellewood | 38 | 43 | 82 | 163 |
| Stephen Witowski/Jim Muehlbronner, Sandy Run | 41 | 39 | 84 | 164 |
| Gerard Schmidt/Terrance Schmidt, Spring Mill/Talamore | 42 | 42 | 82 | 166 |
| Joseph Templin/Don Uhrig, LedgeRock | 37 | 41 | 89 | 167 |
| Ken Jones/Bill Fagan, St. Davids | 42 | 41 | 95 | 178 |
| Frank Bruno/James Wiley, LuLu | 42 | 45 | 93 | 180 |
| Jeff Brodsky/Andrew Repetto, Philadelphia Publinks | 41 | 48 | 92 | 181 |
| John Wisniewski/Mark Werkiser, Jeffersonville | 43 | 46 | 95 | 184 |
| | | | | |
| Super-Senior Division | | | | |
| Name, club | R1 | R2 | R3 | Total |
| Robin McCool/Craig Scott, Saucon Valley/Great Bear | 34 | 31 | 73 | 138 |
| Duke Delcher/Alan Van Horn, Sandy Run/Commonwealth National | 37 | 35 | 75 | 143 |
| Jim Prendergast/Marty Dorminy, Philadelphia Publinks | 36 | 37 | 72 | 145 |
| Tom Hyland/Jimmy Muller, Little Mill/Manufacturers' | 32 | 40 | 74 | 146 |
| Michael Nilon/Buck Jones, Philadelphia/Philadelphia Publinks | 36 | 37 | 75 | 148 |
| Tom Bartolacci/Chuck Dowds, LuLu/Applebrook | 33 | 36 | 78 | 151 |
| Gerald Eckert/Alan Over, Bent Creek | 38 | 36 | 78 | 152 |
| Raymond Pawulich/Howard Press, Little Mill | 35 | 42 | 76 | 153 |
| Kurt Meyers/Larry Kessler, RiverCrest | 36 | 35 | 83 | 154 |
| William Erskine/Mike Dutill, Philadelphia Publinks | 36 | 39 | 79 | 154 |
| Guy McKeone/Bill Reppert, Reading | 33 | 40 | 88 | 161 |
| Peter Torras/Joseph Viscuso, Kennett Square | 38 | 41 | 84 | 163 |
| Dan Farragut/Gary Yeager, Cedarbrook/Five Ponds | 38 | 45 | 82 | 165 |
| Vince Yost/Jack O'Hara, Cedarbrook | 37 | 41 | 91 | 169 |
| Robert Krotee/Robert DeLong, Lebanon/Radnor Valley | 39 | 41 | 89 | 169 |
| Joseph DeAngelis/Bob Woods, Makefield Highlands | 38 | 40 | 96 | 174 |
| Mike Connell/Don Skahan, Springhaven/Glen Mills | 42 | 46 | 86 | 174 |
| Steven Weber/Jeff Stempel, Seaview/Olde Homestead | 42 | 42 | 96 | 180 |
| Kenneth Wortley/Andre Ferber, Bala/Radnor Valley | 40 | 43 | 98 | 181 |
| | | | | |
| Net | | | | |
| Senior Division | | | | |
| Name, club | R1 | R2 | R3 | Total |
| Byron Whitman/Tom DiCinti, Berkshire/Philadelphia Publinks | 34 | 36 | 66 | 136 |
| Jeff Bergeman/Tom Gergel, Hershey's Mill | 35 | 35 | 67 | 137 |
| Rick Hodge/Rick James, Doylestown | 30 | 36 | 71 | 137 |
| Brian Trymbiski/Jack McCue, Doylestown | 34 | 38 | 69 | 141 |
| Doug Fedoryshyn/William Dwyer, Concord | 31 | 38 | 72 | 141 |
| Ken Silverwood/Matthew Hancock, Chester Valley | 32 | 37 | 72 | 141 |
| Brent Peterson/Mark Fine, Lehigh | 34 | 38 | 70 | 142 |
| John Lobb/Terry Williams-Woodward, Bellewood | 32 | 37 | 74 | 143 |
| Michael Quinn/Robert Amen, Philadelphia Publinks | 33 | 38 | 72 | 143 |
| Dave Reinhart/Mark Kroll, Bellewood | 35 | 35 | 73 | 143 |
| Gerard Schmidt/Terrance Schmidt, Spring Mill/Talamore | 37 | 37 | 69 | 143 |
| Ron Dirienzi/Jamie Wolsky, Rolling Green/RiverCrest | 36 | 36 | 72 | 144 |
| Stephen Witowski/Jim Muehlbronner, Sandy Run | 35 | 35 | 74 | 144 |
| Jim Fronzoni/Bill Lydick, Huntsville | 35 | 37 | 73 | 145 |
| Thomas Krug/James Witt, Commonwealth National | 33 | 40 | 72 | 145 |
| Jeff Brodsky/Andrew Repetto, Philadelphia Publinks | 32 | 41 | 73 | 146 |
| Jay Bellwoar/Dave Eckhart, Overbrook/Bellewood | 34 | 40 | 74 | 148 |
| Dave Loftus/John McCleerey, Five Ponds | 37 | 37 | 76 | 150 |
| Dwight Dudas/Tim Rimmer, Indian Valley | 36 | 40 | 75 | 151 |
| Ken Jones/Bill Fagan, St. Davids | 36 | 35 | 81 | 152 |
| Frank Bruno/James Wiley, LuLu | 36 | 39 | 78 | 153 |
| Joseph Templin, Don Uhrig, LedgeRock | 34 | 38 | 81 | 153 |
| John Wisniewski/Mark Werkiser, Jeffersonville | 35 | 40 | 78 | 153 |
| | | | | |
| Super-Senior Division | | | | |
| Name, club | R1 | R2 | R3 | Total |
| William Erskine/Mike Dutill, Philadelphia Publinks | 31 | 35 | 69 | 135 |
| Robin McCool/Craig Scott, Saucon Valley/Great Bear | 34 | 31 | 73 | 138 |
| Gerald Eckert/Alan Over, Bent Creek | 35 | 34 | 71 | 140 |
| Robert Krotee/Robert DeLong, Lebanon/Radnor Valley | 32 | 35 | 74 | 141 |
| Duke Delcher/Alan Van Horn, Sandy Run/Commonwealth National | 33 | 35 | 74 | 142 |
| Jim Prendergast/Marty Dorminy, Philadelphia Publinks | 35 | 37 | 70 | 142 |
| Tom Hyland/Jimmy Muller, Little Mill/Manufacturers' | 31 | 40 | 72 | 143 |
| Michael Nilon/Buck Jones, Philadelphia/Philadelphia Publinks | 35 | 36 | 72 | 143 |
| Mike Connell/Don Skahan, Springhaven/Glen Mills | 34 | 40 | 70 | 144 |
| Raymond Pawulich/Howard Press, Little Mill | 34 | 41 | 73 | 148 |
| Kurt Meyers/Larry Kessler, RiverCrest | 35 | 34 | 80 | 149 |
| Tom Bartolacci/Chuck Dowds, LuLu/Applebrook | 36 | 36 | 78 | 150 |
| Joseph DeAngelis/Bob Woods, Makefield Highlands | 33 | 35 | 84 | 152 |
| Peter Torras/Joseph Viscuso, Kennett Square | 35 | 39 | 78 | 152 |
| Dan Farragut/Gary Yeager, Cedarbrook/Five Ponds | 35 | 43 | 75 | 153 |
| Guy McKeone/Bill Reppert, Reading | 31 | 39 | 84 | 154 |
| Vince Yost/Jack O'Hara, Cedarbrook | 34 | 38 | 84 | 156 |
| Steven Weber/Jeff Stempel, Seaview/Olde Homestead | 37 | 37 | 84 | 158 |
| Kenneth Wortley/Andre Ferber, Bala/Radnor Valley | 35 | 39 | 88 | 162 |
| | | | | |
| R1 – four-ball stroke play; R2 – selective drive/alternate shot; R3 – team aggregate | | | | |