Three teams uncover Founders Four-Ball victory
The AGA/GAP circuit featured another day of four-ball action as the 14th Founders Four-Ball took place at Glenmaura National Golf Club (par 71, 6,308 yards) on Aug. 6.
| Scoring portal |
In the Amateur Division, Wyoming Valley Country Club's Eric Plisko and Joseph Weiscarger defeated Country Club of Scranton's Jack Knowles and David Pompey in a scorecard playoff. Both teams finished regulation at 8-under-par 63.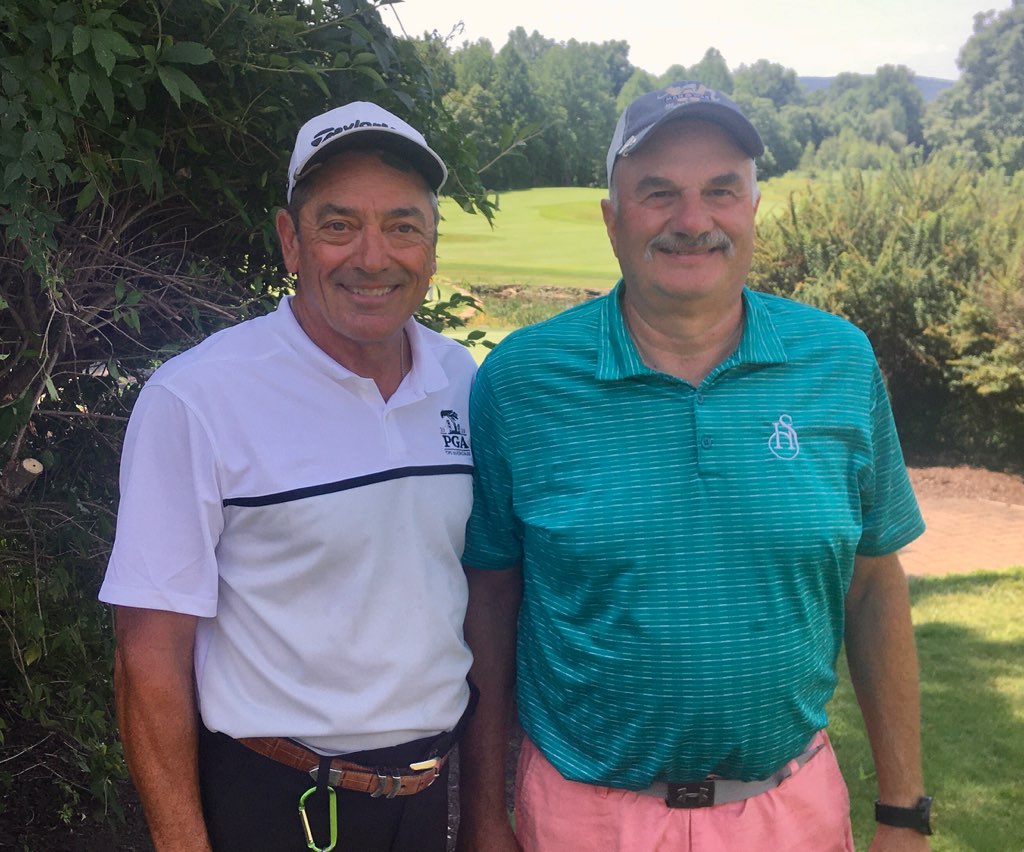 The Plisko and Weiscarger team carded a 5-under-par 31 on the back nine to prevail. The AGA/GAP used the USGA-recommended tiebreaking method to determine a champion.
The Plisko and Weiscarger team stood at 1 over through three holes of play. Plisko put an end to that with four consecutive birdies.
"Looking back, this was a crazy streak of birdies, but at the moment, I never try to look ahead," said Plisko, 33, of Hanover Township, Pa. "On every one of those birdies, Joe was right there with me, which allowed me to be more aggressive throughout the stretch."
On No. 4 (par 4, 374 yards), Plisko ripped a drive to the right of the fairway. Sitting 110 yards away from the hole, Plisko took a pitching wedge and hit a missile, landing next to Weiscarger`s ball 11 feet away from the hole location. Plisko putted first and sunk it.
Despite the afford mentioned streak of birdies, Plisko and Weiscarger remained two strokes off the lead entering No. 10 (par 5, 514 yards). Plisko entered another hot streak, reeling in back-to-back birdies.
"On his first birdie of the streak, Eric struck on amazing drive off of the tee, and then picked up his 4-iron to hit an impressive shot about 15 feet in," said Weiscarger, 62, of Wilkes Barre, Pa. "He just missed a putt for eagle, but he notched an impressive birdie to help us gain momentum."
After a birdie on No. 11 (par 3, 129 yards), Plisko told Weiscarger they needed to birdie on two of the next three holes. He took matters into his own hands as he carded red figures on Nos. 13 (par 4, 355 yards) and 14 (par 5, 543 yards).
"His driving was strong all day, and his putting performance was one of the best I had ever seen," said Weiscarger.
Plisko worked his magic yet again on No. 17 (par 4, 337 yards) as he fired his ninth birdie of the day, matching what Pompey did shortly before him.
"I hit a three-quarter pitching wedge to about 20 feet and I was able to sink another putt," said Plisko. "We were running out of holes, so this birdie was huge considering it bumped us back to a tie for first place."
As Plisko and Weiscarger approached No. 18 (par 4, 327 yards) they were unsure if a tie would be settled by a sudden-death playoff or a match of cards. Knowing that Knowles and Pompey finished at 8 under, they knew par would, at worst, lead to a playoff (They were 1-up in the match of cards). Weiscarger, who was the sidekick most of the day, played the hero on the final hole with a par.
"Eric had firepower all day, but No. 18 was one of the few holes where he wasn't himself and hit his ball into the water," Weiscarger said. "I hit a 60-degree wedge that landed 12 feet from the hole, and two-putted it for the victory.
"Eric has many more wins ahead of him, but I`m not sure if I can say the same, so I enjoy each victory so much."
Senior & Super Senior

The fathers of Vince Scarpetta, Jr. and Dennis Sebastianelli formed a friendship through golf more than 60 years ago. Their friendship led to a bond between their sons, who have watched and played many rounds of golf together.
Scarpetta and Sebastianelli teamed up to claim victory in the Senior Division with a score of 2-under-par 69.
The AGA/GAP Founders Four-Ball marked Sebastianelli's first AGA/GAP event of the season. To him, choosing Scarpetta, who has been victorious in four AGA/GAP events this summer, was an easy choice.
The Scarpetta and Sebastianelli team started the day off with five straight pars. Although they came up short of red figures, the duo was comfortable with pars, as long as they were able to convert on No. 6 (par 5, 491 yards), which they felt to be an easy birdie opportunity.
"I hit my drive on the bunker outside of the fairway, used my wedge to get out of there, and picked up my hybrid to set up a 15-foot putt, which I sunk," Scarpetta, 68, of Moosic, Pa., said. "It always feels good to get your first birdie of the day because it feels as if you are gaining momentum."
The duo dug into the No. 10 (par 5, 514 yards) tee box thinking that an easy birdie opportunity awaited. Unfortunately for them, their expectations were not met, and both competitors recorded bogey.
"We just made mistakes on this hole," Scarpetta said. "This is a par 5 that you normally should birdie. We knew we had to respond quickly."
Responding quickly is exactly what they did, as Sebastianelli fired his first birdie on No. 11 (par 3, 129 yards). He hit a 9-iron to two feet. Sebastianelli also birdied No. 12 (par 4, 377 yards). After driving it slightly left of the fairway, he knocked a 52-degree wedge onto the green, 20 feet from the flagstick.
"Vince gave me a great read, which was comforting because he knows these greens better than anyone," the 56-year-old Clarks Summit, Pa. native said. "I used two putts to get my second straight birdie. This was a big turning point for us because we discussed shooting 31 on the back, and we were now in a position to do so."
A third straight birdie for the duo, this time notched by Scarpetta on No. 13 (par 4 355 yards), made that goal even more feasible. A bogey on No. 15 (par 3, 211 yards) made a dent, but the team responded well with a Scarpetta birdie on No. 16 (par 4, 412 yards).
"I hit a 9-iron barely onto the green, about 40 feet away from the hole," said Scarpetta. "These greens can be difficult, but I somehow sunk the putt, which was before the best moment of the day."
"I was smiling from ear to ear all day playing with Vince, who is one of my best friends," Sebastianelli said. "I had such a great time today that I am now inspired to play more golf in the future."
Experience was the key for StoneHedge Golf Course's Robin Bonda and Wemberly Hills Golf Club`s Tom Miller, as they paired up to capture the Super-Senior Division (par 71, 5,506 yards). Bonda and Miller, who have played with one another for more than 20 years, bested three teams with a score of 1-under-par 70.
Glenmaura National's opener (par 5, 468 yards) indicated good fortunes. Bonda made birdie. Miller made a tone-setting swing.
"I`ve played in a few tournaments here at Glenmaura and have been unable to record a birdie at No.1," said Bonda, 66, of Peckville, Pa. "I hit a 5-iron to lay it up to the hill, a 3-wood in about 130 yards in and then used my 8-iron to knock it 12 feet past the hole. I made the putt and was thrilled to get my first birdie here and start the day on the right note."
As for Miller…
"I never really try to hit it over the gorge considering how far away it is, and that most of my peers struggle to get over it," said Miller, 67, of Scranton, Pa., said. "Since the Super-Senior tee box is moved up, I decided to give it a try and it worked out well. Not only did it allow us to be aggressive for the rest of the hole, but it also raised my confidence immensely."
The duo fired off another birdie on No. 6 (par 5, 455 yards). The teammates started off mirroring one another with strong drives onto the fairway and selections of their respective 3-woods to land 130 yards shy of the green. Bonda used his 9-iron to set up a 12-foot putt, whereas Miller selected a wedge to set up an eight-foot putt.
The key to the round, according to Miller, was his second birdie of the day, which came at No. 7 (par 3, 130 yards).
"This par 3 is usually tough for me, but I hit my 8-iron over the top of the pin and sunk a seven-foot sliding putt," Miller said. "Getting back-to-back birdies was huge for us because it propelled us to completely shift our focus to avoiding bogey now that we`re under par."
Today, Bonda and Miller were teammates. Tomorrow, they will be pitted against one another in the Friday Frolic Two-Man Scramble hosted by StoneHedge. Bonda will be teaming up with Wemberly Hills' Jerry Tonkin, and Miller will team up with Wemberly Hills' Mark Bartkowski.
GAP
Celebrating Amateur Golf since 1897, GAP, also known as the Golf Association of Philadelphia, is the oldest regional or state golf association in the United States. It serves as the principal ruling body of amateur golf in its region. The Association's 288 Member Clubs and 75,000 individual members are spread across the Eastern half of Pennsylvania and parts of New Jersey and Delaware. The GAP's mission is to promote, preserve and protect the game of golf.