| Scoring portal | History | Medalist History | Day One recap |
MOHNTON, Pa. – Due to the previous day's punishment from Mother Nature, an adaptive Day Two of the 13th Brewer Cup teed off Tuesday at LedgeRock Golf Club (par 72, 6,694 yards).
After Monday's inclement weather caused a postponement in play, five players finished out Stroke-Play Qualifying beginning at 7:30 a.m. A 3-for-1 playoff, won by the home club's Don Uhrig, followed that. Uhrig advanced to the Round-of-16 — he'd eventually lose to medalist Christopher Clauson of LuLu Country Club, 3&2– which began at 9:30 a.m. The Senior Division teed off in a shotgun — a rarity for match play, but needed with potentially looming, dooming forecasts. The Super-Senior Division began Quarterfinals matches at 9:37 a.m. off the 1st tee.
Yardley Country Club's Paul Rogowicz took down the top-seeded Clauson with a sound 2&1 victory in the Quarters. He collected a 3-under card on LedgeRock's front nine.
The moment of the match came on No. 16 (par 4, 258 yards), when Rogowicz decided to play the driveable par-4 safe… somewhat. While Clauson pulled his drive left and failed to make birdie, Rogowicz laid up and hit a wedge to within striking distance and sunk the birdie putt. He closed Clauson out on the par-4 17th with an up-and-down par from the right rough.
"I've played with Chris many times throughout the years, and knew I had to play my best to win. He's an amazing competitor," said Rogowicz, 56, of Yardley, Pa. "I made a couple of mistakes that kind of let him back in the match, but I was able to finish it out with good golf. I love all the guys out here, I love the GAP, and I'm going to keep the same mindset going into tomorrow."
Edward Kelly of Old York Road Country Club played the most golf out of anyone on Tuesday. Kelly was one of those lucky five players who needed to finish his Stroke-Play Qualifying round. After taking down Bent Creek Country Club's Ron Weaver in the Round-of-16, 5&3, he faced off with GAP newcomer Jeff Frazier of Carlisle Country Club in the Quarterfinals.
Playing in his first GAP event, Frazier, a seven-time U.S. Mid-Amateur competitor, ended Kelly's run with a convincing 4&3 win in the Quarterfinals. Frazier was 2 under through 15 holes versus Kelly.
"All day today, I just played solid golf," said Frazier, 55, of Mechanicsburg, Pa., who defeated Saucon Valley's Ronan Culligan in the Round-of-16, 6&5. "It's already been a long week for me. I live an hour-and-15 minutes away, so I've been getting up at 5:30 a.m. and traveling each day. I'm tired. Tonight, I may stay local just so I can rest up for the final day. But it's great to compete again."
Also moving on to the Senior Semifinals is Country Club of Scranton's Michael Vassil, who took down Joe Roeder of Little Mill Country Club, 3&1, and lastly Michael Quinn of Philadelphia Publinks, who defeated Wilmington Country Club's Randy Mitchell, 1 up, to move on.
Senior Semifinal matches will tee off Wednesday at 8 a.m.
Super-Senior Division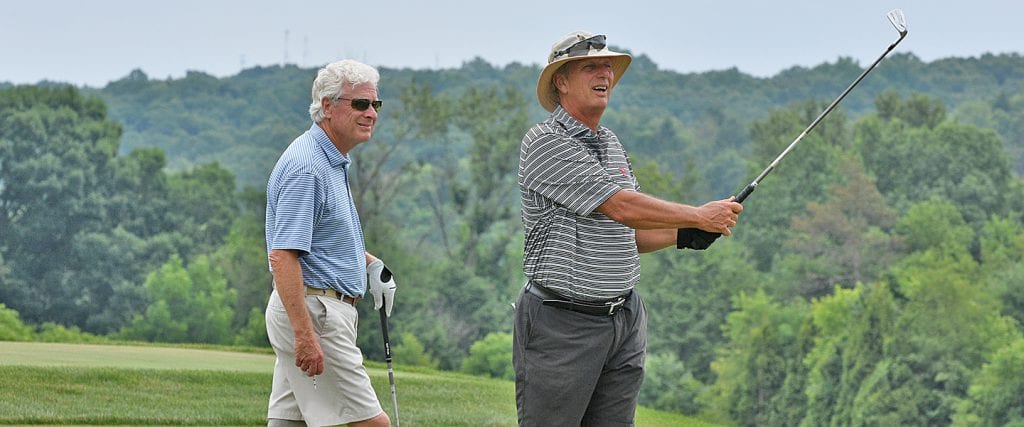 Tuesday's Super-Super action was quite the source of entertainment. Extra playoff holes and friendly foes created a buzz around LedgeRock.
Two Quarters matches went into overtime. White Manor's Don Donatoni, the medalist and reigning seven-time Super-Senior Player of the Year, escaped with a victory in 21 holes versus Philadelphia Publinks GA's Tom DiCinti. Donatoni's double bogey compared to DiCinti's bogey extended the match, but a Donatoni birdie on No. 3 (par 4, 328 yards) sealed the deal.
Another Supers stalwart Bob Billings of Rolling Green Golf Club jarred a 10-foot birdie on No. 18 to extend his match versus Wilmington Country Club's Tom Humphrey. Billings then bettered Humphrey on the first playoff hole with a winning par compared to the losing bogey.
Elsewhere, an Applebrook Golf Club showdown took place in the Super-Senior Quarterfinals: No. 3-seed Chuck Dowds versus No. 6-seed Gary Daniels. It was Dowds who will continue on in the quest of bringing the Brewer Cup title back to Applebrook. Dowds defeated Daniels, 1 up, to move on.
Dowds got off to an electric start winning the first three holes with pars after Daniels carded bogey blemishes. He'd get the match to 4 up over Daniels through 14, and then "things got a little squirrley."
"Gary started getting things going toward the end. I hit it OB on No. 13 and from there things got interesting," said Dowds, a seven-time Applebrook club champion. "Gary made a 25-footer on No. 17 to keep the match going, but I was able to end things on No. 18 with [a par]. We've known each other for over 50 years and played 1,000s of rounds of golf together over the years, but today was just my day."
In the final of four Quarterfinal matches, Tom Bartolacci of LuLu, the reigning Super-Senior Amateur Champion, got things done against Saucon Valley Country Club's Joe Cordaro, 2&1.
The Super-Senior Semifinal matches tee off Wednesday at 8:15 a.m.
GAP
Celebrating Amateur Golf since 1897, GAP, also known as the Golf Association of Philadelphia, is the oldest regional or state golf association in the United States. It serves as the principal ruling body of amateur golf in its region. The Association's 274 Full Member Clubs and 75,000 individual members are spread across the Eastern half of Pennsylvania and parts of New Jersey and Delaware. The GAP's mission is to promote, preserve and protect the game of golf.
Senior Division
Quarterfinals
8. Paul Rogowicz, Yardley, d. 1 Christopher Clauson, LuLu, 2&1.
12. Michael Vassil, Scranton, d. 4 Joe Roeder, Little Mill, 3&1.
2 Jeff Frazier, Carlisle, d. 10 Edward Kelly, Old York Road, 4&3.
14. Michael Quinn, Philadelphia Publinks GA, d. 6 Randy Mitchell, Wilmington, 1-up.
Round of 16
1. Clauson d. 16. Don Uhrig, LedgeRock, 3&2.
8. Rogowicz d. 9 Joe Russo, Running Deer, 3&1.
4. Roeder d. 13. Craig Kliewer, Lebanon, 5&4.
12. Vassil d. 5 Greg Buliga, Yardley, 4&3.
2. Frazier d. 15. Ronan Culligan, Saucon Valley, 6&5.
10. Kelly d. 7 Ron Weaver, Bent Creek, 5&3.
14. Quinn d. 3 Adam Armagost, Medford Village, 1-up.
6. Mitchell d. 11. David Blichar, Olde Homestead, 1-up.
Super-Senior Division
Quarterfinals
1. Don Donatoni, White Manor, d. 8. Tom DiCinti, Philadelphia Publinks GA, 21 holes.
4. Tom Bartolacci, LuLu, d. 5. Joe Cordaro, Saucon Valley, 2&1.
2. Bob Billings, Rolling Green, d. 7. Thomas Humphrey, Wilmington, 19 holes.
3. Chuck Dowds, Applebrook, d. 6. Gary Daniels, Applebrook, 1-up.