| Scoring portal | History | Medalist History |
MOHNTON, Pa. – This week's Brewer Cup marks the beginning of the GAP Senior Major slate in 2020. It also marks the first week of Christopher Clauson's relationship with a custom birdie-collecting putter.
LuLu Country Club's Clauson and his modern flatstick climbed their way to a hard-fought 1-under 71 Monday at LedgeRock Golf Club (par 72, 6,717 yards), collecting Stroke-Play Qualifying medalist honors in the Senior Division. The honor is the first Brewer Cup medal for Clauson, an experienced name among GAP Senior Major leaderboards.
Play for Monday was halted at 5:14 p.m. due to inclement weather. After a two-hour wait, the decision was made to postpone play for the day. The rest of the field finished play starting at 7:30 a.m. Tuesday.
The Senior cut line stopped at 7-over 79. A 3-for-1 playoff granted the final Match Play spot to the home club's Don Uhrig. Uhrig won the playoff with a par on No. 16. He'll face the top-seeded Clauson in the Round-of-16.
The decked-out, debuting putter — a demo Directed Force 2.1 from L.A.B. Golf — "almost accounted for nine straight birdies", according to the medalist. Five birdies were jarred on the day, all within the span of seven holes. His first on the card arrived on No. 5 (par 4, 428 yards) after Clauson's crushed drive was followed up with a 90-yard wedge approach to 12 feet, which he'd make.
On the par-5, 565-yard 7th, Clauson laid up to 80 yards and placed a wedge to a foot-and-a-half for birdie. Another dropped on No. 8 (par 5, 536 yards) after another lay-up led to a wedge approach and eventually a 12-foot make. Next up, a mid-range birdie dropped from 10 feet on No. 9 (par 4, 367 yards). The LuLu product's last red figure came on the par-3, 172-yard 10th, when Clauson lifted an 8-iron to 10 feet and holed that look.
"Those 10 footers, all day, were dropping for me. There were a couple of up-and-downs mixed in there that I'm proud of. Overall, besides a few three-putt bogeys on the back nine, it was really solid. I hit all greens in regulation on the back nine," said Clauson, 63, of Philadelphia, Pa. "The new putter — I just got it last week and it's actually even not fit for me — really rolled well for the most part besides those two three putts."
Clauson knows what it takes in order to have your name etched on a GAP trophy. Previously, his biggest Brewer accomplishment came in 2016, when he was a Finalist at Overbrook Golf Club. Clauson lost to Lehigh Country Club's Bob Beck in 19 holes there after Beck holed a 25-yard bunker shot for the walkoff win.
"I've been close, obviously losing in the playoff that year, but I'm looking to break through," said Clauson, who won the 2018 Senior Amateur Championship at Riverton Country Club. "Even as the medalist, though, nothing is easy. It really doesn't matter much, the seed, once you get into match play. Anything can happen once you're there, so I have to focus on my own game and play well."
In order to break into the Brewer Cup winner's circle, the medalist will have to be victorious in the healing process as well. He's been dealing with back, hip and shoulder ailments. Just yesterday, he was forced to retire from playing at the turn.
"You know, I have very low expectations right now because I'm hurting physically. I've really been hurting with the injuries, and I had to take like four Advil after yesterday's round. But I was lucky today that it was as hot out as it was, because it was easy to stay loose. That certainly helped," he said.
The looser Clauson can stay — both with his body and swing — the better chance he'll have at collecting his first Brewer Cup title.
Donatoni takes fourth Super-Senior #BrewerCup medal; eyes sixth victory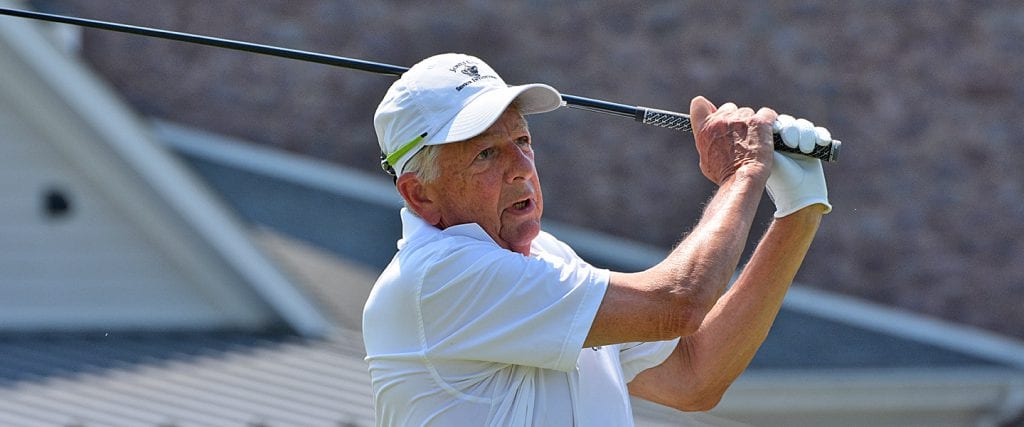 The more things change, the more things stay the same. With adaptions in place due to COVID-19, including a variety of safety measures and protocol changes, Don Donatoni didn't miss a beat.
The seven-time Super-Senior Player of the Year earned medalist honors Monday at LedgeRock Golf Club (Par 72, 6,226 yards) thanks to a 3-under 69, the best score in a field of 28 players. This marks the fourth time he has achieved the medal honor (2019, 2015, 2013).
The cut line for the eight available match play spots finished at 6-over 78.
The White Manor Country Club product fired his first of four birdies of the day on No. 4 (par 3, 185 yards). Donatoni`s 5-iron off the tee came to a stop 12 feet above the pin, setting the 72-year-old up for an easy birdie putt.
"Because of sun glare, I didn't even see the ball land," Donatoni, of Malvern, Pa., said. "It turns out it landed straight downhill and all I had to do was blow on it to get it going."
Another birdie was soon to follow, as Donatoni made 3 on No. 6 (par 4, 375 yards). After one of his best drives of the day, Donatoni darted an approach 105 yards using a 50-degree wedge. He would then knock in an eight-foot right-edge putt. He would follow up the birdie at No. 6 with a streak of six straight pars, before notching a red figure at No. 13 (par 5, 512 yards).
"I hit a 3-wood off the tee, 5-wood to about 120 yards, and pitching wedge to about six feet," said Donatoni. "I sunk a dead straight putt to get back to birdie and it felt great."
Donatoni`s two best shots of the day came at No. 15 (par 4, 425 yards) where he fired his final birdie of the day. He ripped a driver right down the middle and followed it up with a 5-iron 175 yards in. Donatoni sunk a four-foot putt to put him at 4-under par overall.
The Super-Senior superstar is feeling confident before match play. Donatoni believes staying mentally focused will be crucial for his quest to win a sixth Brewer title in the last eight years.
"I feel as if I have always been a strong in match play," Donatoni said. "Sometimes I get beat, sometimes I win. It all depends what you got that day, which is the beauty of match play."
Donatoni will face No. 8-seeded Tom DiCinti of Philadelphia Publinks GA Tuesday in the Quarterfinals.
The Brewer Cup is named in honor of O. Gordon Brewer, Jr., the former president of Pine Valley Golf Club. He is a two-time U.S. Senior Amateur Champion and veteran of 42 USGA Championships. He's captured two Golf Association of Philadelphia Amateur Championship titles (1967, 1976), a GAP Senior Amateur Championship crown (1997) and a Senior Player of the Year (1997) as well as countless invitational titles. Seven years ago he was recognized for his contributions to the game with the USGA's Bob Jones Award.
GAP
Celebrating Amateur Golf since 1897, GAP, also known as the Golf Association of Philadelphia, is the oldest regional or state golf association in the United States. It serves as the principal ruling body of amateur golf in its region. The Association's 274 Full Member Clubs and 75,000 individual members are spread across the Eastern half of Pennsylvania and parts of New Jersey and Delaware. The GAP's mission is to promote, preserve and protect the game of golf.
| | |
| --- | --- |
| Senior Division | |
| Name, club | Score |
| Christopher Clauson, LuLu Country Club | 71 |
| Adam Armagost, Medford Village Country Club | 72 |
| Jeff Frazier, Carlisle Country Club | 72 |
| Gregory Buliga, Yardley Country Club | 75 |
| Joe Roeder, Little Mill Country Club | 75 |
| Randy Mitchell, Wilmington Country Club | 76 |
| Paul Rogowicz, Yardley Country Club | 76 |
| Ron Weaver, Bent Creek Country Club | 76 |
| David Blichar, Olde Homestead Golf Club | 77 |
| Edward Kelly, Old York Road Country Club | 77 |
| Craig Kliewer, Lebanon Country Club | 77 |
| Joseph Russo, Running Deer Golf Club | 77 |
| Michael Vassil, Country Club of Scranton | 77 |
| Ronan Culligan, Saucon Valley Country Club | 78 |
| Michael Quinn, Philadelphia Publinks Golf Association | 78 |
| *Don Uhrig, Ledgerock Golf Club | 79 |
| Failed to qualify | |
| *Douglas Jones, Little Mill Country Club | 79 |
| *Andy Lykon, Wedgewood Golf Club | 79 |
| *Oscar Mestre, Overbrook Golf Club | 79 |
| *Tom Soares, Lehigh Country Club | 79 |
| *Steve Walczak, Wilmington Country Club | 79 |
| *P. Chet Walsh, Philadelphia Country Club | 79 |
| *Byron Whitman, Berkshire Country Club | 79 |
| Mark Kosko, Greate Bay Country Club | 80 |
| John Robinson, LuLu Country Club | 81 |
| George Steinmetz, Spring Ford Country Club | 81 |
| Bob Beck, Lehigh Country Club | 83 |
| Joe Coulson, Wedgewood Golf Club | 83 |
| Tom Hyland, Little Mill Country Club | 83 |
| Mark Cubberley , Mercer Oaks Golf Course | 83 |
| John Nottage, Commonwealth National Golf Club | 83 |
| David Strohl, Olde Homestead Golf Club | 83 |
| Bill Thornton, Berkshire Country Club | 83 |
| Jeffrey Allen, Wild Quail Golf & Country Club | 84 |
| Marlin Detweiler, Lancaster Country Club | 84 |
| Matthew Mingione, The 1912 Club | 84 |
| Stephen O'Sullivan, Philadelphia Cricket Club | 84 |
| John Alterman, Commonwealth National Golf Club | 85 |
| Mike Fagan, DuPont Country Club | 85 |
| Doug Fedoryshyn, Concord Country Club | 85 |
| Patrick O'Brien, North Hills Country Club | 85 |
| Richard Young, Makefield Highlands Golf Club | 85 |
| Alan Kline, Bucknell Golf Club | 86 |
| Ed Kahn, Little Mill Country Club | 87 |
| Rand Mendez, Fieldstone Golf Club | 87 |
| Bill Boyle, Metedeconk National Golf Club | 88 |
| Jared Wills, Iron Valley Golf Course | 88 |
| Mark Fuessinger, Llanerch Country Club | 91 |
| Jeff Fialko, Aronimink Golf Club | 97 |
| Scott McIntosh, LuLu Country Club | WD |
| Carlos Ochoa, Little Mill Country Club | WD |
| Glenn Smeraglio, LuLu Country Club | WD |
| David West, Wyncote Golf Club | WD |
| Super-Senior Division | |
| Don Donatoni, White Manor Country Club | 69 |
| Bob Billings, Rolling Green Golf Club | 72 |
| Chuck Dowds, Applebrook Golf Club | 74 |
| Tom Bartolacci, LuLu Country Club | 76 |
| Joe Cordaro, Saucon Valley Country Club | 77 |
| Gary Daniels, Applebrook Golf Club | 78 |
| Tom DiCinti, Philadelphia Publinks Golf Association | 78 |
| Tom Humphrey, Wilmington Country Club | 78 |
| Failed to qualify | |
| Tom Borsello, Hartefeld National | 79 |
| Dan Burton, Lancaster Country Club | 79 |
| Roc Irey, Makefield Highlands Golf Club | 79 |
| Frank Polizzi, Whitemarsh Valley Country Club | 79 |
| Elliot Sheftel, Lehigh Country Club | 79 |
| Bob Majczan, Lookaway Golf Club | 80 |
| Buck Jones, Philadelphia Publinks Golf Association | 81 |
| Gregory Osborne, Overlook Golf Course | 81 |
| Drew Panebianco, Five Ponds Golf Club | 82 |
| Vince Scarpetta, Jr., Nittany Country Club | 83 |
| Raymond Pawulich, Little Mill Country Club | 88 |
| Rich Thon, The Springhaven Club | 88 |
| Steve Meyer, Rolling Green Golf Club | 90 |
| Robert Dietrich, Loch Nairn Golf Club | WD |
| Tom Mallouk, Lookaway Golf Club | WD |
| Robin McCool, Saucon Valley Country Club | WD |
| Bob Gill, Fox Hill Country Club | WD |
| WD – withdrawal | |
| * – decided in playoff | |