Rothaus, Smith scorch Senior 27-Hole Challenge
| Scoring portal | History | Photo gallery |
WYOMING, Del. — After watching Gary Smith make a 10-footer for birdie, Brian Rothaus used a wedge to retrieve his teammate's billowing cigar from the green. It slipped off the clubface. Again. Again, and again.
That moment represented the only golf fail for Rothaus — and Smith, for that matter — Monday at Wild Quail Golf & Country Club (par 72, 6,242 yards). The Huntingdon Valley, Pa. residents carded a record 9-under-par 135 to capture the event's Senior Division.
The format is as follows: four-ball (better-ball of partners), greensomes (selective drive/alternate shot) and team aggregate.
"I'm better with a golf ball. [A stogey] doesn't have a lot of bounce to it," Rothaus, 63, said.
He and Smith, figuratively speaking, smoked the field Monday.
The team's hot start served as a sign of things to come. Smith, a Pine Valley Golf Club member, executed a six-footer for birdie on No. 1 (par 5, 500 yards) following a driver-5-iron-wedge combination. Rothaus added a birdie on No. 3 (par 4, 375 yards) before Smith laid his red groundwork on Nos. 4 (par 3, 138 yards) and 5 (par 5, 517 yards).
"We were 4 under after five holes," Smith, 59, said.
"I haven't been that many under par that fast. That was fun," Rothaus, a Philmont Country Club member, added.
The Rothaus and Smith team made its move during the greensomes portion. A chip-in eagle on the par 5, 510-yard 15th hole came courtesy of Smith. His teammate established such a chance by nearly reaching the green in two strokes with a 3-wood from 230 yards. Smith's 9-iron on the par 3, 148-yard 17th stopped inches from the jar, assuring a tap-in birdie.
"You can get sideways in [the selective drive/alternate shot] format. We were never in trouble," Smith said.
Trouble? No trouble when you stand at 7 under and three strokes in front of the field through 18 holes. A 3 under from Rothaus coming in secured an event scoring record. He knocked a pitching wedge to two feet on No. 4. That conversion followed Smith's 15-footer for birdie on the hole. On the sharp dogleg left No. 7 (par 4, 270 yards), Rothaus hit a gap wedge 100 yards to three feet for birdie. A 5-iron to 25 feet on No. 8 (par 3, 185 yards) capped his sensational stretch.
Rothaus looked at the seat next to him when reflecting on his heroics.
"Gary's a great player. You just try not to make a fool out of yourself and to hold up your end of the bargain," Rothaus said. "I've struggled with back issues this year. It's fun playing with a good player in a partners event versus you're struggling with your own game."
Monday marked the first time Rothaus and Smith paired together in competition. Although the two connected through golf years ago, they only discussed the possibility of collaborating in an event while spending time together at the Father & Son (Middle) last year. Smith's son Cody plays golf for Bryn Athyn College, where Rothaus' son Zachary serves as head coach.
Rest assured more team competition awaits Rothaus and Smith. Monday's success is a smoking gun.
"We'll definitely have to look at the calendar," Smith said.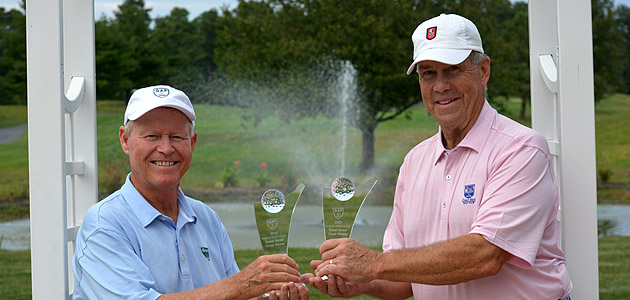 McCool, Scott claim Super-Senior crown
A playoff didn't determine the fate of Robin McCool and Craig Scott this time.
The longtime friends made their case in regulation, carding a 2-under-par 142 to take the event's Super-Senior (par 72, 5,812 yards) title. McCool and Scott fell to White Manor Country Club's Don Donatoni and Spring Ford Country Club's Steve Tagert in a sudden-death playoff a year ago at Lebanon Country Club.
"We played really well today. We did OK in the better-ball portion, which is our normal thing. In the alternate shot, we were really good," McCool, 68, of Center Valley, Pa., said.
Prospects didn't seem so good when McCool's drive on No. 14 (par 4, 389 yards) sailed out-of-bounds. Four birdies — three of which from gimme range — more than made up for it.
"We almost jarred three of them," Scott, 70, of Marshalls Creek, Pa., said.
McCool, a Saucon Valley Country Club member, and Scott, a Great Bear Golf Club member, joined forces for team competitions three years ago. The Super-Senior stalwarts seem to bring out the best in one another.
Not to mention a victory.
"Anytime you win a GAP event, it's big. I will say that this format is one of the best GAP has done in a long time. It's fun to play," Scott said.
"You have to golf your ball. And at the end, you're on your own," McCool said.
The Senior 27-Hole Challenge replaced the Senior Net Championship on the tournament schedule.
GAP
Celebrating Amateur Golf since 1897, GAP, also known as the Golf Association of Philadelphia, is the oldest regional or state golf association in the United States. It serves as the principal ruling body of amateur golf in its region. The Association's 274 Full Member Clubs and 75,000 individual members are spread across the Eastern half of Pennsylvania and parts of New Jersey and Delaware. The GAP's mission is to promote, preserve and protect the game of golf.
Gross results
Senior Division
Name, club, score
R1
R2
R3
Total
Brian Rothaus/Gary Smith, Philmont Country Club/Pine Valley Golf Club
32
33
70
135
Jeff Hudson/Thomas Soares, Olde Homestead Golf Club/Lehigh Country Club
37
33
71
141
Jeffrey Allen/Tim Freeh, Wild Quail Golf & Country Club
35
33
74
142
Greg Buliga/Michael Quinn, Yardley Country Club/Philadelphia Publinks GA
34
34
75
143
Carl Everett/J. Kirk Luntey, Merion Golf Club
33
36
74
143
Mark Cubberley/Tom DiCinti, Mercer Oaks Golf Course
35
35
74
144
Don Uhrig/Joe Witkowski, LedgeRock Golf Club
35
35
76
146
Buddy Reed/Alan Wagenschnur, Loch Nairn Golf Club
36
37
74
147
Thomas Alestock/Rocky Dare, Running Deer Golf Club
39
36
73
148
William Christine, III/J. Joseph McClatchy, Lu Lu Country Club/Llanerch Country Club
35
34
79
148
Thomas Humphrey/Steve Walczak, Wilmington Country Club
34
38
78
150
Ted Wiedemann/Luke Wozniak, Fieldstone Golf Club
34
38
79
151
Dave Cox/Mike Polise, Wild Quail Golf & Country Club
38
37
78
153
Michael Ruyak/Greg Woods, Brookside Country Club/French Creek Golf Club
35
38
82
155
Art Brosius/Rob Cook, DuPont Country Club
36
39
85
160
Jeff Denbigh/Joseph Viscuso, Kennett Square Golf & Country Club
40
39
82
161
James Cronin/Tom Madden, Fieldstone Golf Club
42
43
91
176
Joseph Lunardi/Mike Pierce, Llanerch Country Club/The Springhaven Club
45
45
91
181
Christopher Terebesi/Richard Umani, Honeybrook Golf Club
WD
WD
WD
WD
Super-Senior Division
Robin McCool/Craig Scott, Saucon Valley Country Club/Great Bear Golf Club
33
34
75
142
Buck Jones/Michael Nilon, Philadelphia Publinks GA/Philadelphia Country Club
32
38
75
145
Gary Dornhoefer/Rodger Gottlieb, Blue Heron Pines Golf Club
36
38
76
150
Robert Billings/Paul Keating, Rolling Green Golf Club/Aronimink Golf Club
36
38
79
153
Rick Gaydos/David Jordan, Sakima Country Club
36
39
78
153
Gerald Eckert/Alan Over, Bent Creek Country Club
33
42
80
155
Richard Allen/John Andrade, Wild Quail Golf & Country Club/Wilmington Country Club
36
42
98
176
Net results
Senior Division
Name, club, score
R1
R2
R3
Total
William Christine, III/J. Joseph McClatchy, Lu Lu Country Club/Llanerch Country Club
31
30
70
131
Brian Rothaus/Gary Smith, Philmont Country Club, Pine Valley Golf Club
32
33
70
135
Buddy Reed/Alan Wagenschnur, Loch Nairn Golf Club
33
35
69
137
Jeff Hudson/Thomas Soares, Olde Homestead Golf Club/Lehigh Country Club
36
32
69
137
Carl Everett/J. Kirk Luntey, Merion Golf Club
31
35
71
137
Don Uhrig/Joe Witkowski, LedgeRock Golf Club
32
33
72
137
Greg Buliga/Michael Quinn, Yardley Country Club/Philadelphia Publinks GA
33
33
73
139
Michael Ruyak/Greg Woods, Brookside Country Club/French Creek Golf Club
31
35
74
140
Dave Cox/Mike Polise, Wild Quail Golf & Country Club
35
34
72
141
Jeffrey Allen/Tim Freeh, Wild Quail Golf & Country Club
35
33
74
142
Mark Cubberley/Tom DiCinti, Mercer Oaks Golf Course
34
35
74
143
Ted Wiedemann/Luke Wozniak, Fieldstone Golf Club
32
36
75
143
Thomas Alestock/Rocky Dare, Running Deer Golf Club
38
36
72
146
Art Brosius/Rob Cook, DuPont Country Club
32
36
78
146
Jeff Denbigh/Joseph Viscuso, Kennett Square Golf & Country Club
36
36
76
148
Thomas Humphrey/Steve Walczak, Wilmington Country Club
34
38
77
149
Joseph Lunardi/Mike Pierce, Llanerch Country Club/The Springhaven Club
38
39
75
152
James Cronin/Tom Madden, Fieldstone Golf Club
38
40
83
161
Christopher Terebesi/Richard Umani, Honeybrook Golf Club
WD
WD
WD
WD
Super-Senior Division
Rick Gaydos/David Jordan, Sakima Country Club
32
35
70
137
Gary Dornhoefer/Rodger Gottlieb, Blue Heron Pines Golf Club
32
35
70
137
Buck Jones/Michael Nilon, Philadelphia Publinks GA/Philadelphia Country Club
31
37
72
140
Robin McCool/Craig Scott, Saucon Valley Country Club/Great Bear Golf Club
33
34
75
142
Gerald Eckert/Alan Over, Bent Creek Country Club
30
40
74
144
Robert Billings/Paul Keating, Rolling Green Golf Club/Aronimink Golf Club
35
36
75
146
Richard Allen/John Andrade, Wild Quail Golf & Country Club/Wilmington Country Club
31
37
85
153
R1 — four-ball; R2 — greensomes; R3 — team aggregate
WD — withdrawal