New E.C. elected; Armbrister moves to Secretary
Oscar L. Mestre of Overbrook Golf Club has been elected to serve a third and final one-year term as GAP (Golf Association of Philadelphia) President for its fiscal year beginning Dec. 1, 2022 (for 2023 season). Mestre, 62, was elected President at the 2022 Annual Meeting. Under the Association's bylaws, Mestre is only eligible to serve three successive years.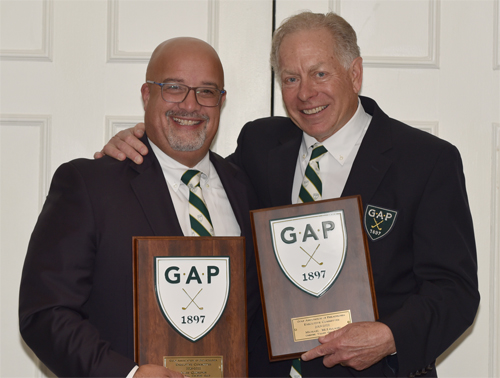 The election of the 17-member Executive Committee, including Officers, occurred on Nov. 17 during the Association's 126th Annual Meeting at Philadelphia Country Club in Gladwyne, Pa.
Also elected to one-year terms as Officers are Kenneth A. Phillips, Lancaster Country Club, Vice President; P. Edward Lovelidge, Union League National Golf Club, Treasurer; and, Jeffrey B. Armbrister, Philadelphia Cricket Club, Secretary. Jeffrey S. Henderson of Gulph Mills Golf Club remains in his current role as General Counsel. All are returning Officers except Armbrister, who will be in his first year as Secretary. Armbrister replaces Michael B. McLelland of Chester Valley Golf Club. McLelland, who served as Secretary the last two years, is retiring from the board. He joined the Executive Committee in 2013.
Others on the GAP Executive Committee who were elected to return and serve additional one-year terms each are Edward P. Hutchinson, Tavistock Country Club; David Kornblatt, Merion Golf Club; Michael H. Lewers, Aronimink Golf Club; Tracey S. MacGown, Saucon Valley Country Club; Larry McClure, Frosty Valley; Glenn D. Meyer, Union League Liberty Hill; and MaryAnn Watson, Huntingdon Valley Country Club. Tina S. Gregor of Huntingdon Valley Country Club is an ex-officio member of the Executive Committee for her role as Chairwoman of the J. Wood Platt Caddie Scholarship Trust.
Newly-elected Executive Committee members are Meghan Adams, Wilmington Country Club; Drew Garis, North Hills Country Club and William A. Landman, Green Valley Country Club. They replace retiring Executive Committee members Daniel Dreisbach of Wilmington Country Club (2019-22); McLelland (2013-22) and Jules Quinones (2016-22) of Blue Bell Country Club.
Each of the new representatives is also elected to a one-year term.
Adams, 41, of Wilmington, Del., is a Judge appointed to the Superior Court of Delaware by Governor John C. Carney, Jr. on July 11, 2019. She currently serves on the Court's Complex Commercial Litigation Division. Adams received her J.D., cum laude, in 2007 from Widener University School of Law. She received her B.S. in business administration from the University of North Carolina at Chapel Hill, Kenan-Flagler Business School in 2003, where she served as the captain of the women's golf team. As an attorney, Adams practiced corporate and commercial litigation, most recently at Morris James LLP. Adams has been a Wilmington Country Club member since 2013. She lives in Wilmington, Del. with her husband and two sons.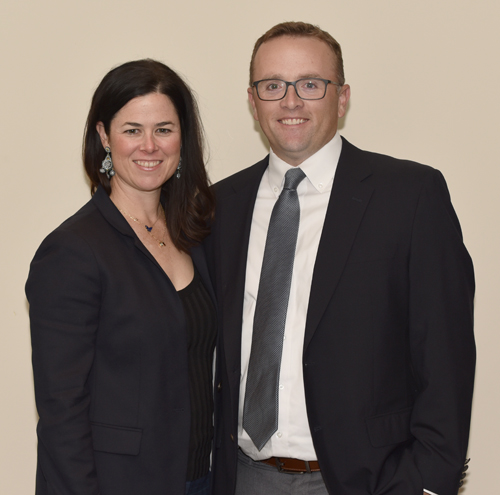 Garis, 40, of Glenside, Pa., is a surety professional with Lockton Companies in Blue Bell, Pa. Garis primarily works with construction companies that need bonding for their various construction projects. Prior, he was a third generation surety professional at the Garis Agency. The Garis Agency joined Lockton in May 2022. He attended the University of Delaware, graduating with a degree from the School of Business with a concentration in Operations Management, which keys on continuous improvement. Garis grew up in golf at North Hills where his parents have been members since 1978. He currently sits on the golf committee and has done so for the past decade. Garis is a talented player, having competed in multiple GAP Majors and on the top BMW GAP Team Matches North Hills squad. Garis and wife Emily have three sons, ages 1 (Cal), 7 (Ryder) and 9 (Will).
Landman, 69, of Haverford, Pa., is a co-founding and managing principal of MainLine Investment Partners, LLC. Comprising a family of businesses, MainLine Investment Partners invests in operating businesses and real estate assets, and is involved in the control, operation, and ownership of MainLine Private Wealth and Merion Realty Partners. Landman directs the investment activities, management and strategic initiatives of MainLine Investment Partners as well as its affiliates, MainLine Private Wealth and Merion Realty Partners. Since 1987, Landman has had direct or indirect responsibility for the investment strategy for more than $3 billion in private equity and real estate capital commitments. He is also an advisor at Renovus Capital, an education-oriented SBIC, and is a principal and manager of Merion Residential, a real estate management company. Landman has served on numerous boards of private equity firms and portfolio companies associated with MainLine or CMS Companies investments. He is also a former board member of Thomas Jefferson University System. Landman holds a Bachelor of Arts degree from the University of Pittsburgh and a J.D. degree from the University of Pittsburgh School of Law. He has been a Green Valley member for more than 25 years. Landman and wife Beth have four children and four grandchildren.
The 2022 Nominating Committee was chaired by Quinn Spitzer (GAP President, 2018-20), Makefield Highlands Golf Club, with members Robert M. Morey (GAP President, 2012-15), Merion Golf Club, and Daniel B. Burton (GAP President, 2006-08), Lancaster Country Club.
GAP
Celebrating Amateur Golf since 1897, GAP (Golf Association of Philadelphia), is the oldest regional or state golf association in the United States. It serves as the principal ruling body of amateur golf in its region. The Association's 340 Member Clubs and 100,000 individual members are spread across four states: Delaware, northern Maryland, New Jersey and Eastern Pennsylvania. The GAP's mission is to promote, preserve and protect the game of golf.