Passalacqua rides wave to 1 under in Round One
HAVERTOWN, Pa. – On Day One of the 121st Joseph H. Patterson Cup presented by Provident Bank, ex-professional boogie boarder Steve Passalacqua rode the wave to 1-under-par 70 at Llanerch Country Club (par 71, 6,727 yards) Wednesday.
At the the conclusion of his boogie-boarding career, the Greate Bay Country Club member got more serious about his game. Unfortunately, lingering effects of a childhood injury have made playing tournament golf difficult.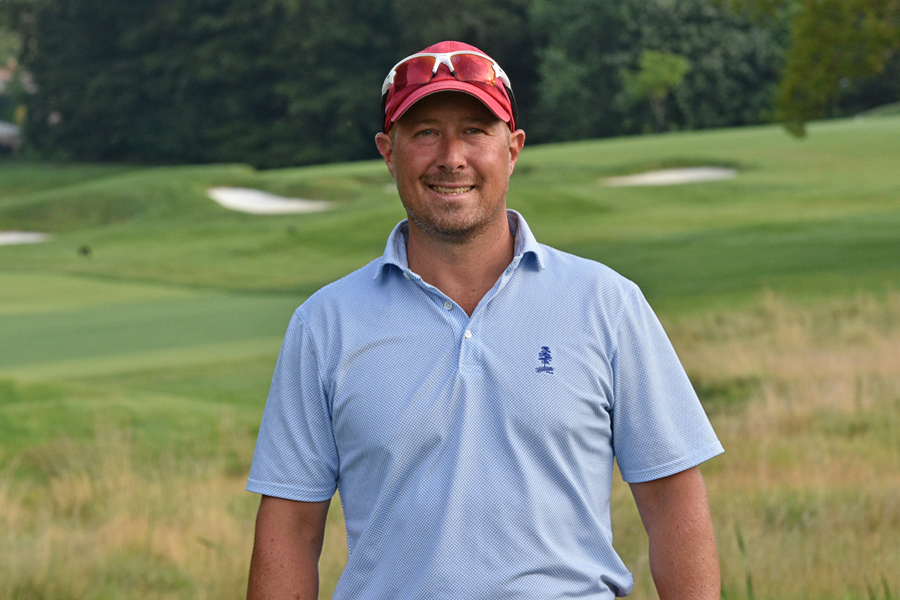 "I went all over parts of the world and surfed big waves and wasn't thinking about getting old. I'm regretting some of the things I did," Passalacqua, 44, of Linwood, N.J., said. "I jumped in the ocean head first and hit my head pretty hard when I was 13. It straightened my neck so I don't have a curve in my cervical spine."
Failure to address the injury resulted in an ongoing struggle with spinal stenosis, an injury caused by pressure on the spinal cord. Sudden movements of the neck with this condition can trigger pinched nerve injuries called radiculopathy. Passalacqua's most recent radiculopathic event happened when putting his daughter to bed in 2021.
"I snapped my neck back, and my arm jumped and my nerve got compressed. Getting out of that was a good two years," Passalacqua said.
He has recently been able to return to his golf game.
"I just played in my club championship," Passalacqua said. "I feel like my game's coming back over the last two months, and all I've been focusing on is tempo."
After some bunker trouble resulting in a double bogey on No. 2 (par 4, 442 yards), Passalacqua carded five birdies to get to the magic number. On No. 6 (par 4, 420 yards), his 54-degree wedge from 122 yards settled 30 feet from the hole. He drained the lengthy putt for his first red number. On No. 12 (par 3, 178 yards), he stuffed a 6-iron to three feet for his second birdie. He collected another birdie on No. 13 (par 4, 308 yards) after he slapped a lob wedge 30 yards to eight feet. On No. 14 (par 4, 467 yards), Passalacqua's pitching wedge from 144 yards stopped four feet from the hole for another red figure. Before the birdie wave crashed, a 68-yard lob wedge simmered to 20 feet on No. 15 (par 4, 321 yards).
"[On] the golf course you have to worry about certain areas where you don't want to be," Passalacqua said. "You are more or less reading and reacting and the golf course is staying here, whereas when you're on the body board the wave's moving, so you're adapting more on the fly."
Passalacqua tees off at 8 a.m. Thursday with alongside Liam Hart of Spring Mill Country Club and Christian Matt of Cedarbrook Country Club.
Two years ago, Passalacqua was tingling in his extremities. Today, he finds himself in the Top 10 of the #PattersonCup leaderboard.
Little Mill's Rudisill stays right on the edge
Jon Rudisill of Little Mill Country Club is knocking on the door; he's right there. In the 123rd BMW Philadelphia Amateur, he missed the cut in stroke-play qualifying by one shot. In the 121st #PattersonCup at Llanerch, he carded four-over par 75 to miss it by a shot.
"[In 2020] I joined Little Mill and I play two to five days a week instead of playing once or twice a week before that," Rudisill, 41, of Clementon, N.J., said. "I play with a lot of friends who have won stuff and they tell me I can do it. I just have to believe in myself enough to accomplish it."
The 11-year Pine Valley Golf Club caddie had long-time friend and Llanerch's Director of Instruction Nick Gorman on his bag today.
"He hit it really solid," Gorman said. "Not a whole lot of putts were dropping but I feel like that's pretty typical here just cause [the greens are] that hard to read. Mentally, I thought he handled himself really well."
About Provident Bank
Provident Bank, a community-oriented financial institution offering "Commitment you can count on" since 1839, is the wholly owned subsidiary of Provident Financial Services, Inc. (NYSE:PFS), which reported assets of $13.78 billion as of March 31, 2023. With $10.30 billion in deposits, Provident Bank provides a comprehensive suite of financial products and services through its network of branches throughout northern and central New Jersey, as well as Bucks, Lehigh and Northampton counties in Pennsylvania and Nassau and Queens Counties in New York. The Bank also provides fiduciary and wealth management services through its wholly owned subsidiary, Beacon Trust Company and insurance services through its wholly owned subsidiary, Provident Protection Plus, Inc. For more information about Provident Bank, visit www.provident.bank or join the conversations on Facebook (ProvidentBank) and Twitter (@ProvidentBank).
GAP
Celebrating Amateur Golf since 1897, GAP, also known as the Golf Association of Philadelphia, is the oldest regional or state golf association in the United States. It serves as the principal ruling body of amateur golf in its region. The organization's 340 Member Clubs and 100,000 individual members are spread across Pennsylvania, Delaware, New Jersey and Maryland. The GAP's mission is to promote, preserve and protect the game of golf.