Clark, Menon reunite in #USAmateur Qual.
AVONDALE, Pa. — Nine years ago, Lukas Clark and Nate Menon, then a pair of flourishing 13-year-olds with an appetite for golf, clashed in the GAP Junior-Junior Boys' Championship Final. Menon admittedly felt bittersweet about beating his good buddy, 6&5, for a trophy.
| Scoring portal | Photo gallery |
No hard feelings. The two remained in touch and reunited under the GAP umbrella Monday at a delightful Hartefeld National (par 72, 6,648 yards). Clark and Menon earned the only two spots available in U.S. Amateur Qualifying administered by GAP. Menon, a LedgeRock Golf Club member, again bested his friend, this time for a medal and bragging rights. He carded rounds of 70 and 64 for a remarkable 10-under-par 134. Clark finished at 9 under (67-68).
The 121st U.S. Amateur will take place Aug. 9-15 at Oakmont Country Club in Oakmont, Pa.
"I've known Lukas forever. We're really, really close," Menon, 22, of Wyomissing, Pa., said. "I've been playing golf with him since I was 7, 8 years old. We talk a bunch. I was walking up No. 18 [in Round Two] and I heard that he was in the clubhouse at 9 under. I thought if I could get to 10 under, I'd feel better."
"It's always great seeing a guy you grew up playing golf with do well. We give each other positive stuff whenever we can because we know how difficult golf is and how much work we've put in over the years," Clark, 22, of Holland, Pa., added.
Menon feels better, by the way. He did birdie No. 18 (par 4, 400 yards) to clip Clark. Accounting for the green's false front, Menon lifted a wedge 110 yards to 20 feet below the hole location. He buried a gentle right-to-left curler.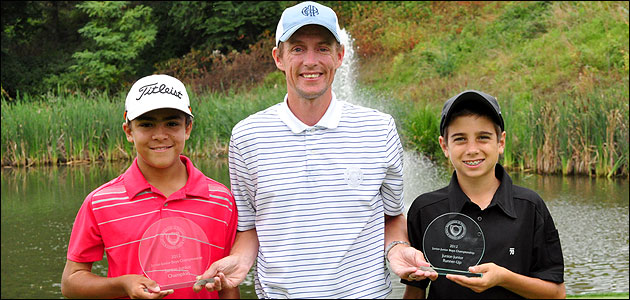 That conversion, however, doesn't happen without another Clark flashpoint.
"When I came in [after Round One] and saw that Lukas finished at 5 under, even though I was walking off a three-putt bogey and wasn't too happy, that cheered me up a little bit, to see he was playing well," Menon, a fifth-year senior at Stanford University, said. "As weird as it sounds, I played way better in the morning. I absolutely striped it, and it was one of the worst putting rounds I've had in a really long time. I had a lot of 10, 15-footers for birdie and wasn't even close. On my last hole [No. 9 in Round One], I had 20 feet for birdie. It was the best putt I hit all day. With that stroke, I felt like I figured something out."
That he did. Menon stood five shots back of 18-hole leader Morgan Lofland of Phoenixville Country Club. He promptly closed that gap.
In Round Two, Menon played Hartefeld National's par 5s in 5 under. He sunk a 10-footer for birdie on No. 2 (par 5, 467 yards) — a conversion that reassured a reignited putting stroke. Menon reach No. 4 (par 5, 533 yards) green in two strokes with a 6-iron from 220 yards. Two putts from 50 feet spoke to speed control. Menon, seeing a sprinkler head in his intended line for eagle on No. 8 (par 5, 529 yards), used the obstacle to his advantage. His golf ball bounced mildly and coasted to five feet. Menon made the ensuing birdie putt. Given a persistent wind on No. 13 (par 5, 572 yards), Menon played it as a three-shot hole, lifting a wedge 85 yards to 20 feet for birdie. He launched a 4-iron to the back of the No. 16 (par 5, 545 yards) green and walked off with a four-footer for birdie in his bag.
Perhaps Menon's most critical putt came on the next hole (par 4, 420 yards). His only "bad swing of the day" — a seemingly safe 5-iron selection — went out of bounds. Menon reset with a crucial 25-footer for bogey.
Menon's formula for a putting renaissance in Round Two: more focused on feel, more synchronized with the speed of Hartefeld National's greens. And even more excited for another national championship appearance. Menon competed in the 2019 U.S. Amateur at Pinehurst. He missed the match-play cut.
For Clark, it will be his U.S. Amateur debut. With a good friend in the field, no less.
"It was a great day. I was sweating it out for the last few hours. Obviously, you don't want to sweat it out that much being in at 9 under," Clark said. "I kind of was keeping with the moment and really enjoying being under that situation and pressure."
In another twist of fate, Clark started at the same time as Menon, opposite tee. He posted a 5-under-par 67 in Round One. An eagle on No. 2, where he hit a 6-iron 190 yards to 20 feet, jumpstarted. A birdie on No. 18, where he hit a pitching wedge 140 yards to eight feet, punctuated. Clark, a Galloway National Golf Club member, again jolted in the afternoon thanks to an eagle on No. 4.
"I was 240 yards out, and my caddie said that 3-iron was probably out of question, so just hit a 4-iron and chip up. I wound up hitting it to five feet. That boosted me," Clark, who graduated from Penn University in the spring, said.
Better make sure the engine's boosted for a potential road trip to Oakmont.
"There's not another guy I'd like to go with. It's nice to have a friend going out there with you," Clark, who will head to the University of Toledo to pursue a Master's degree in finance, said.
"It'll be fun to go out to Oakmont with Lukas," Menon, a political science major at Stanford, said. "It's great to see him playing well. We've been friends for such a long time."
GAP
Celebrating Amateur Golf since 1897, GAP, also known as the Golf Association of Philadelphia, is the oldest regional or state golf association in the United States. It serves as the principal ruling body of amateur golf in its region. The Association's 300 Member Clubs and 80,000 individual members are spread across the Eastern half of Pennsylvania and parts of Delaware, Maryland and New Jersey. The GAP's mission is to promote, preserve and protect the game of golf.
| | |
| --- | --- |
| Qualifiers | |
| Name, city, state | Rd1-Rd2–Total |
| Nate Menon, Wyomissing, Pa. | 70-64–134 |
| Lukas Clark, Holland, Pa. | 67-68–135 |
| Alternates (in order) | |
| Morgan Lofland, Paoli, Pa. | 65-71–136 |
| Michael Brennan, Leesburg, Va. | 71-66–137 |
| Failed to qualify | |
| Ryan Tall, Collegeville, Pa. | 71-69–140 |
| Evan Brown, Kennett Square, Pa. | 69-72–141 |
| Brandon Raihl, Wernersville, Pa. | 74-69–143 |
| Jake Fazio, Huntingdon Valley, Pa. | 72-72–144 |
| Mike O'Neil, Baltimore, Md. | 73-71–144 |
| Tyler McGarry, Pittson, Pa. | 73-72–145 |
| Michael Butzgy, Avondale, Pa. | 78-68–146 |
| Suneil Peruvemba, Mclean, Va. | 80-66–146 |
| Zachary Barbin, Elkton, Md. | 69-78–147 |
| Jeffrey Cunningham, West Palm Beach, Fla. | 76-71–147 |
| Patrick Knott, Bryn Mawr, Pa. | 72-75–147 |
| Augie Beers, Pennington, N.J. | 73-75–148 |
| Zach Arsenault, Merchantville, N.J. | 73-76–149 |
| Zach Dilcher, Avondale, Pa. | 81-68–149 |
| Thomas Weir, Newtown Square, Pa. | 72-77–149 |
| Jeff Gardiner, Newark, Del. | 79-71–150 |
| Ian Masenheimer, Orefield, Pa. | 76-74–150 |
| Gary Carpenter, Crofton, Md. | 75-76–151 |
| Angelo Giantsopoulos, Canada | 75-76–151 |
| Daniel Dougherty, Wilmington, Del. | 78-74–152 |
| Dan Gallagher, Cinnaminson, N.J. | 76-76–152 |
| Trent Geritz, Towson, Md. | 79-74–153 |
| Philip Miller, II, Dayton, Ohio | 79-74–153 |
| Colin Nasser, Zionsville, Iowa | 82-71–153 |
| Tony Peressini, Doylestown, Pa. | 74-79–153 |
| Gage Wolfle, Sewell, N.J. | 79-74–153 |
| Brendan Gonzalez, Orange, Calif. | 79-75–154 |
| Matthew Krass, Chadds Ford, Pa. | 74-80–154 |
| Chris Waldmann, Malvern, Pa. | 77-77–154 |
| Jacob Cutler, Philadelphia, Pa. | 82-73–155 |
| Drew Garis, Glenside, Pa. | 71-84–155 |
| Richie Kline, Kennett Square, Pa. | 78-77–155 |
| Jeffrey Victor, King of Prussia, Pa. | 75-80–155 |
| Jack Davis, Newtown Square, Pa. | 80-76–156 |
| Joshua Gallagher, Wilmington, Del. | 79-77–156 |
| Gwinyai Murahwa, Zimbabwe | 82-74–156 |
| Vinay Ramesh, Newtown, Pa. | 79-77–156 |
| Roy Anderson, Chadds Ford, Pa. | 83-75–158 |
| Jacob Sokalsky, Garnet Valley, Pa. | 75-83–158 |
| Ben Mangum, New York, N.Y. | 79-80–159 |
| Adam Mowery, Chads Ford, Pa. | 79-80–159 |
| Austin Schreffler, Dillsburg, Pa. | 76-83–159 |
| Kevin Levitsky, Avondale, Pa. | 79-83–162 |
| Joseph Polidoro, Glassboro, N.J. | 82-81–163 |
| Nicholas Juanillo, Middletown, Del. | 94-74–168 |
| Kaden Kinard, New Castle, Del. | 83-85–168 |
| William Bair, York, Pa. | NS |
| Kavian Bina, King of Prussia, Pa. | NS |
| W. Jay Degenhart, Savannah, Ga. | NS |
| Sean Ebert, Doylestown, Pa. | NS |
| Jacob Skelly, Cresson, Pa. | NS |
| Doug Marcincin, Cape May, N.J. | NS |
| Jack Rosen, Boca Raton, Fla. | WD |
| Rishi Patel, Birmingham, MI | WD |
| Quint Dingledine, Richmond, Va. | WD |
| Matthew Bastian, Jr., Philadelphia, Pa. | WD |
| Jarred Berish, Pottstown, Pa. | WD |
| Ellis Chandler, New Holland, Pa. | WD |
| Tyler Canfield, West Chester, Pa. | WD |
| Matthew Crescenzo, Plymouth Meeting, Pa. | WD |
| Nelson Hargrove, Haverford, Pa. | WD |
| Voltaire Escalona, Philadelphia, Pa. | WD |
| Reynolds Lambert, Birmingham, AL | WD |
| Andrew Mason, Huntingdon Valley, Pa. | WD |
| Frank Nattle, Phoenixville, Pa. | WD |
| Patrick Isztwan, Huntingdon Valley, Pa. | WD |
| Brandon Berry, Great Falls, Va. | 71-WD–WD |
| Chris Cerminaro, Carbondale, Pa. | 75-WD–WD |
| Brandon Christopher, Philadelphia, Pa. | 86-WD–WD |
| Geoffrey Cooper, Erdenheim, Pa. | 76-WD–WD |
| David Ferreira, Bermuda | 83-WD–WD |
| Matt Graeff, Blue Bell, Pa. | 80-WD–WD |
| Jack Irons, Naples, Fla. | 74-WD–WD |
| Walker Kirk, Scottsdale, Ariz. | 86-WD–WD |
| Steve Oh, Philadelphia, Pa. | 79-WD–WD |
| Nathan Pierce, Limerick, Pa. | 83-WD–WD |
| Billy Reube, Yardley, Pa. | 84-WD–WD |
| Justin Spaeth, Plymouth Meeting, Pa. | 73-WD–WD |
| Jack Stamato, Seves Park, Md. | 77-WD–WD |
| John Updike, Wayne, Pa. | 74-WD–WD |
| NS – no show; WD – withdrawal | |