Mandel's sizzling summer continues, shoots 65 for #PattersonCup Qual. medal
| Scoring portal | Photo gallery |
LAFAYETTE HILL, Pa. – Philadelphia Cricket Club's Marc Mandel's golf game has started to mandate red numbers each time out.
Wednesday at Green Valley Country Club (par 71, 6,632 yards), Mandel continued his sizzling summer run, firing a 6-under 65 to earn medalist honors in Joseph H. Patterson Cup Qualifying presented by Provident Bank.
The day's cut line stopped at 5-over 76.
The 119th #PattersonCup tees off Aug. 4-5 at Manufacturers' Golf & Country Club. It is the second oldest championship in GAP at 119 years old and serves as the Association's stroke-play championship.
Today marked the first of three Patterson Cup Qualifying events on the schedule. The next will be conducted July 20 at Frosty Valley, followed by July 22 at White Clay Creek Country Club.
Mandel, Cricket's Stroke-Play Club Champion and recent GAP Open Championship Qualifying medalist at Trenton Country Club, began with a bang, making three birdies in a row early on. On No. 2 (par 4, 378 yards), a sand wedge from 117 yards landed within a foot for the tap-in 3. The par-5, 522-yard 3rd hosted the second after Mandel chipped up to five feet and jarred the birdie 4. The third in a row dropped on No. 4 (par 3, 192 yards) after a 7-iron came to rest 15 feet away and the birdie putt was converted. Five pars coming in on Green Valley's first side equaled a 3-under 33. Pretty good start.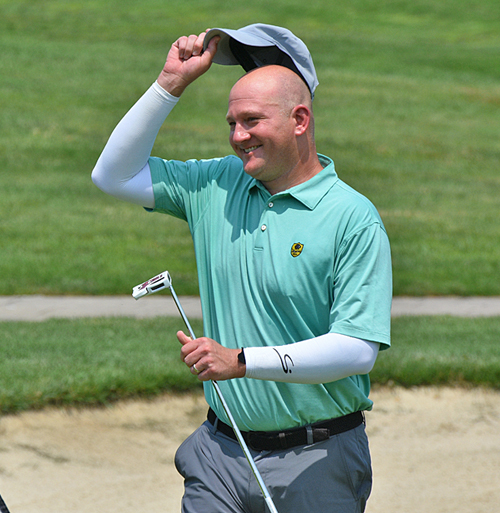 "I felt pretty good about Qualifying at that point. I just wanted to keep it going and see where [the round] would go," said Mandel, 39, of Plymouth Meeting, Pa.
Another hot streak surfaced beginning on No. 12 (par 4, 367 yards) with a left-to-right 15 footer that crept over the front lip for birdie. A 20 footer on No. 13 (par 4, 405 yards) for 3 kept that momentum going. After missing a 30-foot birdie look on No. 14 (par 4, 382 yards), Mandel's trusty 3-iron got him going again on No. 15 (par 3, 215 yards), which he placed to 12 feet and made the sliding putt for a red 2. Coming in, three more pars, including a clutch two-putt from 50 feet on No. 18 (par 4, 399 yards), completed the eye-opening 65. He bettered the rest of the field by four shots.
Today's number marks a career low in GAP competition for Mandel, matching his 7-under 65 in the 2011 GAP Open Championship Qualifier at Radley Run Country Club.
"It feels awesome knowing my game is peaking at the right time. It feels like I am playing like I did back then. This is the lowest my handicap has ever been, too" said Mandel, currently playing as a +2.2 Index.
Mandel says his confidence in his putter this year, which includes a claw grip experiment, has made remarkable difference. Three putts have started to be more rare than ever. Birdies from mid-range are dropping — just like his scores.
Now with two Major Qualifying medals in tow, Mandel will get a pair of cracks at the ultimate GAP prize to finish the summer. Besides the Patterson, he'll try his hand at vying for a GAP Major title in the Open Championship at Country Club of York. Sprinkle in a few USGA Qualifying events, and Mandel is ready to cash in on his game peaking at the prime moment.
"It really comes down to combining my swing, which I've been feeling really good about all year, with my putter," said Mandel. "I hope to keep it going. It'd be great to win one of these [GAP Majors], maybe make a USGA event, and also earn some exemptions. I just have to keep doing what I'm doing."
GAP
Celebrating Amateur Golf since 1897, GAP, also known as the Golf Association of Philadelphia, is the oldest regional or state golf association in the United States. It serves as the principal ruling body of amateur golf in its region. The Association's 274 Full Member Clubs and 75,000 individual members are spread across the Eastern half of Pennsylvania and parts of New Jersey and Delaware. The GAP's mission is to promote, preserve and protect the game of golf.
About Provident Bank
Provident Bank, a community-oriented financial institution offering "Commitment you can count on" since 1839, is the wholly owned subsidiary of Provident Financial Services, Inc. (NYSE:PFS), which reported assets of $12.92 billion as of December 31, 2020. With $9.84 billion in deposits, Provident Bank provides a comprehensive suite of financial products and services through its network of branches throughout northern and central New Jersey, as well as Bucks, Lehigh and Northampton counties in Pennsylvania and Queens County in New York. The Bank also provides fiduciary and wealth management services through its wholly owned subsidiary, Beacon Trust Company and insurance services through its wholly owned subsidiary, SB One Insurance Agency, Inc. For more information about Provident Bank, visit www.provident.bank or join the conversations on Facebook (ProvidentBank) and Twitter (@ProvidentBank).
| | |
| --- | --- |
| Qualifiers | |
| Name, club | Score |
| Marc Mandel, Philadelphia Cricket Club | 65 |
| Nicholas Gianelos, Radley Run Country Club | 69 |
| Wills Montgomery, LuLu Country Club | 69 |
| Joshua Krumholz, LedgeRock Golf Club | 70 |
| Matt Lafond, Blue Bell Country Club | 70 |
| Hayden Moffat, Philadelphia Publinks Golf Association | 70 |
| Brandon Capone, Mercer Oaks Golf Course | 71 |
| Timothy Chilleri, Manufacturers' Golf & Country Club | 71 |
| Andrew Curran, Philadelphia Cricket Club | 71 |
| Nick Hano, LuLu Country Club | 71 |
| Frankie McVeigh, Llanerch Country Club | 71 |
| Tyler Zimmer, Philadelphia Country Club | 71 |
| Jack Wallace, Riverton Country Club | 72 |
| Dan Bernard, Aronimink Golf Club | 73 |
| Billy Howard, Applebrook Golf Club | 73 |
| Dan Keenan, Little Mill Country Club | 73 |
| Bill McGuinness, Tavistock Country Club | 73 |
| Jim Sullivan, LuLu Country Club | 73 |
| Christopher Bell, McCall Golf Club | 74 |
| Charles Briggs , Merion Golf Club | 74 |
| Christopher Clauson, LuLu Country Club | 74 |
| Greg DeLuca, Trenton Country Club | 74 |
| Jack Sterbenz, Little Mill Country Club | 74 |
| Jordan Cooper, Woodcrest Country Club | 75 |
| Ryan Delargey, Fieldstone Golf Club | 75 |
| Will Keane, Philadelphia Country Club | 75 |
| Ryan Kelly, Philadelphia Cricket Club | 75 |
| David Malone, Sandy Run Country Club | 75 |
| Ryan McCarty, Huntingdon Valley Country Club | 75 |
| Michael McComb, Greate Bay Country Club | 75 |
| Brendan McNamara, Sandy Run Country Club | 75 |
| Jonathan Radick, Spring Mill Country Club | 75 |
| Sean Seese, Huntingdon Valley Country Club | 75 |
| Matthew Crescenzo, LuLu Country Club | 76 |
| Jimmy Finnerty, Radley Run Country Club | 76 |
| Scott Forrester, LuLu Country Club | 76 |
| Logan Hess, Crossgates Golf Club | 76 |
| Stephen Kidron, Manufacturers' Golf & Country Club | 76 |
| Nick Madden, LuLu Country Club | 76 |
| Joey Morganti, Llanerch Country Club | 76 |
| Kevin O'Brien, Cedarbrook Country Club | 76 |
| Carlos Ochoa, Little Mill Country Club | 76 |
| Steve Oh, DuPont Country Club | 76 |
| Chris Orlando, Paxon Hollow Country Club | 76 |
| Jon Rusk, LuLu Country Club | 76 |
| Failed to qualify | |
| Sean Campbell, Honeybrook Golf Club | 77 |
| Brian Lasky, Woodcrest Country Club | 77 |
| Scott Lawson, Cedarbrook Country Club | 77 |
| Matt Meves, Manufacturers' Golf & Country Club | 77 |
| Scott Bergson, Little Mill Country Club | 77 |
| Frank Nattle, Philadelphia Publinks Golf Association | 77 |
| Andrew Neumann, Spring Mill Country Club | 77 |
| Jeff Palmer, Manufacturers' Golf & Country Club | 77 |
| Dan Pinciotti, Huntingdon Valley Country Club | 77 |
| Stewart Rickenbach, Manufacturers' Golf & Country Club | 77 |
| Connor Rothwell, LuLu Country Club | 77 |
| Daniel Rudershausen, Bidermann Golf Club | 77 |
| Michael Zupi, LuLu Country Club | 77 |
| Rob Albanese, Manufacturers' Golf & Country Club | 78 |
| Nicholas Anderson, White Manor Country Club | 78 |
| Conor Kerins, Rolling Green Golf Club | 78 |
| Joseph Eaton, Philadelphia Cricket Club | 78 |
| Zachary Falone, Little Mill Country Club | 78 |
| Daniel Galbreath, Huntingdon Valley Country Club | 78 |
| Greg Hanna, Applebrook Golf Club | 78 |
| William Keane, Jr., Philadelphia Country Club | 78 |
| Brendan Mahoney, Philadelphia Cricket Club | 78 |
| Billy Reube, Huntingdon Valley Country Club | 78 |
| Bradley Roberts, Little Mill Country Club | 78 |
| Sean Torpey, Doylestown Country Club | 78 |
| Ryan Beck, Old York Road Country Club | 79 |
| Conor Breslin, Manufacturers' Golf & Country Club | 79 |
| Andrew Carnevale, North Hills Country Club | 79 |
| Beau Guarino, Riverton Country Club | 79 |
| Nelson Hargrove, Merion Golf Club | 79 |
| Kevin Karabin, Glen Oak Country Club | 79 |
| Matthew Krass, Radley Run Country Club | 79 |
| Shawn Lavin, Rolling Green Golf Club | 79 |
| Chris Lawler, Riverton Country Club | 79 |
| Joe Roeder, Merion Golf Club | 79 |
| Ryan Schneiter, Philadelphia Cricket Club | 79 |
| Justin Spaeth, Cedarbrook Country Club | 79 |
| Patrick Donaldson, Woodcrest Country Club | 80 |
| Chris Esbenshade, Bent Creek Country Club | 80 |
| Voltaire Escalona, Philadelphia Cricket Club | 80 |
| Mark Farley, The 1912 Club | 80 |
| Pete Moran, French Creek Golf Club | 80 |
| Patrick Serfass, St. Davids Golf Club | 80 |
| Michael Duffy, LuLu Country Club | 81 |
| Tripp Durham, Chester Valley Golf Club | 81 |
| Brock Fassnacht, Meadia Heights Golf Club | 81 |
| John Hansel, Sandy Run Country Club | 81 |
| Tyler Joseph, Green Valley Country Club | 81 |
| Chris Kallmeyer, Philadelphia Cricket Club | 81 |
| Nick Ostash, Five Ponds Golf Club | 81 |
| Brandon Wilson, Loch Nairn Golf Club | 81 |
| Carlo Fitti, Llanerch Country Club | 82 |
| Jeff Long, Riverton Country Club | 82 |
| Joseph Polidoro, Scotland Run Golf Club | 82 |
| Joseph Rueter, Sandy Run Country Club | 82 |
| Jim Schmidt, Manufacturers' Golf & Country Club | 82 |
| Austin Schreffler, Armitage Golf Club | 82 |
| Daniel Tennekoon, Makefield Highlands Golf Club | 82 |
| Teddy Villanueva, Llanerch Country Club | 82 |
| Garrett Conway, Little Mill Country Club | 83 |
| Thomas Dzwonczyk, Country Club of Scranton | 83 |
| Salvatore Galati, Woodcrest Country Club | 83 |
| Jack Hamilton, Merion Golf Club | 83 |
| Scott Kalan, Squires Golf Club | 83 |
| Stephen Lorenzo, Manufacturers' Golf & Country Club | 83 |
| Matthew Massott, Woodcrest Country Club | 83 |
| Rob Norton, Aronimink Golf Club | 83 |
| Chris Waldmann, French Creek Golf Club | 83 |
| Kevin Eberly, Merion Golf Club | 84 |
| Brian Fisher, Spring Ford Country Club | 84 |
| William Givens, The Shore Club | 84 |
| Greg Blackburn, Honeybrook Golf Club | 85 |
| Eric Martin, Penn Oaks Golf Club | 85 |
| Glenn Prokopik, LedgeRock Golf Club | 85 |
| Eric Spiller, Woodcrest Country Club | 85 |
| John VanDame, Jr., Talamore Country Club | 85 |
| Michael Kandravi, Llanerch Country Club | 86 |
| Jordan Rosenblatt, Woodcrest Country Club | 87 |
| Rich Thon, The Springhaven Club | 88 |
| Kevin Hilton, Spring Mill Country Club | 88 |
| Andrew Carrigan, Woodcrest Country Club | 89 |
| Mark Koelbel, Manufacturers' Golf & Country Club | 89 |
| Lee Duda, Manufacturers' Golf & Country Club | 93 |
| David Divalentino, Five Ponds Golf Club | 96 |
| Ben Cutler, Makefield Highlands Golf Club | WD |
| Brett Cybulski, Links Golf Club | WD |
| Carter Field, Sandy Run Country Club | WD |
| Justin Katz, Rolling Green Golf Club | WD |
| Troy McCloskey, Manufacturers' Golf & Country Club | WD |
| Adam Schlanger, Mercer Oaks Golf Course | WD |
| Patrick Pasquariello, Philadelphia Country Club | NS |
| John Stevenson, Whitemarsh Valley Country Club | NS |
| WD – withdrawal; NS – no show | |