Slonis snags #GAPMidAm Qualifying honors at Radley
| Scoring portal |
WEST CHESTER, Pa. – GAP Major Qualifying is back, and so is the 2001 Joseph H. Patterson Cup Champion.
Tavistock Country Club's Jamie Slonis fired a 4-under par 68 to secure medalist honors in GAP Middle-Amateur Championship Qualifying at Radley Run Country Club (par 72, 6,655 yards) Monday. The cut line stopped at 6-over 78 on the day, meaning 43 players advanced to the championship proper.
The 38th Middle-Amateur Championship will take place May 26-27 at Lookaway Golf Club.
Slonis, beginning on Radley's front side, didn't take long to get going. Four birdies on the first seven holes made for a dream start.
On No. 1 (par 4, 420 yards), Slonis' wedge approach from 85 yards nearly dropped, leading to a tap-in birdie to begin. Next up, a gap wedge from 120 yards came to rest three feet from the cup and was nestled in for 3. Despite a three-putt from 20 feet on No. 3 (par 4, 318 yards — Slonis' lone bogey on the day — his momentum didn't halt. A pitching wedge from 127 yards on No. 5 (par 4, 414 yards) led to another three-foot birdie conversion. The last red figure on the beginning nine came on the par-5, 520-yard 7th where Slonis two putted from the front of the green.
"I really got off to a nice start today, and in qualifiers, that's always a great thing," said Slonis, 52, of Sewell, N.J. "That kind of allows you to not press. You're not thinking about the cut line, so I was just in cruise control on the back side. Fairways and greens."
One look at Slonis' second side and it's hard to disagree. With eight pars and a single birdie on the par-5, 532-yard 16th, Slonis finished at that impressive number of 68 — two better than the rest of the field.
After making appearances in the Mid.-Am. and Patterson Cup in 2019, followed by missing out in 2020 due to Qualifying cancellations, Slonis is looking to get back to GAP Major play. He fulfilled his competitive slate with a few select tournaments last summer, including an eye-opening Horace Rawlins Invitational victory at The Springhaven Club.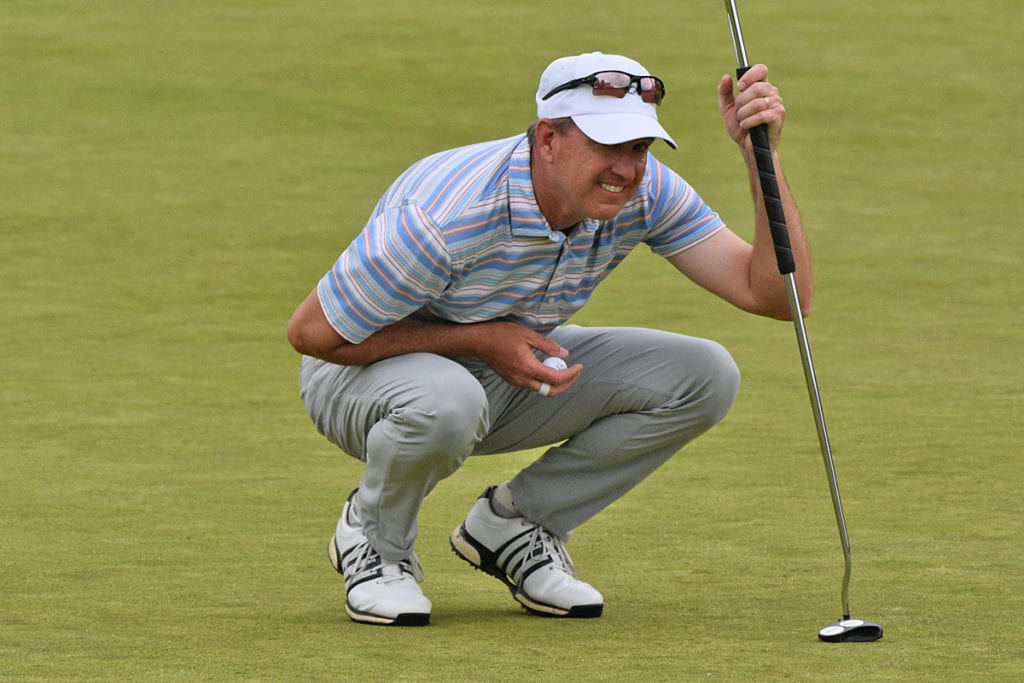 "I had a crazy day, went out and shot [6-under 64] that day, so winning the [Horace Rawlins], which I hadn't played in for a long time, that was really the highlight," said Slonis. "But obviously, missing out on playing in some of the [GAP Majors] meant there weren't a ton of opportunities. So it just feels great to be back out here and have that chance again. I'm really looking forward to getting to Lookaway."
As one of Tavistock's top players, Slonis has been occupied early this season competing for his club in the BMW GAP Team Matches. Tavistock's 3-0 finish earned them entry into this weekend's Playoffs, where they'll face off against the likes of Huntington Valley Country Club, LuLu Country Club and Philadelphia Cricket Club (#1).
"I've been playing well to start the season, yeah," said Slonis, who gained eight points out of nine for Tavistock in this year's #BMWGTM. "We have a big weekend coming up in the Playoffs. I think if you look at all the Playoff teams, you could say Tavistock may be the underdog. We just need to show up and play the best we can, and see what happens."
Although the Matches won't tee off until Saturday morning, starting the week off with a GAP Qualifying medal is a great start for Team Tavistock, who also had Christopher Pitts (even) finish tied-for-third in today's action.
"I'm feeling good about my game after today," said Slonis. "It should be a fun week."
GAP
Celebrating Amateur Golf since 1897, GAP, also known as the Golf Association of Philadelphia, is the oldest regional or state golf association in the United States. It serves as the principal ruling body of amateur golf in its region. The Association's 300 Member Clubs and 80,000 individual members are spread across the Eastern half of Pennsylvania and parts of Delaware, Maryland and New Jersey. The GAP's mission is to promote, preserve and protect the game of golf.
| | |
| --- | --- |
| Qualifiers | |
| Name, club | Score |
| Jamie Slonis, Tavistock Country Club | 68 |
| Scott Storck, Philadelphia Cricket Club | 70 |
| Zach Dilcher, Hartefeld National | 72 |
| Mark Hill, Rolling Green Golf Club | 72 |
| Christopher Pitts, Tavistock Country Club | 72 |
| Dan Bernard, Aronimink Golf Club | 74 |
| Chris Binder, Riverwinds Golf Club | 74 |
| Scott Ehrlich, Waynesborough Country Club | 75 |
| Jimmy Finnerty, Radley Run Country Club | 75 |
| Phil Villari, Riverton Country Club | 75 |
| Robert Bechtold, Fieldstone Golf Club | 76 |
| Dan Brown, Llanerch Country Club | 76 |
| Scott Forrester, LuLu Country Club | 76 |
| Jeff Gardiner, Hartefeld National | 76 |
| Cory Meyer, Huntingdon Valley Country Club | 76 |
| Gwinyai Murahwa, North Hills Country Club | 76 |
| Lee Nonnemacher, Steel Club | 76 |
| Michael Rogers, Overbrook Golf Club | 76 |
| Matthew Toto, Lookaway Golf Club | 76 |
| Lodie van Tonder, Sakima Country Club | 76 |
| Michael Zupi, LuLu Country Club | 76 |
| Rodney Anders, Indian Valley Country Club | 77 |
| Dan Arison, Applebrook Golf Club | 77 |
| Christopher Clauson, LuLu Country Club | 77 |
| Sam Pancoast, Radley Run Country Club | 77 |
| Daniel Rexon, Tavistock Country Club | 77 |
| Domenick Trentalange, LuLu Country Club | 77 |
| Addison West, Merion Golf Club | 77 |
| Brandon Beatty, Jeffersonville Golf Club | 78 |
| Ed Brown, Loch Nairn Golf Club | 78 |
| Andrew Carnevale, North Hills Country Club | 78 |
| Ryan Delargey, Fieldstone Golf Club | 78 |
| Kyle Ginty, Talamore Country Club | 78 |
| Tom Grady, Radley Run Country Club | 78 |
| Brian Keane, Mercer Oaks Golf Course | 78 |
| Matthew Krass, Radley Run Country Club | 78 |
| Jimmy O'Connor, Penn Oaks Golf Club | 78 |
| Chris Orlando, Paxon Hollow Country Club | 78 |
| Cory Reighard, Brookside Country Club | 78 |
| Stewart Rickenbach, Manufacturers' Golf & Country Club | 78 |
| Stephen Seiden, Llanerch Country Club | 78 |
| Lou Tonon, Greate Bay Country Club | 78 |
| Mark Wachter, Loch Nairn Golf Club | 78 |
| Joe Zulli, Trump National Golf Club – Philadelphia | 78 |
| Failed to qualify | |
| Brad Abel, DuPont Country Club | 79 |
| Jeffrey Angelucci, Union League Golf Club at Torresdale | 79 |
| Billy Hallman, Shepherd Hills Golf Club | 79 |
| Pete Moran, French Creek Golf Club | 79 |
| Ryan Rigby, Doylestown Country Club | 79 |
| Daniel Rudershausen, Bidermann Golf Club | 79 |
| John VanDame, Jr., Talamore Country Club | 79 |
| Ryan Barnett, The ACE Club | 80 |
| Josh Isler, Radley Run Country Club | 80 |
| Brian Lasky, Woodcrest Country Club | 80 |
| Marc Mandel, Philadelphia Cricket Club | 80 |
| Max Muller, Manufacturers' Golf & Country Club | 80 |
| Justin Pineno, Radley Run Country Club | 80 |
| Rich Pruchnik, Downingtown Country Club | 80 |
| Fredrick Taggart, Meadia Heights Golf Club | 80 |
| Daniel Tennekoon, Makefield Highlands Golf Club | 80 |
| Matthew Vassil, Country Club of Scranton | 80 |
| Michael Zieg, Kennett Square Golf & Country Club | 80 |
| Vince Budny, Metedeconk National Golf Club | 81 |
| James Kaiser, Tavistock Country Club | 81 |
| Thomas Lindberg, St. Davids Golf Club | 81 |
| Regan Papariello, St. Davids Golf Club | 81 |
| Marcus Ronca, Fieldstone Golf Club | 81 |
| Charles Wahl, Tavistock Country Club | 81 |
| Jeremy Arner, Blue Bell Country Club | 82 |
| Marc Bertrando, Radley Run Country Club | 82 |
| Sean Campbell, Honeybrook Golf Club | 82 |
| Tyler Canfield, Concord Country Club | 82 |
| Nicola Cerilli, Indian Valley Country Club | 82 |
| Dan Feeney, Philadelphia Cricket Club | 82 |
| S. Noah Freda, Greate Bay Country Club | 82 |
| Nick Gaudio, Riverwinds Golf Club | 82 |
| Brian Kenny, Greate Bay Country Club | 82 |
| Peter Mullaly, Rolling Green Golf Club | 82 |
| John O'Donnell, Applebrook Golf Club | 82 |
| Billy Reube, Huntingdon Valley Country Club | 82 |
| Todd Baron, Philadelphia Publinks Golf Association | 83 |
| Dick Beck, Blue Bell Country Club | 83 |
| David Guertler, Tavistock Country Club | 83 |
| Michael Modica, Laurel Creek Country Club | 83 |
| John Moore, Greate Bay Country Club | 83 |
| Chris Rodrigues, Green Valley Country Club | 83 |
| Steven Sandberg, Rolling Green Golf Club | 83 |
| Connor Vanin, Philadelphia Publinks Golf Association | 83 |
| Matt Zeeman, Radley Run Country Club | 83 |
| Brad Cornforth, Radley Run Country Club | 84 |
| Will Holt, Kennett Square Golf & Country Club | 84 |
| Fran Migliocco, DuPont Country Club | 84 |
| Stephen O'Sullivan, Philadelphia Cricket Club | 84 |
| Sean Torpey, Doylestown Country Club | 84 |
| Gregory Dapron, Hartefeld National | 85 |
| Steve Levchenco, Philmont Country Club | 85 |
| William O'Brien, Laurel Creek Country Club | 85 |
| Eric Schram, Lookaway Golf Club | 85 |
| Clay Anders, Indian Valley Country Club | 86 |
| Drew Brandt, Broad Run Golfer's Club | 86 |
| Nick Genuario, Coatesville Country Club | 86 |
| Dan Kelly, Llanerch Country Club | 86 |
| Kevin Kloeblen, St. Davids Golf Club | 86 |
| Phil Potter, Radley Run Country Club | 86 |
| Kevin Tscholl, The Springhaven Club | 86 |
| Robert Bangs, McCall Golf Club | 87 |
| Eric Kubilus, Huntingdon Valley Country Club | 87 |
| Eric Pinchak, Makefield Highlands Golf Club | 87 |
| Brian Sokolowski, Mercer Oaks Golf Course | 87 |
| Douglas Christensen, Bala Golf Club | 88 |
| Eric Feather, Saucon Valley Country Club | 88 |
| Michael Hodges, The Springhaven Club | 88 |
| Jonathan Jordan, Kennett Square Golf & Country Club | 88 |
| Christopher Nugent, Hershey's Mill Golf Club | 88 |
| Michael Ryan, Rolling Green Golf Club | 88 |
| Gregory Disanto, Rolling Green Golf Club | 89 |
| Andrew Kelly, Bala Golf Club | 89 |
| Jeff Peltier, Stone Harbor Golf Club | 89 |
| Tim Klagholz, Aronimink Golf Club | 90 |
| Ryan O'Donnell, Rolling Green Golf Club | 90 |
| Zachary Wetzel, Broad Run Golfer's Club | 90 |
| Kevin Giambri, Tavistock Country Club | 91 |
| Bradley Bernosky, Broad Run Golfer's Club | 92 |
| Timothy Chow, Brookside Country Club | 93 |
| Robert McGowan, DuPont Country Club | 93 |
| Nick Plavchak, LuLu Country Club | 93 |
| Carlo Fitti, Llanerch Country Club | NS |
| Matthew Reed, Doylestown Country Club | NS |
| Christopher Bell, McCall Golf Club | WD |
| Ashley Brasfield, Rolling Green Golf Club | WD |
| Brian Bygott, Tavistock Country Club | WD |
| Robert Dietrich, Loch Nairn Golf Club | WD |
| Eamon Evans, Glenmaura National Golf Club | WD |
| Brian Fischer, Philadelphia Cricket Club | WD |
| Chris Guglielmo, Paxon Hollow Country Club | WD |
| Jim Schmidt, Huntingdon Valley Country Club | WD |
| Ryan Schneiter, Philadelphia Cricket Club | WD |
| Patrick Shanahan, Applebrook Golf Club | WD |
| Brad Sokol, Green Valley Country Club | WD |
| Andrew Sterge, Applebrook Golf Club | WD |
| Adam Warner, Tavistock Country Club | WD |
| WD – withdrawal; NS – no show | |